4-Rib Rack Romesco Sandwiches
Use leftover roasted 4-Rib Rack meat to make smoky, romesco-sauced sammies.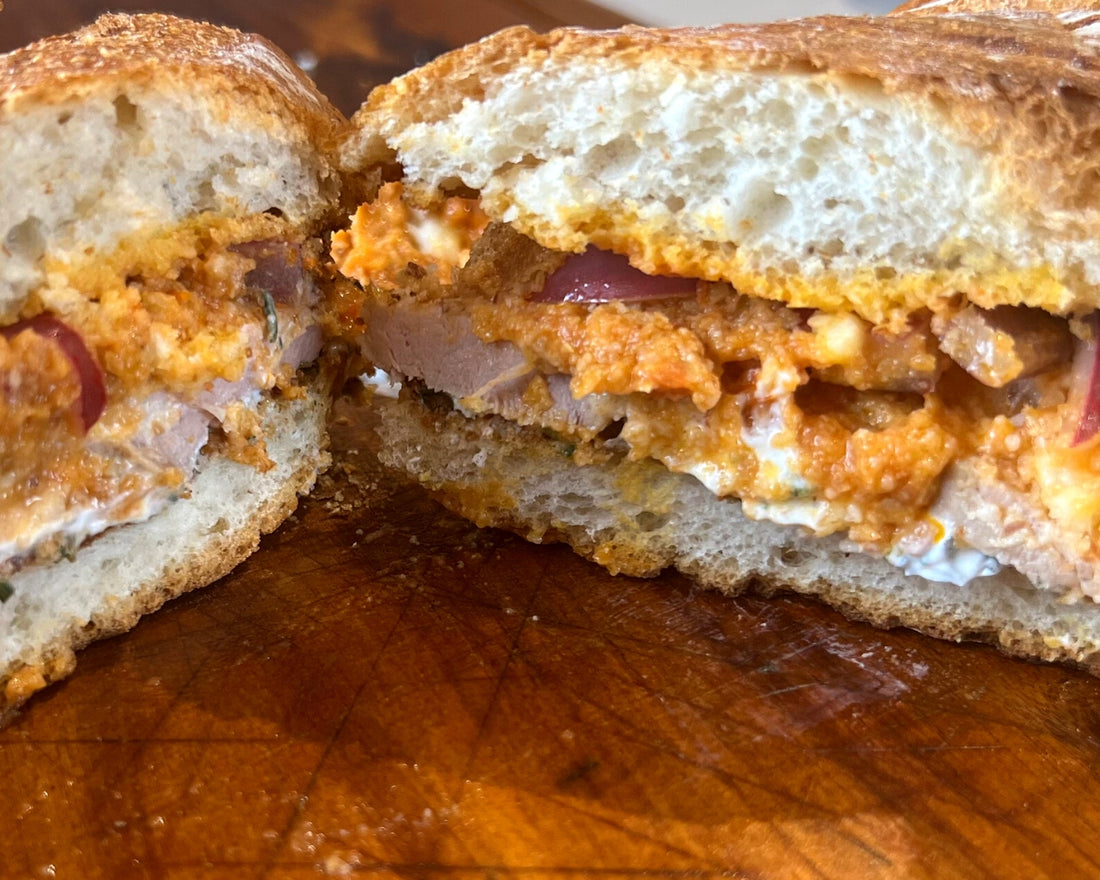 Use leftover roasted 4-Rib Rack meat to make smoky, romesco-sauced sammies.  
Serves: 2
Ingredients:
½  Campo Grande leftover 4-Rib Rack (1 rib per sandwich)

2 Tablespoon cream cheese 

10g fresh rosemary, finely chopped 

10g fresh thyme, finely chopped  

¼ red onion, julienned  

2 Tablespoons sherry vinegar

20g goat or feta cheese 

Bread for 2 sandwiches 
Romesco Sauce:
1 large ripe tomato 

½ Tablespoon smoked paprika 

½ onion, peeled   

1½ garlic cloves 

35g  hazelnuts, skinned and toasted  

35g blanched almonds, toasted  

1 piece of bread

Drizzle of sherry vinegar 

3 Tablespoons extra-virgin olive oil 

Salt  
Preparation:
Place the red onion, 2 tablespoons of vinegar, and salt in a small bowl. Let sit while you prepare the romesco sauce. 

Preheat the oven to 350ºF. 

To make the romesco, place the tomatoes, onions, and garlic cloves on a baking sheet and roast for 30 minutes, until the vegetables are nice and soft. 

While cooking, mix cream cheese with the thyme and rosemary and set aside. 

Peel the tomatoes and garlic, removing the skins. 

Place vegetables, nuts, and bread in a blender and puree until smooth. Add the vinegar and blend again. While the blender is running, slowly drizzle in the olive oil to combine. Season with salt. If the mixture seems too thick, drizzle in some additional olive oil. 

Toast sandwich bread on both sides and cult up the Rib Rack meat. 

Spread the herb cream cheese over one slice of bread and place the Rib Rack meat on top. Drizzle with romesco sauce and top with cheese, pickled onions, and the other slice of bread.

¡Buen provecho!