The Wolf Smashburger, CG Style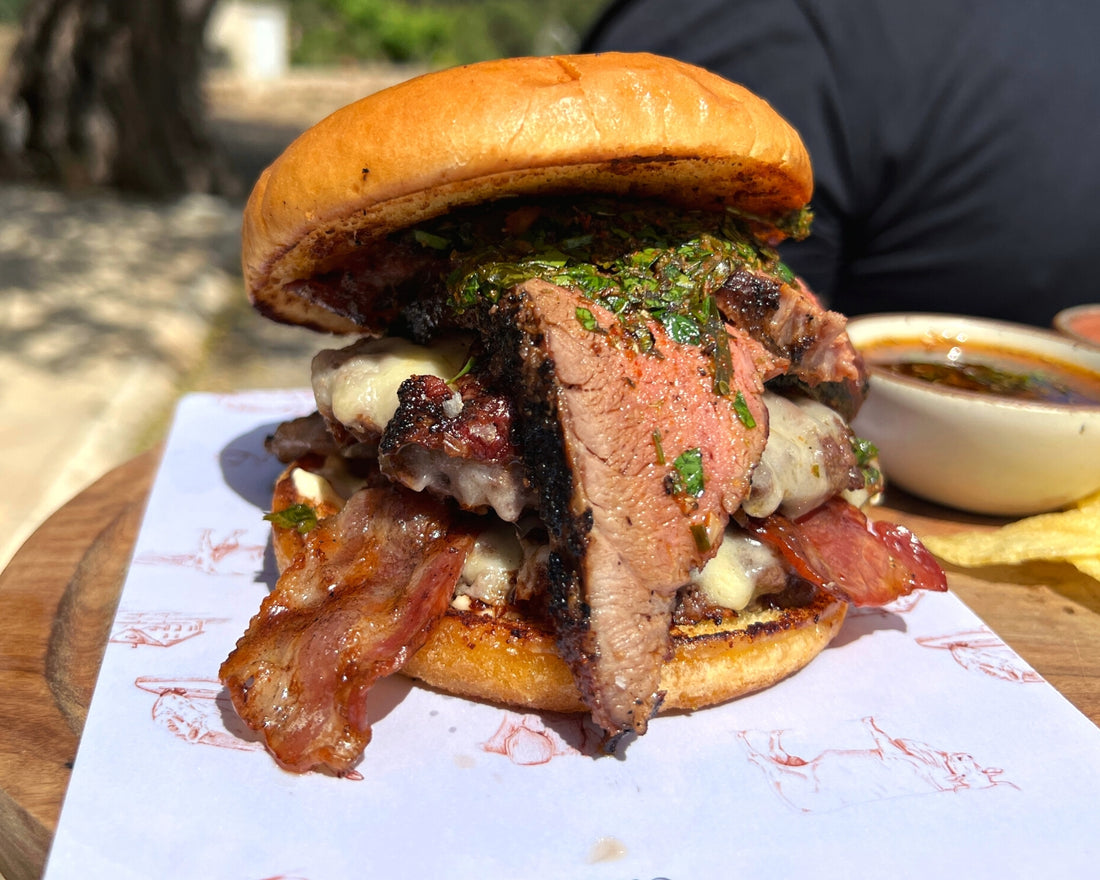 This epic two-patty smash burger is inspired by one of our favorite grilling cookbooks, Food x Fire. Here, we add our own Campo Grande flare with succulent ground Iberico-wagyu blend and slices of grilled Ibérico Presa to really kick it up a notch. 
Servings: 4

Difficulty: Easy

Course: Main

Time: 1 hr. 15 min.
The Wolf Smashburger, CG Style
Ingredients 
1 21-28oz. Campo Grande Presa Ibérica 
1 14oz. ground Iberico-Wagyu blend 
2 Tablespoons sea salt
2 Tablespoons black pepper 
2 Tablespoons garlic powder
2 Tablespoons extra-virgin olive oil
8 slices American cheese
8 slices bacon
4 Tablespoons mayo
4 brioche hamburger buns
4 Tablespoons chimichurri 
The Wolf Smashburger, CG Style
Preparation


Form the ground beef into 8 balls and set aside. 

Mix together salt, pepper, and garlic powder in a small bowl.

Drizzle oil on the Presa and the ground beef balls and sprinkle with garlic seasoning, using as much as you like on each. 

Fire up the grill to a temperature around 300-350ºF. Cook the Presa about 40-45 minutes, or 30 minutes for every pound (16 oz.) of meat. A thermometer inserted into the meat should read 145ºF. Remove from the grill and let rest before cutting into thin slices. 

Heat a cast iron pan over high heat and cook the bacon until it's nice and crunchy. Once cooked, remove the bacon from the pan, as well as most of the grease. 

Return the pan to the heat and place the burger balls in the pan. Cook for 30 seconds. Then place a piece of parchment paper on each ball and use a spatula or burger press to press firmly onto each burger to smash it for 30 seconds. Remove the spatula and cook for 2 minutes. 

Flip the burgers and top with slices of cheese and let cook for another 2 minutes. To help melt the cheese you can also cover the patties with a lid while they cook. Once cooked and the cheese has melted, remove from the pan 

Lightly toast the inside of the burger buns in the pan. 

To build the burger, spread mayo on the base of the bun and top with 1 burger patty, 2 slices of bacon, a second burger patty, and slices of Presa. Then drizzle a Tablespoon of chimichurri over the meat and top with the other half of the bun. Repeat with the remaining burgers. 

Serve with a classic side of french fries.

¡Buen provecho!