Abanico Ibérico Sandwich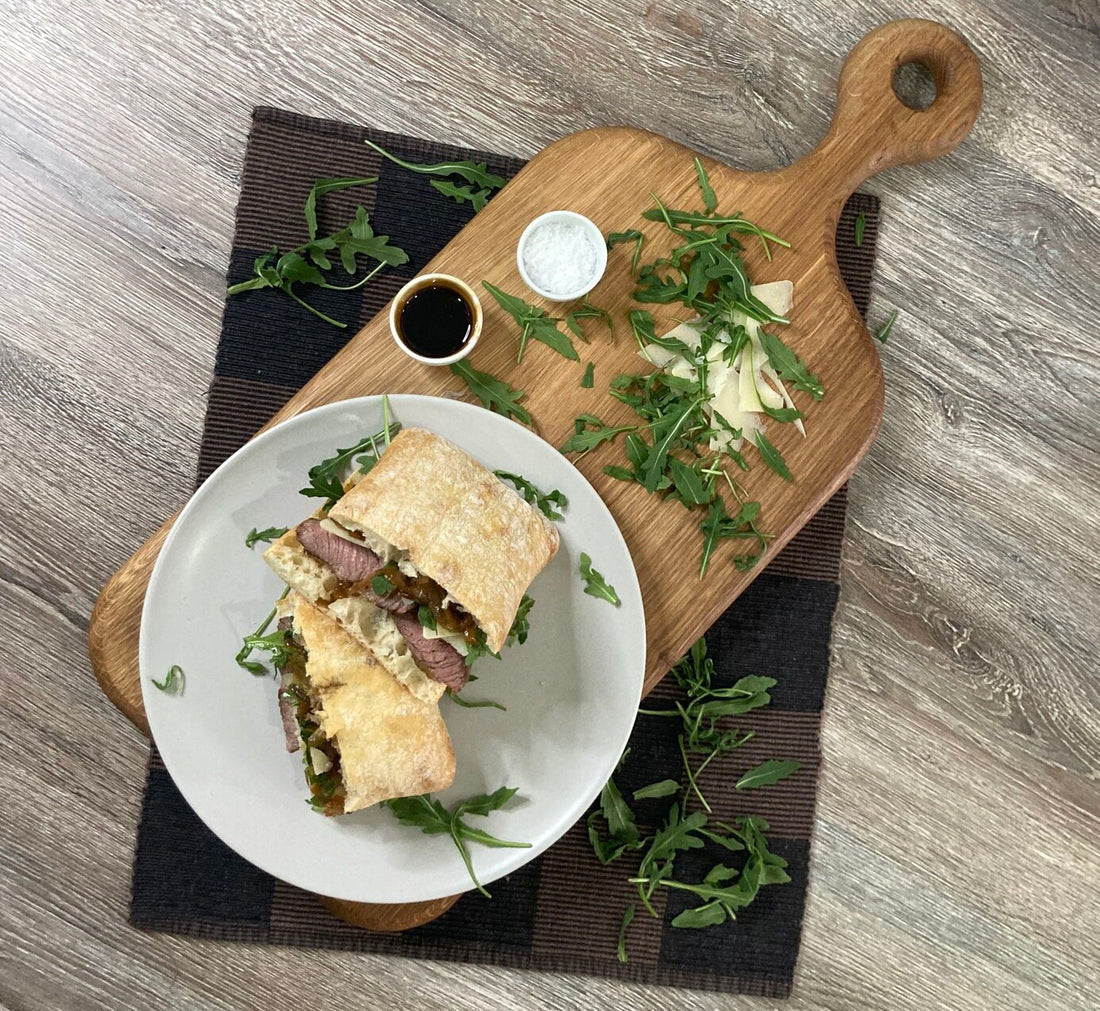 We tend to think that sandwiches are fast food with no special ingredients that can be made quickly to satisfy our hunger. However, you will change your mind after we introduce you to this delicious recipe. The Abanico Ibérico sandwich with caramelized onion, parmesan and apple cider vinegar reduction, is the king of sandwiches at home. We know that you will not regret it and will want to make this immediately after reading the recipe.
Ingredients
400gr abanico ibérico
100gr parmesan cheese
1 medium onion
2 tomatoes
4 tablespoons brown sugar
265ml apple cider vinegar
Arugula
Black pepper
Extra Virgin Olive oil
Flake salt
Glass bread or ciabatta
Instructions
Caramelized onion
Start by pouring the extra virgin olive oil in a pan over medium-low heat.
Add the julienned onion. Cover and let it cook for about 15 or 20 minutes over low heat.
Once the onion has started to become transparent, add 2 tablespoons of brown sugar and 15 ml of cider vinegar.
Stir and let caramelize for about another 15 minutes then set aside
Cider vinegar reduction
Add 250 ml of apple cider vinegar in a pan over medium heat
Let it reduce to about half and add 2 tablespoons of brown sugar
Let it dissolve well and continue to reduce until a somewhat thick texture is achieved.
When it cools, the texture will thicken, so it is not advisable to reduce excessively. Once the desired texture is achieved, set aside.
Abanico Ibérico
Start heating a frying pan or griddle without any oil (the abanico ibérico contains a lot of fat so we do not need more)
Add black pepper on both sides of the abanico ibérico and once the grill is hot enough, place the abanico ibérico on the pan until it is well cooked
Lower the heat so that it finishes cooking perfectly since they are usually quite thick filets
Please note that pork must be well cooked to avoid any risk of food poisoning.
When it is well done, remove from the grill, add a few flakes of salt and cut into thin slices
Sandwich Assembly
Cut the loaf of glass bread or ciabatta in two.
Slightly heat the bread in the toaster or a griddle
Spread tomato on the bread and add the abanico ibérico slices. On top of the slices add the Parmesan cheese, caramelized onion, arugula and the sauce.
Enjoy!