Abanico Sandwich with Cream Cheese & Jammy Bacon Onion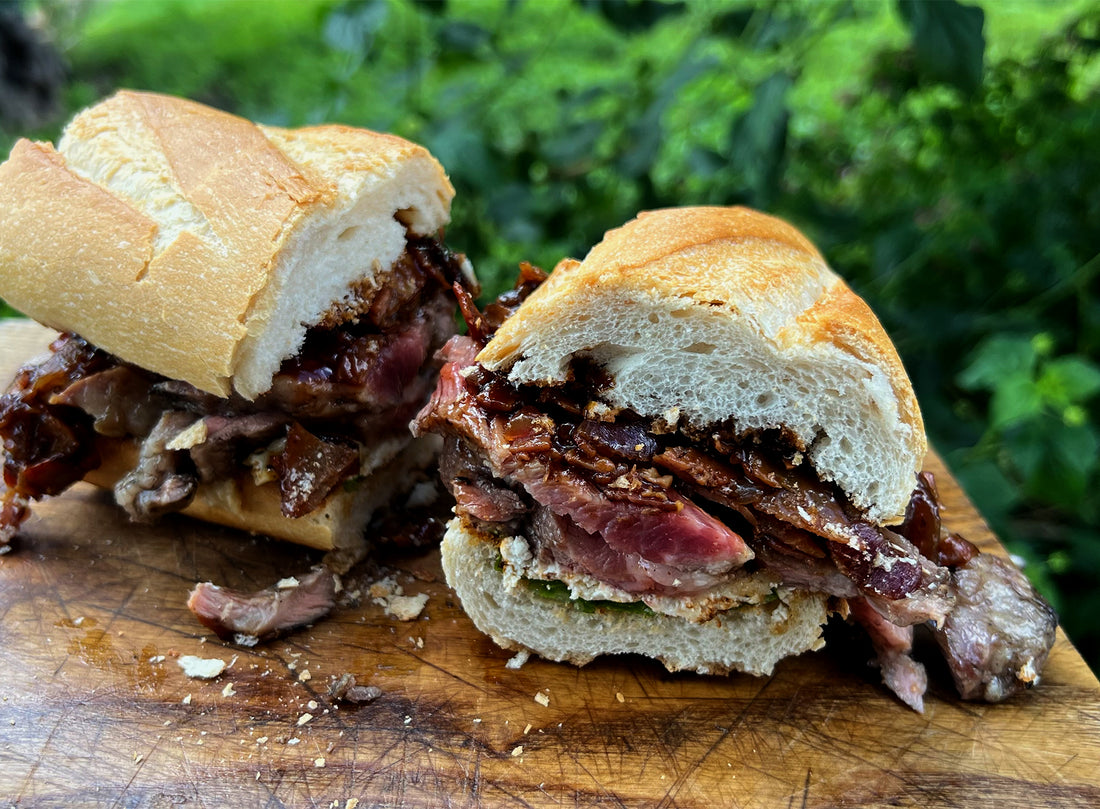 Smoky, sweet, and creamy, this hearty sammy shows off the nutty notes of abanico with a bacon onion jam you'll want to slather on everything. 
Makes 3 sandwiches
Ingredientes
1 18-25 oz. Campo Grande Abanico

10 strips bacon, chopped 

2 onions, julienned 

4 Tablespoons BBQ sauce 

2 oz. cream cheese

1 Tablespoon red meat rub 

Salt

Freshly ground black pepper 

1 large baguette, toasted 

3 lettuce leaves 
Preparation   
Heat bacon in a skillet until browned. Remove from the skillet, leaving the grease in the pan. 

Add onions to the bacon pan and cook until soft and translucent. Once onions are cooked, remove any excess grease and add the bacon and barbecue sauce to the skillet, cooking until you have a thick, jammy sauce. 

Fire up the grill. While heating, place cream cheese in a small heat-proof pan and cover with red rub. Place on the grill and cook for a couple of minutes so cream cheese takes on a smoky flavor and melds with the rub. 

Remove any excess fat from the abanico and season with salt and pepper. 

If the abanico is still cold from the fridge, place over indirect heat for a few minutes to let it come to room temperature. 

Place abanico over high, direct heat and cook for 2.5 minutes on either side until crispy and browned on the outside and juicy in the middle. 

Remove from heat, let rest a few minutes, and slice. 

To build the sandwich, place lettuce on the base of the bread, then add cheese, abanico, and top with the jammy bacon onion sauce.

¡Buen provecho!