Bacon-Wrapped Stuffed Pickles with Iberico-Wagyu Beef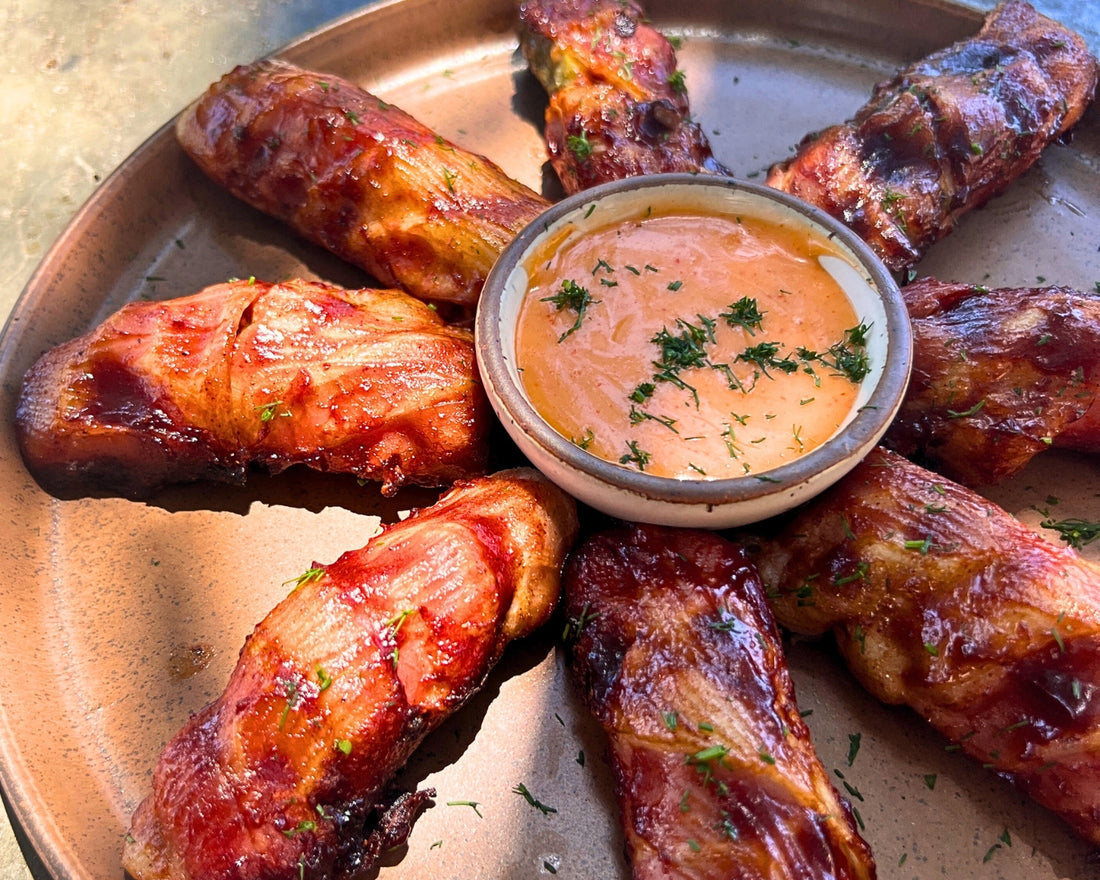 Bacon-Wrapped Stuffed Pickles with Iberico-Wagyu Beef
We're bringing you a mouthwatering and innovative recipe that combines the smoky goodness of grilled bacon with the rich flavors of Iberico-Wagyu ground meat, filled in tangy dill pickles. Each bite is a celebration of contrasts, blending the crispy and salty bacon with the tender, luxurious Iberico-Wagyu beef and the zesty pickles. This dish truly showcases the versatility of these exceptional ingredients, elevating a simple pickle to new gourmet heights.
Serves: 6
Difficulty: Easy
Course: Appetizer
Time: 40min
Ingredients for Bacon-Wrapped Stuffed Pickles with Iberico-Wagyu Beef
1 pound CG Iberico x Wagyu ground meat
Salt and pepper, to taste
18 slices of bacon
18 dill pickles
2/3 cup cream cheese
½ cup shredded mozzarella and cheddar cheese
2-3 tablespoons barbecue sauce
2 tablespoons barbecue rub
Dipping sauce:
4 tablespoons mayonnaise
1 tablespoon sriracha
1 tablespoon maple syrup
Preparation for Bacon-Wrapped Stuffed Pickles with Iberico-Wagyu Beef
Cook the meat: In a large pan on medium-high heat, cook the ground beef until browned but not fully cooked, stirring frequently, about 7-9 minutes.
Make the filling: In a bowl, add the cooked beef, cream cheese, shredded cheese, half of the barbecue rub and mix well. Let this mixture cool. You may even add in the freezer to speed up the process.
Prepare the pickles: Cut each pickle lengthwise.  Use a spoon to scoop out the center of each pickle half, creating a "boat" shape.
Preheat your grill to medium heat (around 300°F).
Assemble the pickles: Once the meat mixture is cool, top each scooped pickled with this mixture and then wrap with a piece of bacon. Season with the rest of the barbecue rub.
Grill the prepare pickles: Add the prepared pickles in an even layer onto the grill. Grill until the bacon is crispy, about 8-10 minutes. When there are about 3 minutes left, brush each pickle with barbecue sauce.
Make the dipping sauce: In a bowl, add the mayonnaise, sriracha, and maple syrup and stir well.