Cheddar Bacon Breakfast Bagel with Jowl Secreto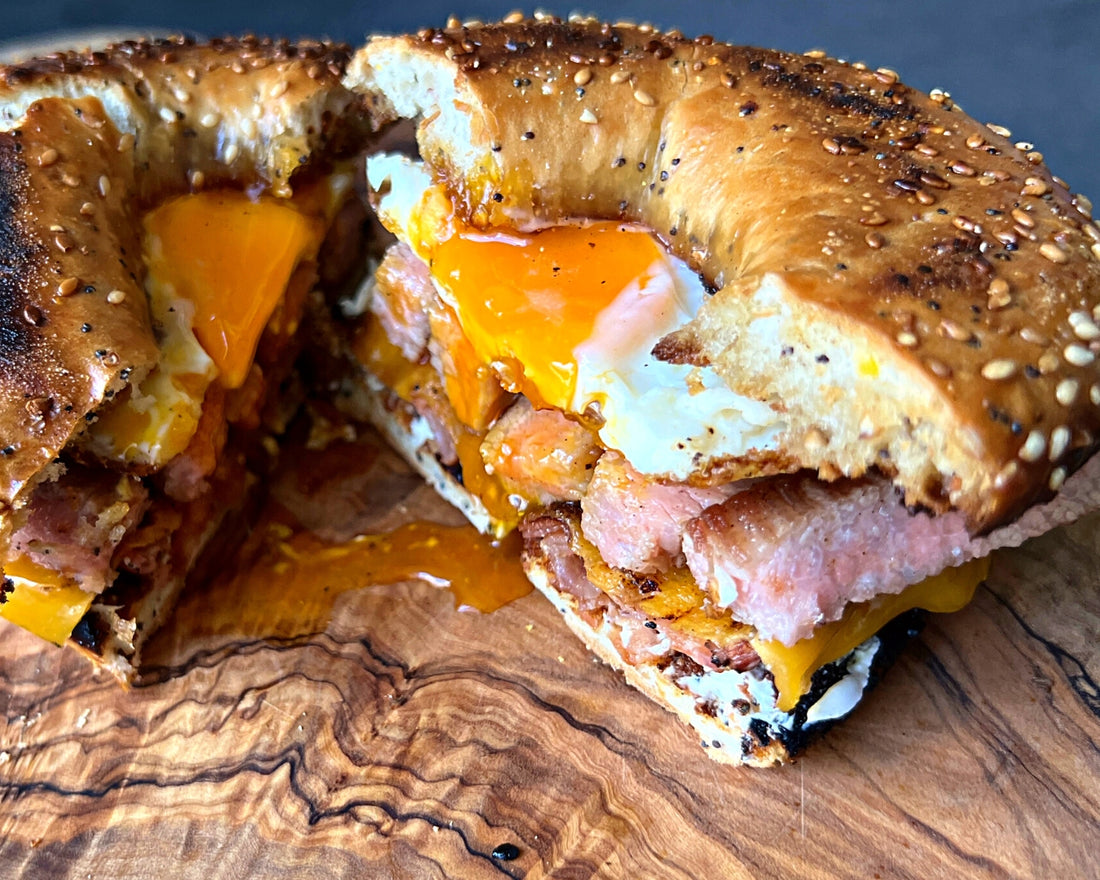 To quickly execute this Spanish-American breakfast of champions, we like to cook our meat from room temperature. But this is breakfast, and nobody wants to think ahead. Luckily, all you need to do is lazily remove the Jowl Secreto (and bacon while you're at it) from the fridge right before you turn on the coffee pot. Room temperature pork cooks faster and more evenly, meaning once it's actually time to throw it in the cast iron, you won't be waiting long.  
Serves: 3
Time: 30 min
Cheddar Bacon Breakfast Bagel with Jowl Secreto
Ingredients
1 14-21 oz. Campo Grande Jowl Secreto

9 slices bacon

6 large slices cheddar cheese  

3 eggs

3 bagels, sliced

3 Tablespoons cream cheese 

Salt

Black pepper 
Preparation  
Remove Jowl Secreto from the refrigerator and season with salt and pepper. Let come to room temperature while you prepare the rest of the bagel sandwich. 

Cook bacon in a cast-iron skillet until browned and crunchy (or however you prefer your bacon). Remove from the pan and place on a plate lined with paper towels. 

Using the same pan, fry the eggs in the bacon grease and toast the bagel cut side down, leaving it untoasted on the outside. 

Sear the Jowl Secreto over high heat, about 2 minutes on each side to get a medium rare temperature, or an internal temperature of 145ºF (1.5 minutes for every centimeter of thickness). 

Remove Jowl Secreto from the pan, let rest on a cutting board for a few minutes, and slice. Season with more salt if needed.

Spread the cream cheese on the inside of each bagel, top with bacon and Jowl Secreto, and place the cheddar cheese on top. Use a kitchen torch to melt the cheese, or place the bagels under the broiler for a few seconds. Top each bagel with a fried egg, the other bagel slice, and serve.

¡Buen provecho!