Cheesy Skirt Steak Pasta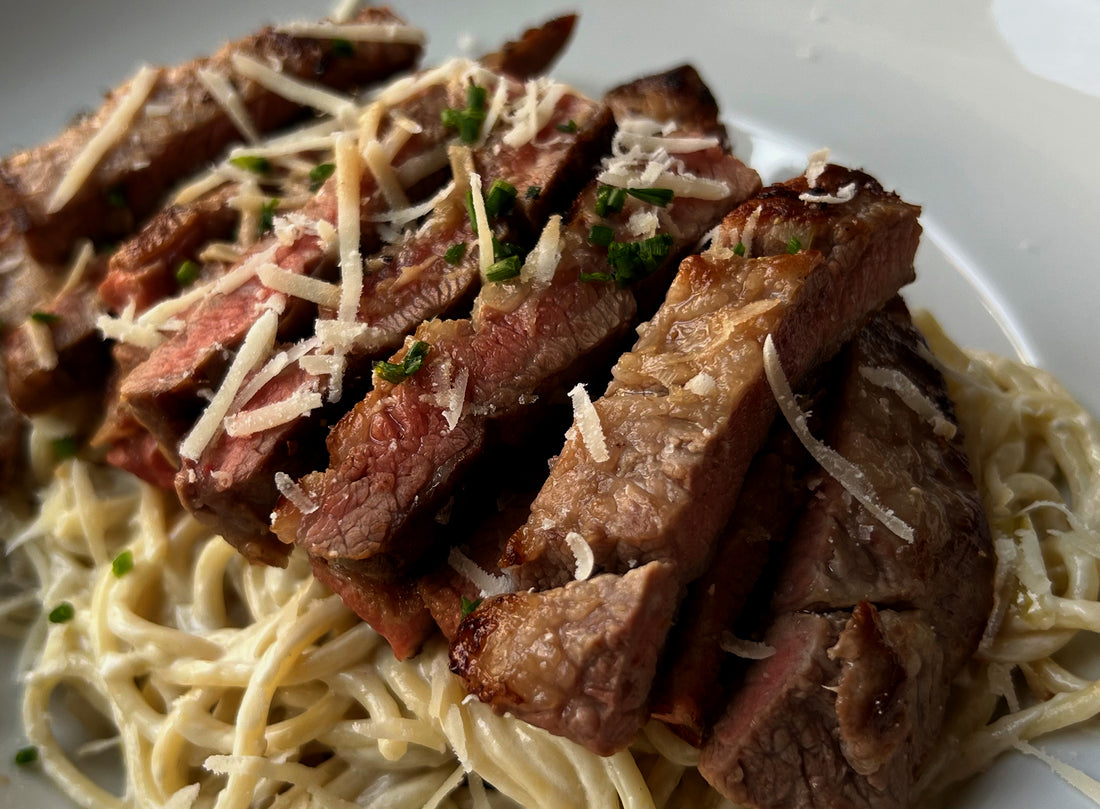 Marinating Skirt Steak in nothing but a blanket of onions is an easy way to add big flavor. The natural acid in the onions softens up the meat, making it an extra tender addition to cheesy shroomy pasta. 
Serves: 4 
Ingredients
1 Campo Grande Skirt Steak

4 large onions, chopped  

1 oz. blue cheese 

2 oz. parmesan, grated 

1 cup heavy cream 

1 lb. dried spaghetti 

3 Tablespoons brandy 

2 Tablespoons butter 

6 mushrooms, chopped  

Extra-virgin olive oil 

Salt

Freshly ground black pepper 
Preparation 
Season Skirt Steak with salt and pepper. Make small slits against the grain of the meat on both sides. 

Layer half the chopped onions in a baking dish and place the steak on top. Cover with the remaining onions and let sit for 1 hour. 

Once the meat has marinated in the onions, cook spaghetti according to the package instructions. 

Heat a large sauté pan and cook butter, brandy, and the onions you used for the meat until onions are soft. Once cooked, remove half the onions from the pan, place in a small bowl, and set aside. 

Add mushrooms to the pan of remaining onions, along with cream, blue cheese, and parmesan. Let cook for a few minutes, stirring until combined. Add spaghetti, remove from heat, and let it sit and mingle in the sauce while you cook the meat. 

Heat a griddle or cast iron skillet over high heat and add a drizzle of olive oil. Add skirt steak to the griddle (you can cut it into smaller pieces if it doesn't fit) and cook for 2-2.5 minutes on each side, depending on your preference. Let sit for a few minutes and cut into bite-sized pieces. 

To serve, spoon the reserved onions over a plate, add cheesy pasta, and top with the skirt steak.

¡Buen provecho!