Chorizo Potato Croquettes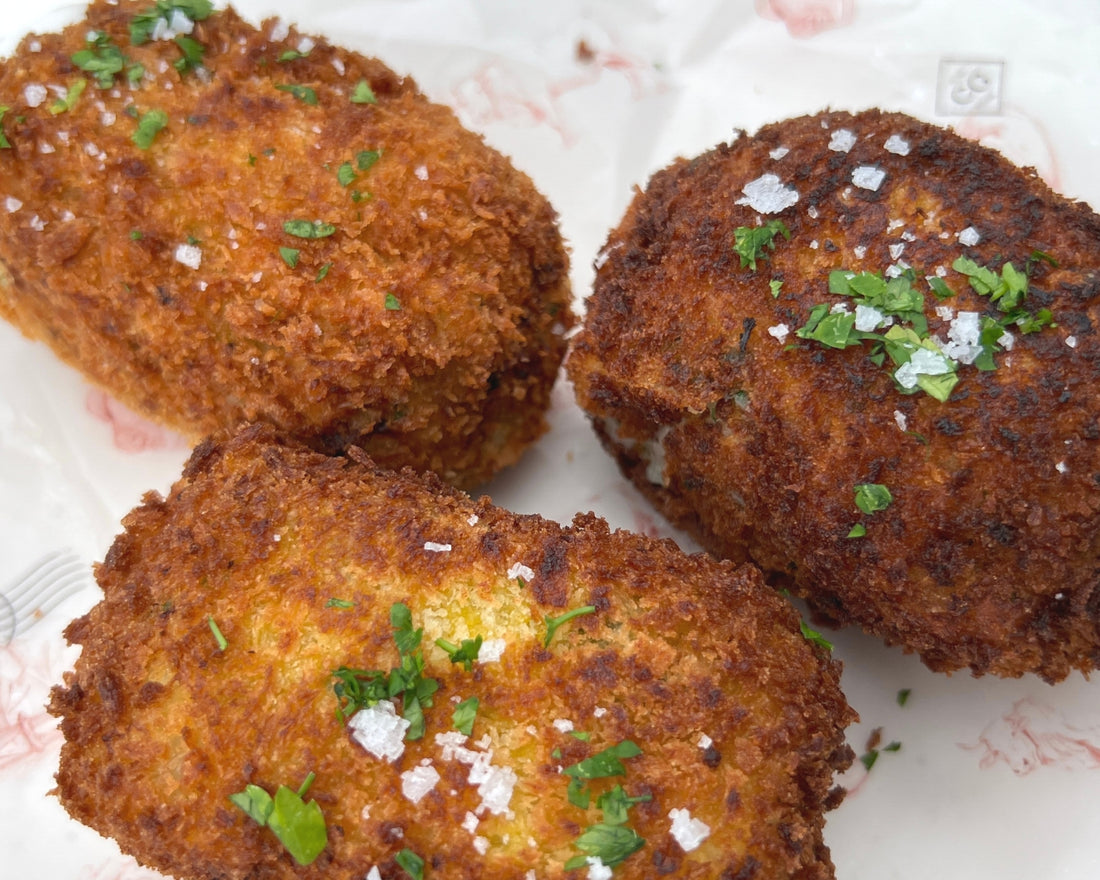 Croquettes (or croquetas as they're called in Spain) in all their glorious forms, are always a good idea. Crispy on the outside and gooey on the inside, they're like little addicting flavor bombs. These potato-based marvels, loaded with mozz and smoky Ibérico chorizo, are far less labor-intensive than the traditional bechamel based ones, and make for an even more fool-proof operation. 
Chorizo Potato Croquettes Recipes 
Serves: Makes 8 croquettes 
Time: 1 hr 
Chorizo Potato Croquette Ingredients
1 2 oz. pack Campo Grande Sliced Chorizo, chopped 

4 potatoes, cut into small cubes 

3 Tablespoons fresh parsley, chopped 

1 Tablespoon garlic powder

1 Tablespoon onion powder

2 Tablespoons extra-virgin olive oil 

8 mini mozzarella balls or teaspoon-sized cubes

4 Tablespoons flour 

2 eggs

100g (4 oz.) panko breadcrumbs 

Salt  

Black pepper

Neutral oil for frying (sunflower, grapeseed, vegetable) 
Chorizo Potato Croquette Preparation 
Place potatoes in a large pot and cover with water. Boil until soft. 

Drain the water and place potatoes in a large bowl with the parsley, garlic powder, onion powder, olive oil, salt, and pepper. Mix using a fork or potato masher until you reach a smooth mashed potato consistency. 

Rub your hands with oil to keep the mixture from sticking as you form the croquetas. Grab a soup spoon and scoop a big dollop of potato into the spoon. Place a mozzarella ball in the center, along with a little bit of chorizo, and wrap the potato around the filling so it completely covers the cheese. You don't want any of the mixture to escape while frying. Repeat this process for the remaining croquetas. 

Whisk eggs in a small bowl and set aside. Place flour and panko and separate bowls. First, coat the croqueta in the flour, then the egg, and end with the panko. Repeat with all the croquetas.

Heat enough oil in a cast iron skillet to cover the croquetas. Fry the croquetas until they're golden brown. 

Remove from the frying pan and place on a paper towel-lined plate. Serve immediately.

¡Buen provecho!