Chorizo-Stuffed Loin Roast with Sweet Potato Mash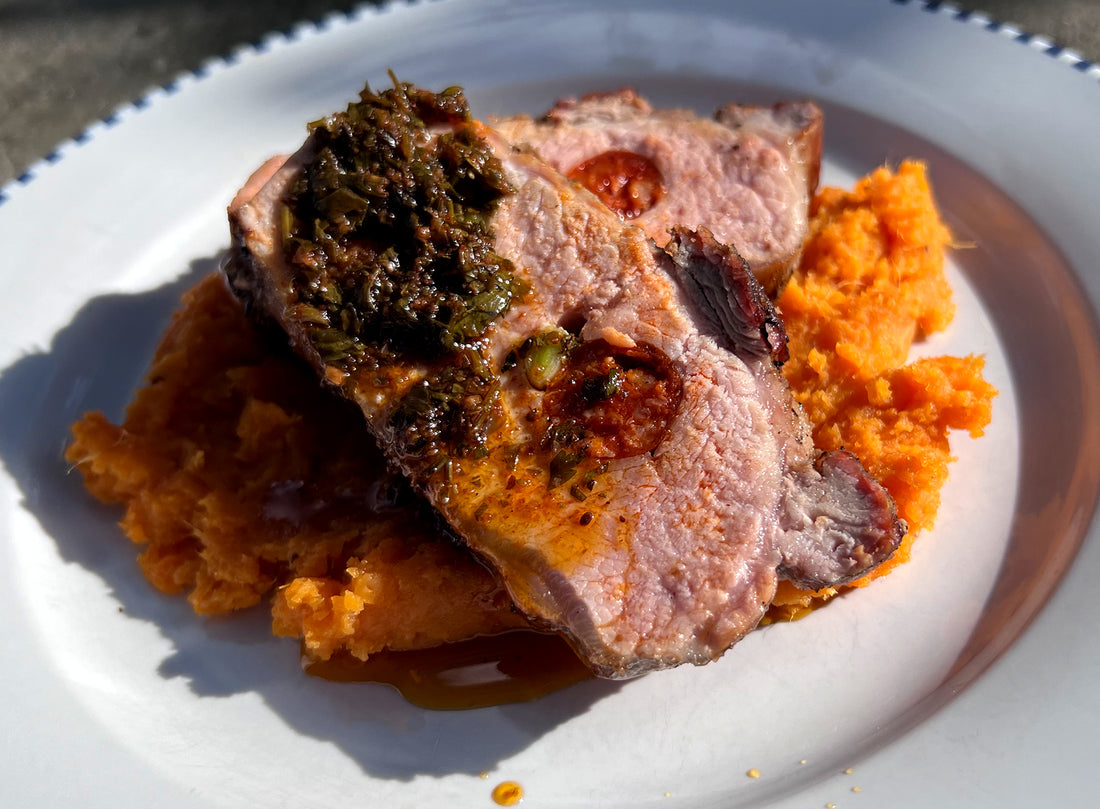 We didn't think grilled Ibérico loin roast could get better until we stuffed it with chorizo and garlic scapes. Make it a full meal with grilled and mashed sweet potatoes cooked up in coals. 
Serves: 2
Ingredients
1 17-24 oz. Campo Grande Loin Roast
2 chorizos links (ideally soft, thin, and as long as the loin roast) 
4 garlic scapes 
2 medium sweet potatoes, cut lengthwise  
Extra-virgin olive oil 
Salt
Freshly ground black pepper 
Preparation 
Season loin roast with salt and pepper. 
Make two cuts on either side of the loin roast and stuff chorizo and garlic scapes all the way through. 
Heat a grill to 300ºF and cook loin roast for about 30-40 minutes, until the meat reaches an internal temperature of 145ºF. 
While the meat is cooking, make small slits on the cut side of each sweet potato half (without cutting all the way through). Drizzle with olive oil, season with salt and pepper, and wrap whole potatoes in foil. Cook on the coals of the grill for 40-60 minutes, or until tender. 
Remove potatoes from the foil and mash in a bowl with a splash of olive oil and salt and pepper to taste. 
Remove meat from the grill and let it rest for a few minutes. Cut into 1-inch filets and serve on top of the sweet potato mash. ¡Buen provecho!