Coppa Birria Empanadas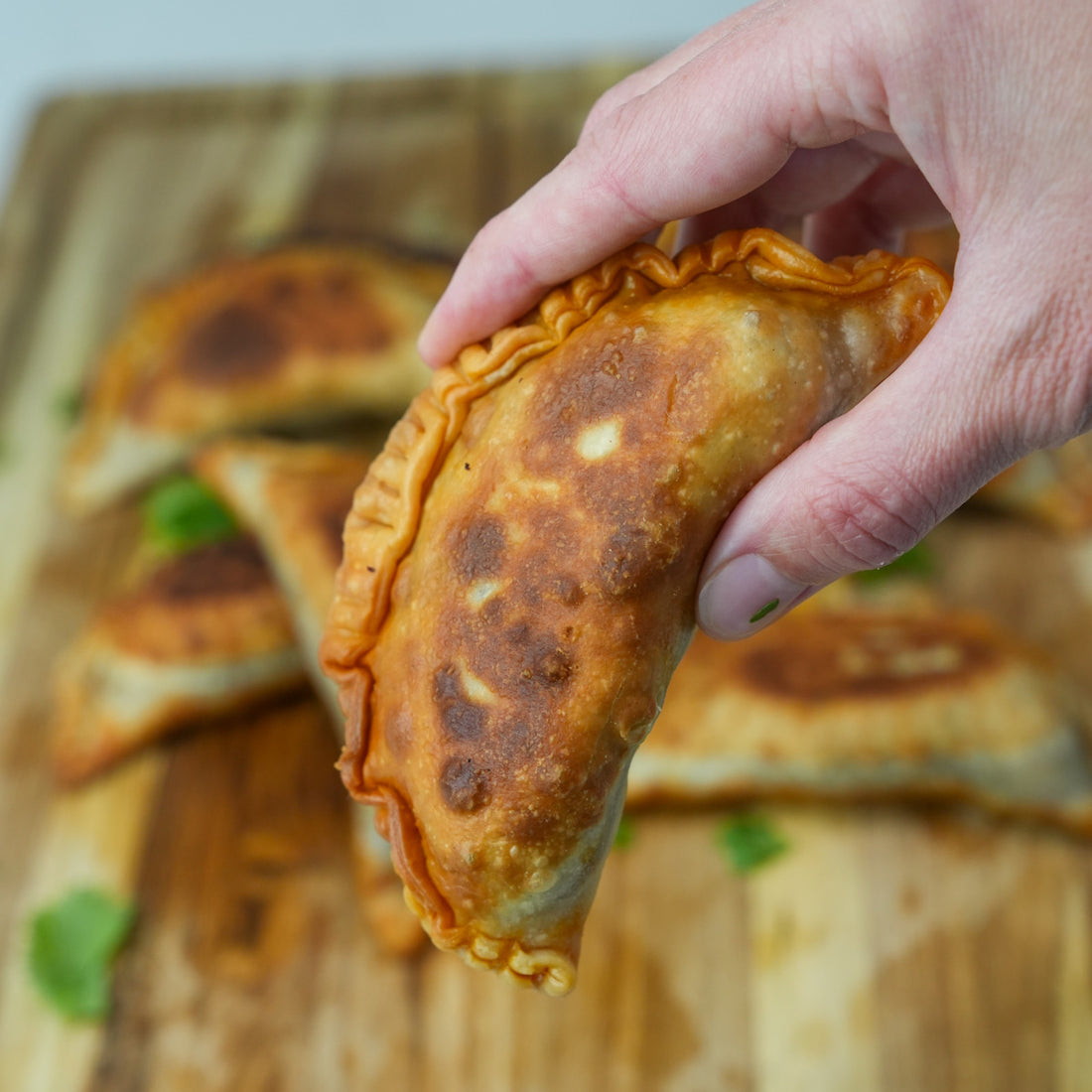 COPPA BIRRIA EMPANADAS
Imagine a fusion of flavors that will transport your taste buds to the vibrant streets of Mexico, the rich heritage of Spain, and the irresistible charm of Latin America. That's right, we're about to dive headfirst into the world of "Coppa Birria Empanadas" – a mouthwatering collision of two beloved culinary traditions.
Ingredients
For the Birria Filling:
3 pounds of coppa, cut into small cubes
2-3 dried guajillo chilies
2-3 dried ancho chilies
1 onion, chopped
4 cloves of garlic, minced
2 teaspoons ground cumin
1 teaspoon dried oregano
1/2 teaspoon ground cloves
1/2 teaspoon ground cinnamon
1 bay leaf
Salt and pepper to taste
4 cups beef broth
For the Empanadas:
Empanada discs (you can either make your own dough or buy pre-made ones)
Fresh cilantro, chopped
Instructions
Prepare the Chilies:

Remove the stems and seeds from the dried guajillo and ancho chilies.
Heat a skillet over medium-high heat and toast the chilies for a minute or two until they become fragrant. Be careful not to burn them.
Submerge the toasted chilies in hot water and let them soak for about 20-30 minutes until they become soft.

Make the Chili Sauce:

Once the chilies are softened, drain them and place them in a blender.
Add the chopped onion, minced garlic, ground cumin, dried oregano, ground cloves, ground cinnamon, and a pinch of salt and pepper.
Blend the mixture until it forms a smooth paste. If it's too thick, you can add a little beef broth to help it blend.

Cook the Pork:

In a large, heavy-bottomed pot, heat some oil over medium-high heat.
Add the pork cubes and brown them on all sides.
Pour in the chili sauce you made and stir to coat the pork evenly.
Add the bay leaf and 4 cups of beef broth. Stir well.
Reduce the heat to low, cover the pot, and let the birria simmer for 2-3 hours or until the pork is tender and the flavors meld together. You may need to add more beef broth if the mixture becomes too thick during cooking.
Adjust salt and pepper to taste.

Assemble the Empanadas:

Preheat your oven to the recommended temperature for the empanada discs.
Place a spoonful of the birria filling onto each empanada disc.
Fold the discs over to create a half-moon shape and seal the edges by pressing with a fork.

Pan Fry the Empanadas:

In a skillet, add a cup of oil and heat it up on medium-high heat.

 

Fry them 2-3 minutes per side. Add on a coloring rack.

 

Serve:

Garnish your birria empanadas with freshly chopped cilantro.
Serve them hot, and you can also serve them with additional birria sauce on the side for dipping.