Coppa Pulled Pork Mac & Cheese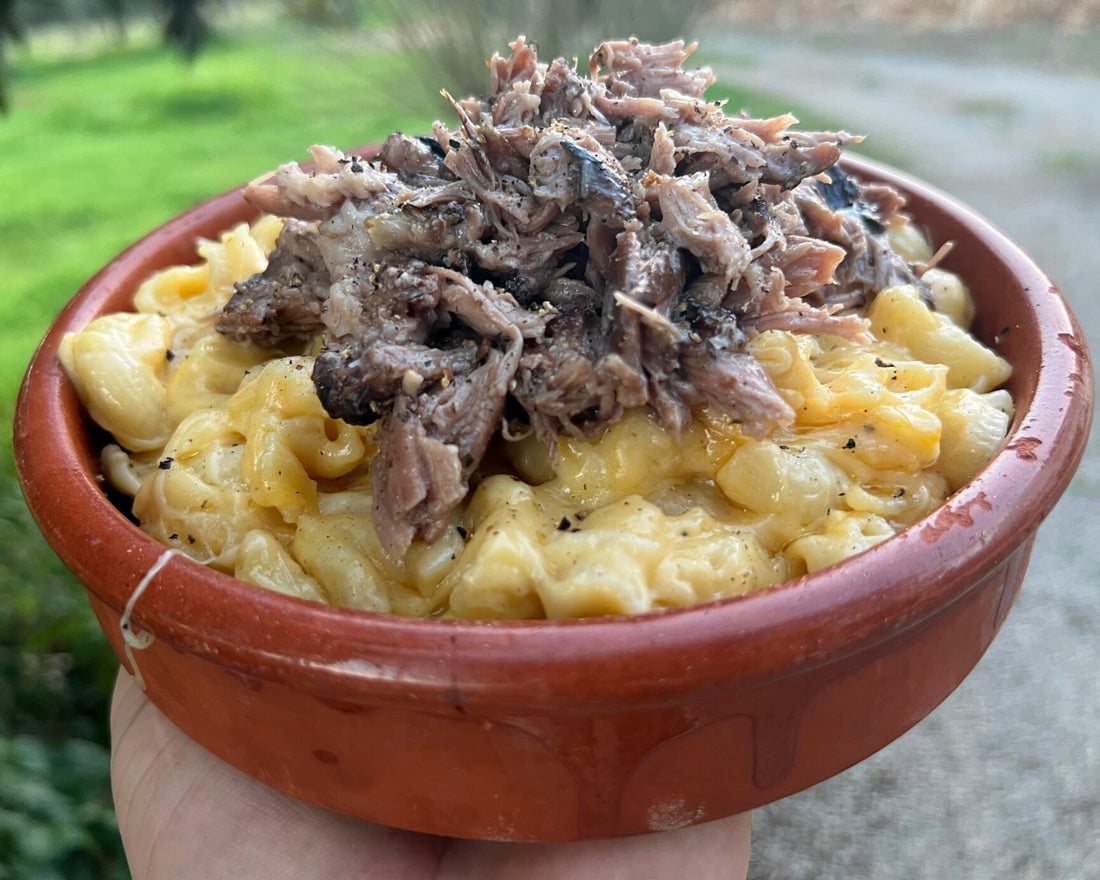 There's mac and cheese. And then there's a whole different animal: Ibérico mac and cheese, starring slow-cooked Coppa pulled pork. 
Serves: 8 
Time: 4 hours
Ingredients:
1 31-42 oz. Campo Grande Coppa

1 Tablespoon dried parsley 

1 Tablespoon garlic powder

1 onion, sliced into rings  

1 cup white wine

4 Tablespoons barbecue sauce 

Salt

Black pepper 

Macaroni pasta for 8 

3 Tablespoons butter

6 Tablespoons flour

2 ½ cups whole milk 

200g (7 oz.) mozzarella cheese, shredded

200g (7 oz.) cheddar cheese, shredded  
Preparation:
Fire up the grill to 400ºF. 

Season Coppa with salt and pepper and place on the grill over direct heat, searing on all sides. 

Once seared, brush with barbecue sauce and season with parsley and garlic powder. 

Scatter half the onions over a large sheet of aluminum foil. Place the Coppa on top and add remaining onions on top of the meat. 

Carefully pour the white wine over the onions and Coppa, and close up the aluminum foil so the liquid stays locked inside. 

Cook over indirect heat for 3.5 hours, adding your wood of choice to the grill to get those smoky flavors.

Once the meat is cooked and tender, remove from the grill and let rest in the foil while you prep the mac and cheese. 

Cook the pasta according to the package instructions. 

In a large pot, melt the butter over medium heat. 

Add the flour and cook until the mixture is combined and loses its floury taste, stirring constantly.

Heat the milk in a separate saucepan and pour into the flour mixture, whisking until the mixture comes together in a creamy bechamel sauce. It's okay (and even preferred) if it's a bit liquidy. 

Add the pasta into the bechamel sauce, along with the cheeses. Mix until everything is nice and melty. 

Remove the Coppa from the foil and shred the meat. 

To serve, portion the mac and cheese onto the plates and top with the Coppa pulled pork.

¡Buen provecho!