Coppa & Shiitake Ramen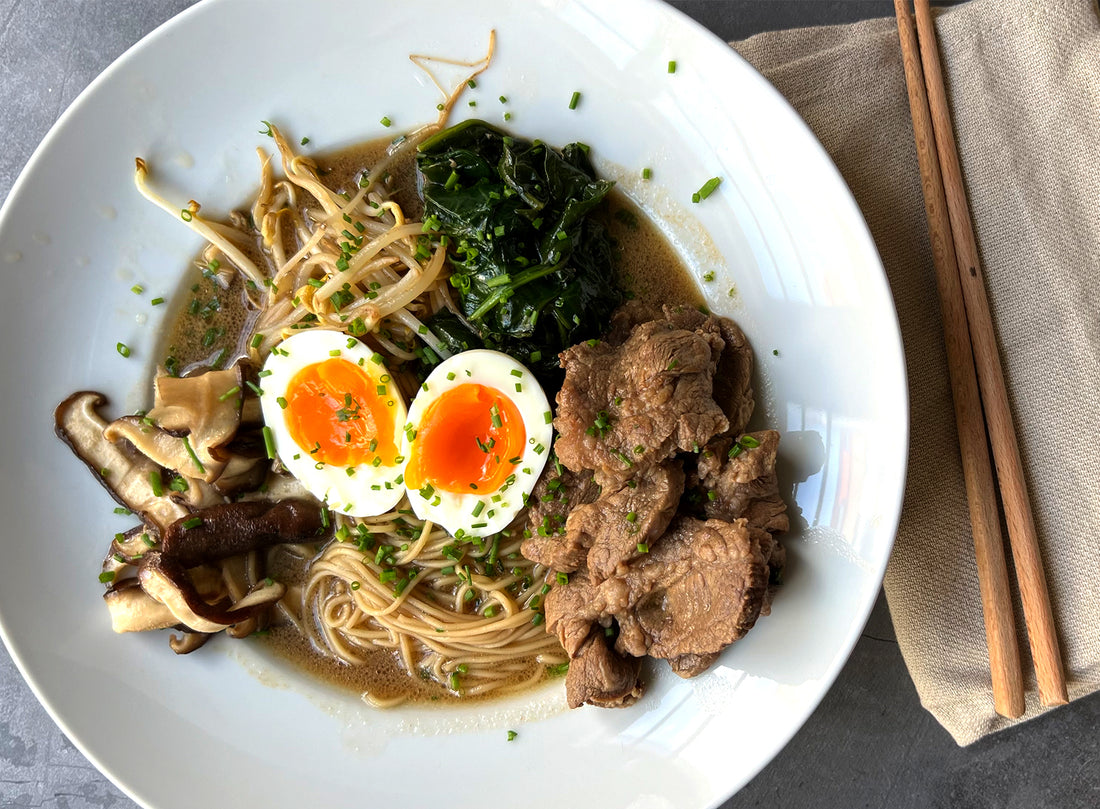 Attention ramen fans: this is your new dig. This umami-packed ramen gets the Ibérico treatment with thin slices of marinated Coppa and a whole slew of veggies and mushrooms. 
Serves: 8
Ingredients
1 31-42 oz. Campo Grande Coppa

3 Tablespoon sesame oil 

1 Tablespoon oyster sauce 

¾ cup soy sauce, divided  

100g (3.5 oz.) dried shiitake mushrooms

8 portions ramen noodles

80g (3 oz.) bean sprouts 

1 bunch spinach 

8.5 cups chicken broth 

1 Tablespoon brown sugar

8 eggs

1 bunch cilantro, chopped  

Vegetable oil 

Salt

Black pepper
Preparation  
Slice the Coppa as thin as possible, as if it were carpaccio, and place in a glass dish or container. 

Mix sesame oil, oyster sauce, and 2 Tablespoons soy sauce together and pour over the Coppa. 

Place shiitakes in a heatproof bowl. Boil about two cups of water and pour over the shiitakes to cover, letting them sit in the water for 20 minutes.  

Cook noodles according to the package instructions. 

Blanch spinach, cooking for about 3 minutes in salt water. 

Heat a drizzle of vegetable oil in a large pot over high heat and cook Coppa filets a couple minutes until golden brown. 

Add chicken broth and the water from the shiitakes, leaving shiitakes in the bowl. Bring to a boil and let cook for 10 minutes. 

Cut shiitakes in thin strips and add to the pot, along with remaining soy sauce and brown sugar. Let boil for 2 minutes.

Add spinach and bean sprouts and remove from heat. 

Boil the eggs to a soft-boiled texture, 5-6 minutes. Remove shell and cut each egg in half. 

To serve, place noodles in each bowl, ladle the broth over the noodles, and top with Coppa. Add shiitakes, sprouts, and spinach on top, along with half a soft-boiled egg and a sprinkle of cilantro.

¡Buen provecho!