Egg Benedict Pancakes with Crunchy Pork Belly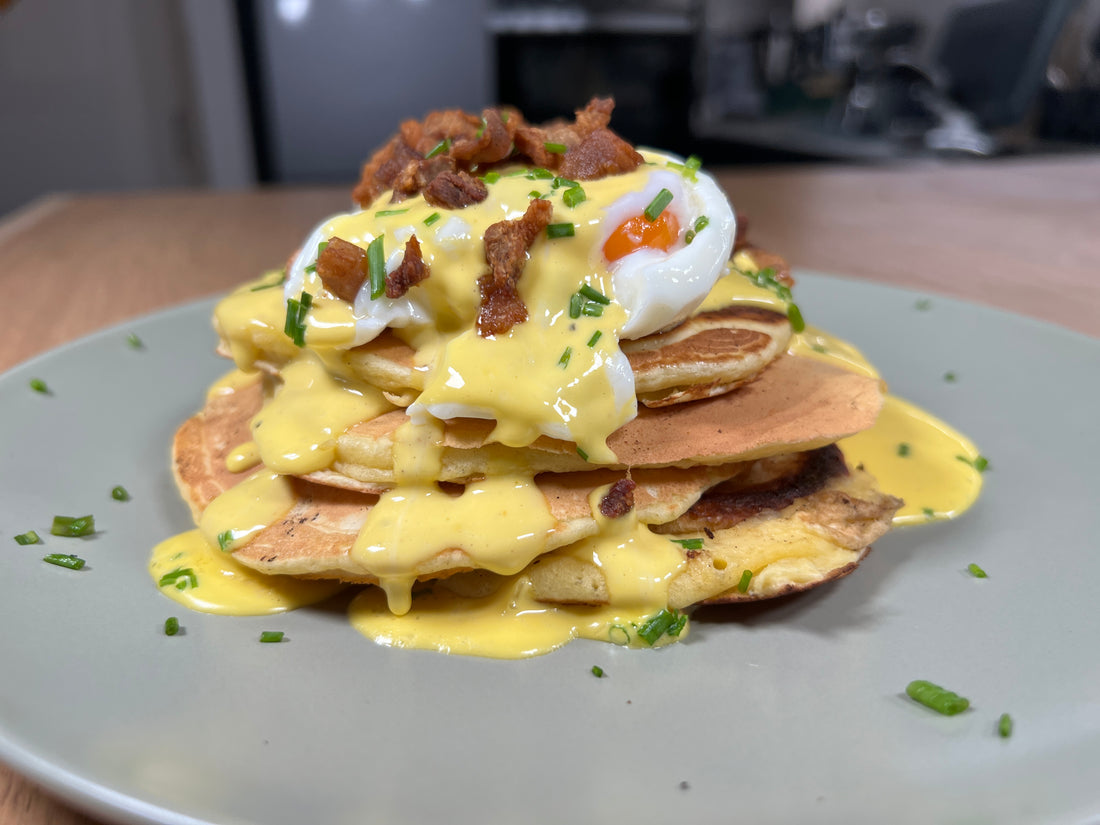 Sweet or savory for breakfast? We'll take both. Classic pancakes are the base for these hollandaise-smothered eggs benedicts. Top 'em off with crispy Ibérico Pork Belly cooked bacon-style to get those salty pork crunchies. 
Serves: 2
Time: 30 min 
Ingredients:
200g (7 oz.) Campo Grande Pork Belly, diced    

125g (9 Tablespoons) butter

1 Tablespoon lemon juice 

6 eggs, divided 

4 teaspoons sugar 

1 cup flour 

½ cup whole milk 

2 teaspoons baking powder

Salt

Black pepper 
Preparation:
Hollandaise Sauce
*Keep in mind that hollandaise needs to be served hot or warm, so you will need to prepare it just before preparing the dish.
Using a double boiler system, fill a medium saucepan with an inch or two of water and place a small heatproof bowl on top. Set the butter inside the bowl and turn on the heat, letting it melt without touching or mixing it.

Once the butter melts and begins to heat up, it will start to separate and foam on the surface, and you will see a residual layer in the bottom. Once this happens, remove the butter from the heat and scoop off the foam with a spoon.

Using an immersion blender, mix 1 egg, lemon juice, salt, and black pepper and blend for a few seconds to incorporate the ingredients. 

Remove that residual layer of proteins at the bottom of the butter. Then, keeping the immersion blender vertical and completely still (this is crucial), blend the mixture while slowly streaming in the warm clarified butter. 

Once all the butter has been added and the mixture is emulsified, you can begin to move the blender around a bit to finalize the mixing process. 

Set the hollandaise sauce aside.
Pancakes 
In a large mixing bowl add 1 egg and whisk well. Add sugar, flour, milk, and baking powder and whisk until you have a smooth batter. 

Using a griddle or nonstick pan, heat up a drizzle of oil or butter to keep the pancakes from sticking as you cook. When the oil is hot, quickly pour in 2 or 3 Tablespoons of batter for each pancake, leaving space between each one. You will have to work in batches depending on the size of your pan. 

Flip each pancake after about 30 seconds and cook until nice and golden on each side. As you repeat with the remaining batter, be sure to add more oil or butter to the pan before pouring in more batter. 
Assembly 
Poach your eggs by cutting 4 pieces of plastic wrap into squares and placing a drop of oil into each one. Put the plastic wrap squares into small cups or bowls, crack an egg into each plastic square, and tie up the plastic wrap to secure it. Drop into boiling water and cook for 3 minutes. 

Cook the Pork Belly in a sauté pan over medium heat in its own juices and fats until crunchy, about 10-20 minutes. 

To build the dish, place the pancakes on the plates and top with the poached eggs. Spoon the hollandaise sauce on top and sprinkle on the crunchy Pork Belly. ¡

Buen provecho!