Entraña Tacos with Ranchera Sauce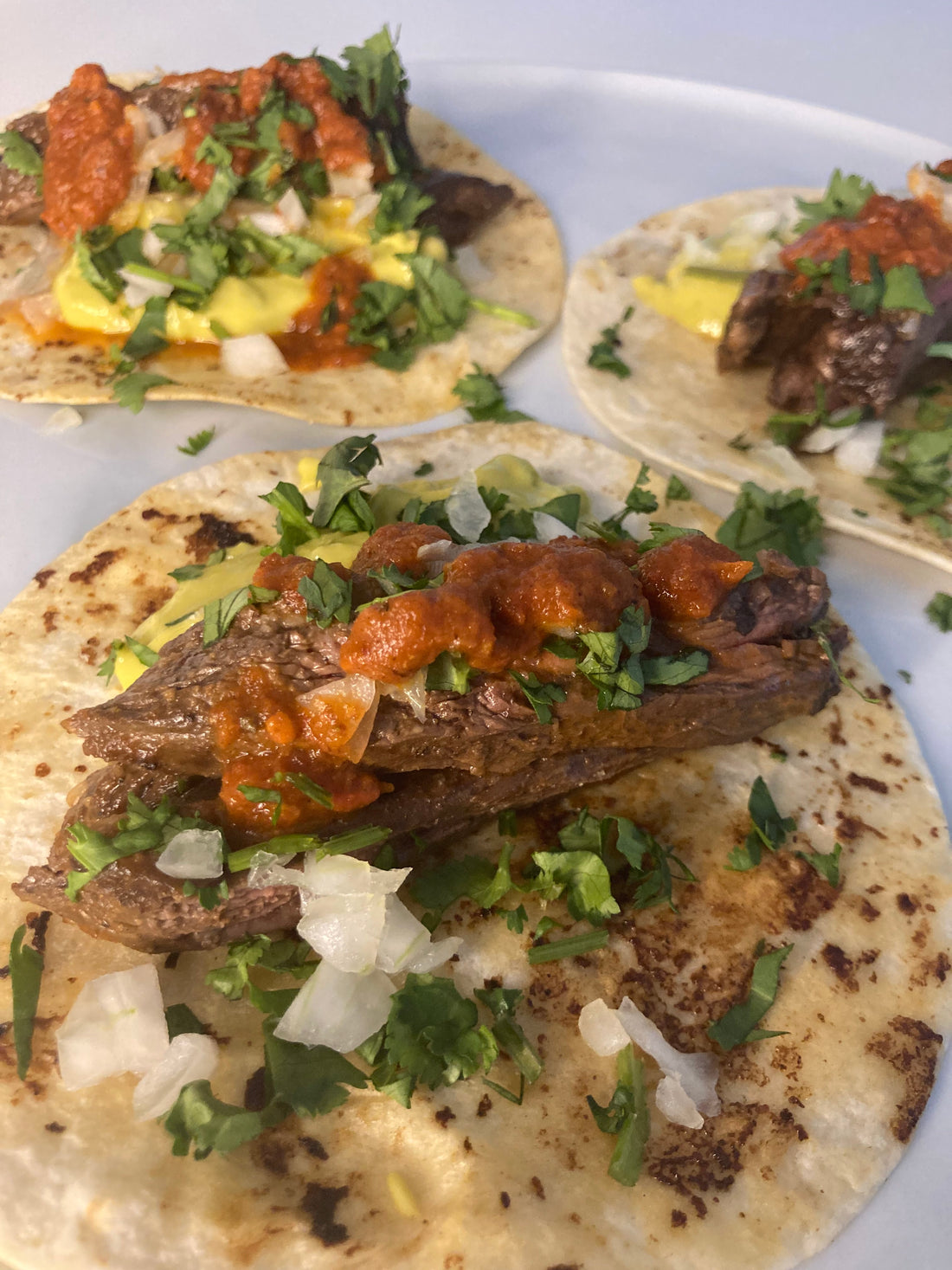 This is a spectacular recipe to share with friends or family. What is generally known as Entraña or Arrachera in Mexico, is a muscle of the cow's diaphragm. This part of the cow is tremendously tasty, which is why it is a very popular cut.
Today we will accompany these tacos with the Ranchera sauce which is a spicy tomato-based sauce used in Mexican and Tex Mex cuisine to elevate the taste of the recipes.
Ingredients
3 entrañas Campo Grande
1 cilantro
1 onion
1.5 tsp paprika
1 tsp sea salt
3 garlic cloves
2 tsp black pepper
4 tsp Worcestershire sauce
1 tsp mustard
3 Aji Panca (or Chile Habanero)
Juice of two lemons
Oil
Tortillas
Oregano
Guacamole
Instructions
To prepare the marinade for the meat, put in a blender the following ingredients: Worcestershire sauce, lemon juice, black pepper, mustard, paprika and garlic. When it is well mixed, put it on the meat and let it marinate for about 1 hour.
While the meat is marinating, make the sauces for the tacos.
For the Ranchera sauce: in a pan with a little oil, roast 3 tomatoes, 2 garlic cloves, ¼ onion and 3 Aji Panca or chile habanero. Once they are roasted, add everything to a blender along with a tablespoon of oregano, black pepper, salt and water and mix.
Once the sauces are ready and the cilantro and white onion are chopped, proceed to roast the meat to the point of preference.
Assembling the tacos
In the same pan where the meat has been roasted, lightly brown the tortillas so that they take on the flavor of the meat.
Serve the tortilla on a plate and add the meat, followed by the ranchera sauce, guacamole and finish off with a little coriander and chopped onion. Enjoy!!