Flambéed Lubina Poke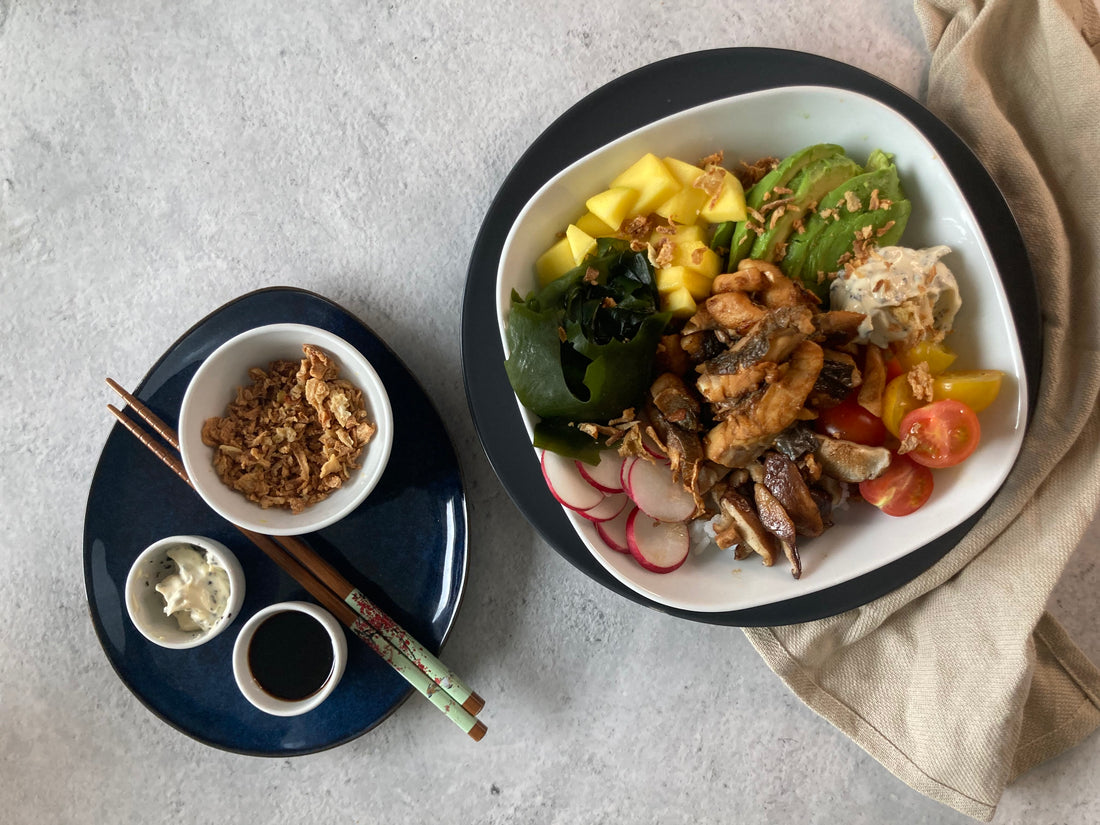 Poke is a dish of Hawaiian origin, it means "to cut" in the native language. It was invented by fishermen who spiced up cuts of their daily catch as they sat in their boats and ate it. It was a dish "to regain strength". That is why it is traditionally made with raw fish seasoned with soybeans and other fresh products from the area, usually on a bed of rice. Its recent popularity has given it today all kinds of variety and flavors that make it very special and healthy.
Ingredients
150 gr sushi rice already cooked
1 Lubina
1 splash of rum
4-5 Shiitake mushrooms
50 gr Wakame Seaweed
25 gr Mango
5-6 Cherry Tomatoes
2 Radishes
Crispy fried onion
Dressing
Truffle Mayonnaise
100 gr Mayonnaise
Grated truffle, truffle essence or truffle oil to taste
Instructions
Start by cooking the sushi rice. In a pot with water and salt cook for 18 min. Once cooked, set aside.
Cut the lubina into fine bite-size strips. Sauté over high heat first on the skin side.
Then add the rum and flambe. (Watch out for this! If you're afraid to flambé, skip this step since a very strong flame comes out when flambéing that only lasts a few seconds until the alcohol evaporates)
Once flambéed, add the dressing to marinate the lubina and set aside.
Cut the Shiitake mushrooms into thin slices and then sauté for a few minutes.
Cut the mango into small cubes and the Cherry tomatoes in half
For the truffle mayonnaise, mix the mayo and the truffle in a recipient until it tastes as desired
Plating
Prepare a bed of rice in a container and on top of it in a circle add the sautéed mushrooms, mango, Wakame seaweed and cherry tomatoes.
Put the flambéed and macerated Lubina in the center of the plate, sprinkle with crispy onion and on one side add the truffled mayonnaise.
Garnish with radish.