Flank Steak Fajitas with Chimichurri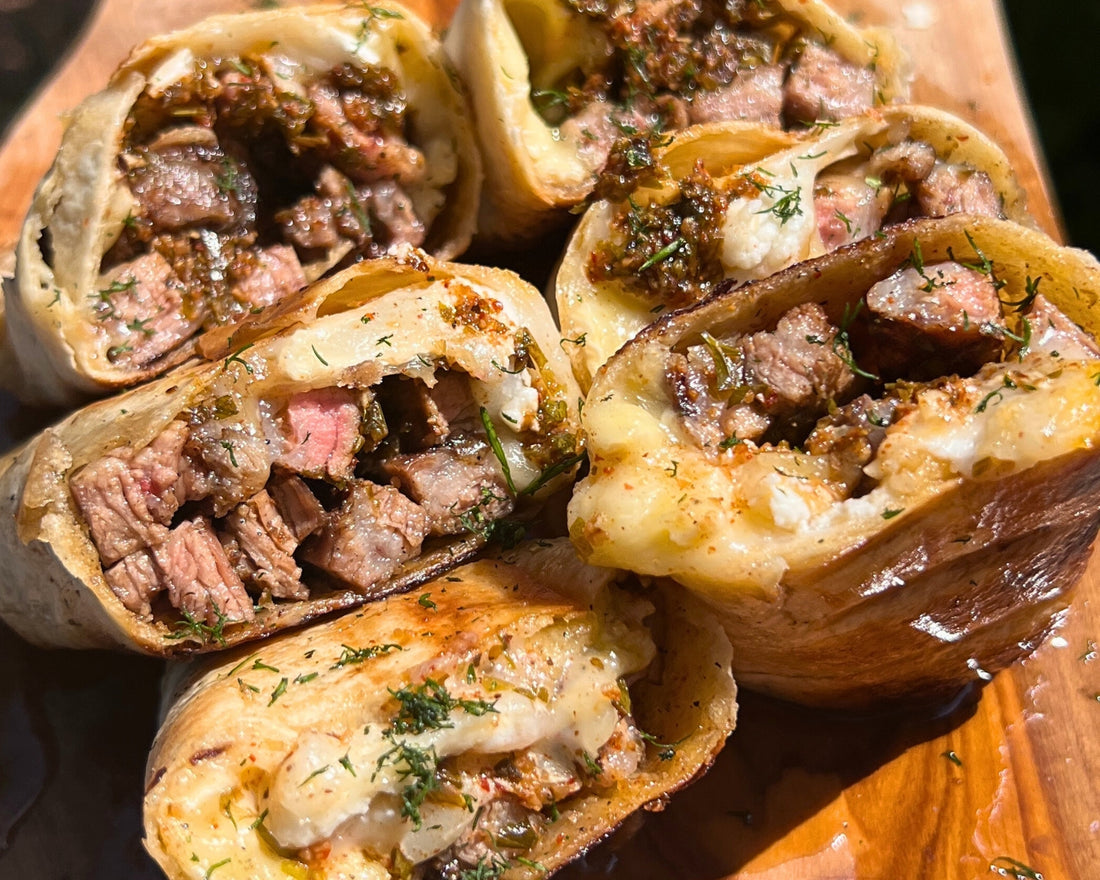 Fajitas, with their sizzling platters of perfectly seasoned meat and an array of colorful toppings, have become a beloved dish that encapsulates the spirit of Tex-Mex cuisine. Whether you're a seasoned chef looking to expand your repertoire or a kitchen novice eager to impress your friends and family, fajitas offer an exciting and delicious journey for all.
Recipe for Flank Steak Fajitas with Chimichurri
Serves: 3
Difficulty: Easy
Course: Main
Time: 25min
Ingredients
1 14-24 oz. Campo Grande Flank Steak
3 flour tortillas
1.75 oz. mozzarella cheese, grated
1.75 oz. cheddar cheese, grated
3.5 oz. goat cheese
3.5 oz. brie cheese
Fajita seasoning rub (or your preferred seasoning)
3 tablespoons chimichurri sauce
Instructions
Prepare the Flank Steak: Trim the flank steak and remove any excess fat. Season the steak with your chosen fajita seasoning rub. In this case, we used a special rub for fajitas.
Grill the Steak: Cook the steak on the grill for about 2 minutes per side over high heat, at around 350-400°F (175-200°C). You can also cook it on a griddle at the same temperature and time. However, grilling it over charcoal or on a grill adds a special smoky flavor to the meat.
Prepare the Cheeses and Tortillas: While the steak is cooking, cut the goat cheese and brie into slices. Heat the tortillas on the grill until they are lightly browned on both sides.
Rest and Slice the Steak: Once the steak is cooked, let it rest for about 5 minutes, then slice it into thin strips.
Assemble the Fajitas: To assemble each fajita, place the sliced steak on the tortilla. Add the four cheeses: mozzarella, brie, goat cheese, and cheddar. Finish with a tablespoon of chimichurri sauce.
Heat and Serve: Heat the assembled fajitas on the grill until the cheese is melted. Serve immediately and enjoy your delicious fajitas!