Grilled 4 Rib Rack with Hummus, Sweet Potatoes, and Chimichurri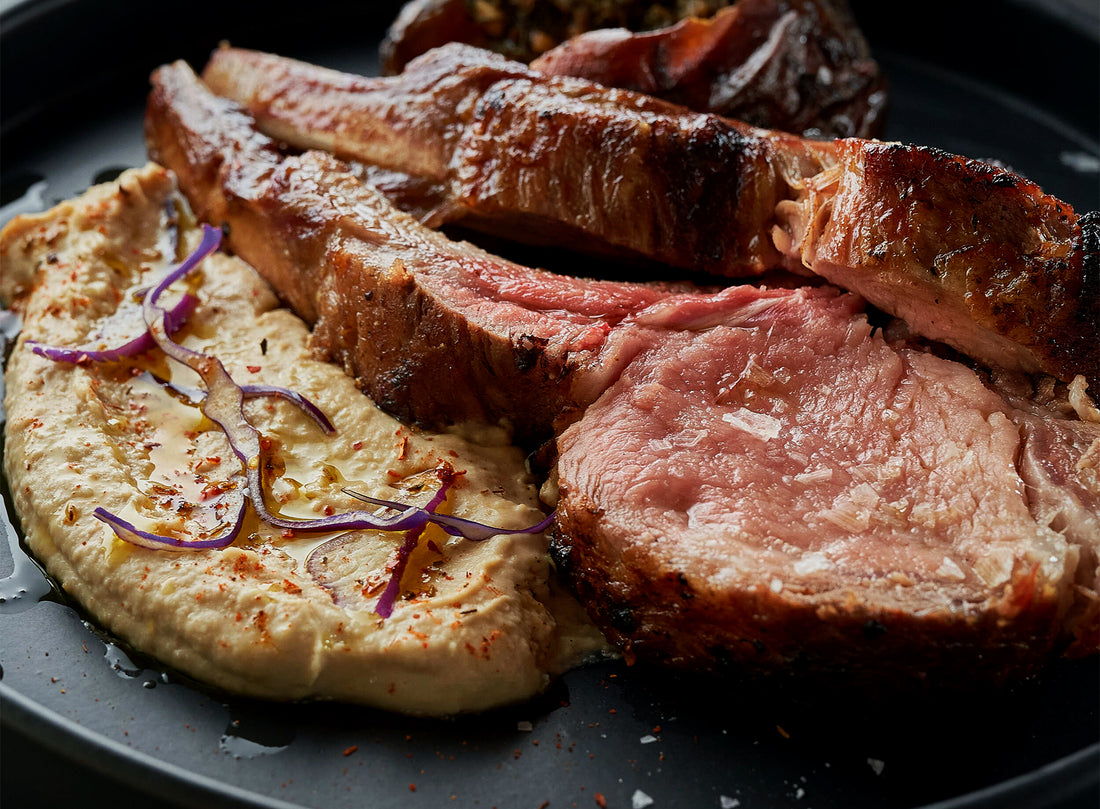 Grill or bake this showstopper Rib Rack and pile it over the creamiest of hummus. Sweet potatoes and a bright punch of chimichurri make for a complete, nutritious dinner. 
Serves 2
Ingredients
Rib Rack
1 Campo Grande 4 Rib Rack 
2 small sweet potatoes, cut in half lengthwise 
Salt
Freshly ground black pepper 
Chimichurri
½ cup fresh parsley, finely chopped  
1 teaspoon ground aji (or other spicy ground pepper)
1 clove garlic, minced 
¼ cup extra-virgin olive oil 
¼ cup white wine vinegar
¼ cup water
Salt
Freshly ground black pepper 
Hummus 
14 oz. canned garbanzo beans, rinsed 
1 Tablespoon tahini 
2 cloves garlic, peeled 
3 Tablespoons extra-virgin olive oil 
Juice from 1 lemon 
½ Tablespoon ground cumin 
½ Tablespoon salt 
Paprika 
Preparation  
Season rib rack with salt and pepper on all sides. Heat a grill or oven to 300ºF. 
Cook rib rack for about 45 minutes, until it reaches an internal temperature of 145ºF. 
Make slits on the cut-side of the sweet potatoes. Drizzle with olive oil, sprinkle with salt, and wrap in foil. Cook sweet potatoes with ribs in the oven or on the grill until soft.
For the chimichurri, mix all the ingredients in a small bowl until combined. Set aside. 
For the hummus, add all the ingredients to a food processor and blend until smooth. Set aside. 
Once meat and potatoes are cooked, remove potatoes from foil and slice rack into individual ribs. 
Spoon a large dollop of hummus on each plate and place ribs on top. Serve with sweet potato and a hefty drizzle of chimichurri sauce. ¡Buen provecho!