Grilled Iberico Chipotle Tacos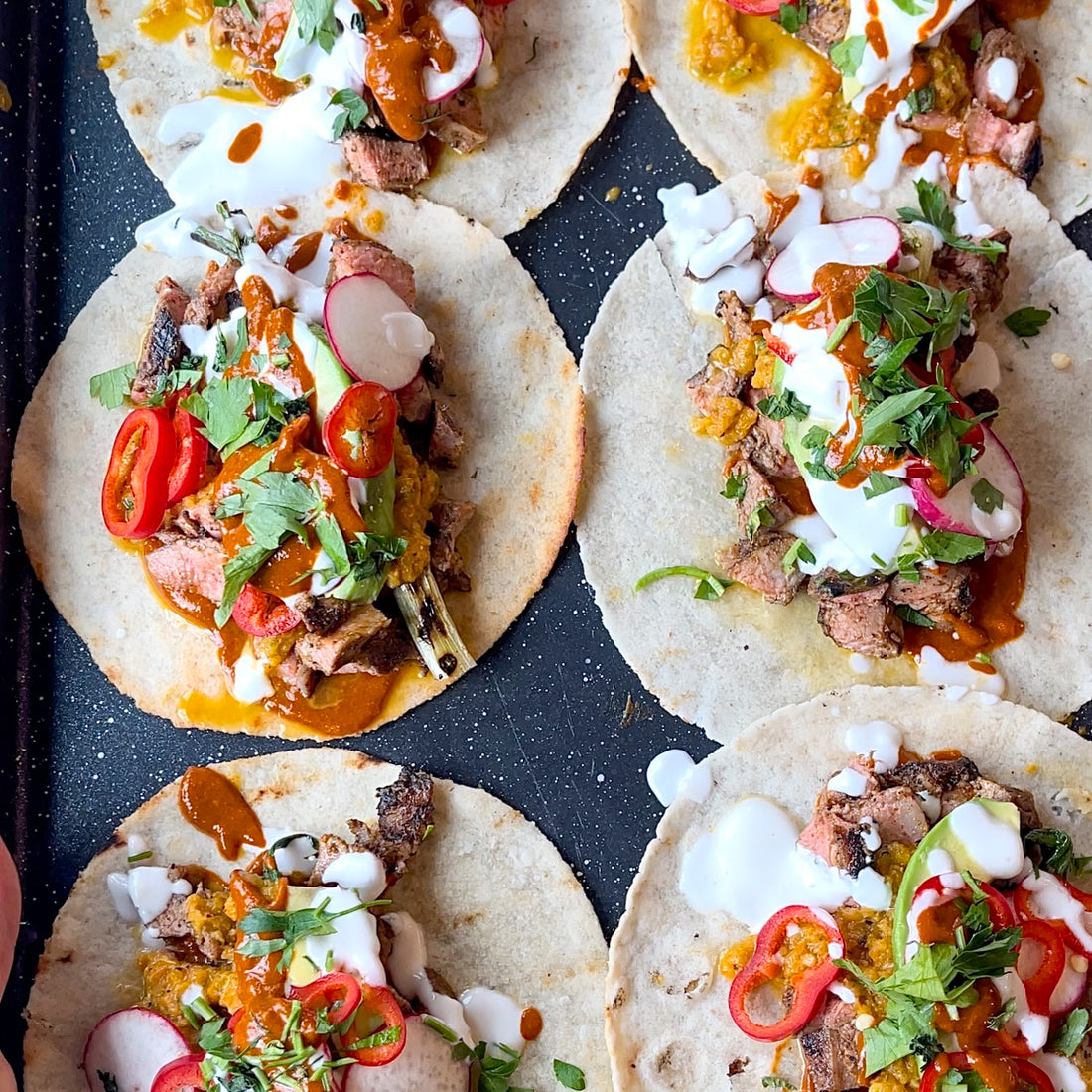 Grilled Iberico Chipotle Tacos
Chipotle-marinated Iberico skirt steak tacos made by Mike Kubiesa are an exquisite culinary delight that's simply irresistible. The tender, succulent meat is infused with the perfect balance of smoky and spicy notes, courtesy of that delightful chipotle marinade. Paired with fire-roasted tomatoes, these tacos take the taste to a whole new level, adding a sweet and tangy twist.
Where do you live now?
I live in a suburb of Chicago with my wife and two sons.
What is your favorite iberico cut?
My favorite cuts are the presa steak and the bone-in rack! They're always crowd pleasers and so full of flavor!
 How long have you been interested in cooking?
I've been interested in cooking since I was a kid! I spent a ton of time in the kitchen with my mom when I was growing up and always knew I wanted to be a chef. I cooked for many years before attending culinary school.
What did you do for a fulltime job?
I was and still am a private chef for high end clientele and athletes across Chicago and the country. I'm now also a full-time brand ambassador and content creator.
When did you start creating recipe content full time?
Within the last year and a half or so! I decided to take the plunge and committed to creating content and recipes fulltime. I've already had so many opportunities to partner with amazing brands like Campo Grande!
Grilled Iberico Chipotle Tacos
Ingredients:
-1 Iberico skirt steak, trimmed  
-1 can chipotles in adobo
-1 tsp smoked paprika
-1 tsp chili powder
-2 oranges, squeezed
-2 limes, squeezed
-1 bunch of cilantros
-2-3 garlic cloves
-Olive oil
-Water if needed
-Salt and pepper
For the salsa
-4-5 Roma tomatoes
-4-5 mini sweet peppers
-1 bunch of green onions 
-2 jalapenos, optional
-1/2 yellow onion
-1/2 red onion
-2 limes, zested and juiced
-2 garlic cloves
-1 tsp cumin
-1 tsp smoked paprika
-1 tsp chili powder
-Salt and pepper
For the crema  
-1/2 cup sour cream
-1 tsp cumin
-1 tsp smoked paprika
- 1 lime, juiced and zested
-Package of corn tortillas
-Pickled chilis
-Avocado, sliced
-Salt and pepper
Preparation:
-Start by blending chipotle in adobo with the orange juice, lime juice, handful of cilantro, salt, pepper, spices and olive oil. Blend until smooth consistency (add water if needed.) Add marinade to cleaned skirt steak and set in the fridge for a couple hours.
-While the meat is marinating grill roma tomatoes, peppers, onions and garlic. Once charred add to blender and blend with lime juice, cilantro, spices, salt and pepper. Blend salsa until chunky consistency and set aside.
-Grill marinated skirt steak for 2-3 minutes per side or until desired doneness. Remove and let rest before slicing. Grill tortillas to warm up before serving.
-In the meantime, add sour cream, lime juice and cumin in a medium bowl and mix until combined. Slice skirt steak and assemble tacos. Garnish with salsa, pickled chilis, avocado, crema and extra lime/cilantro.