Hot Stone Chuletón with Frites & Greens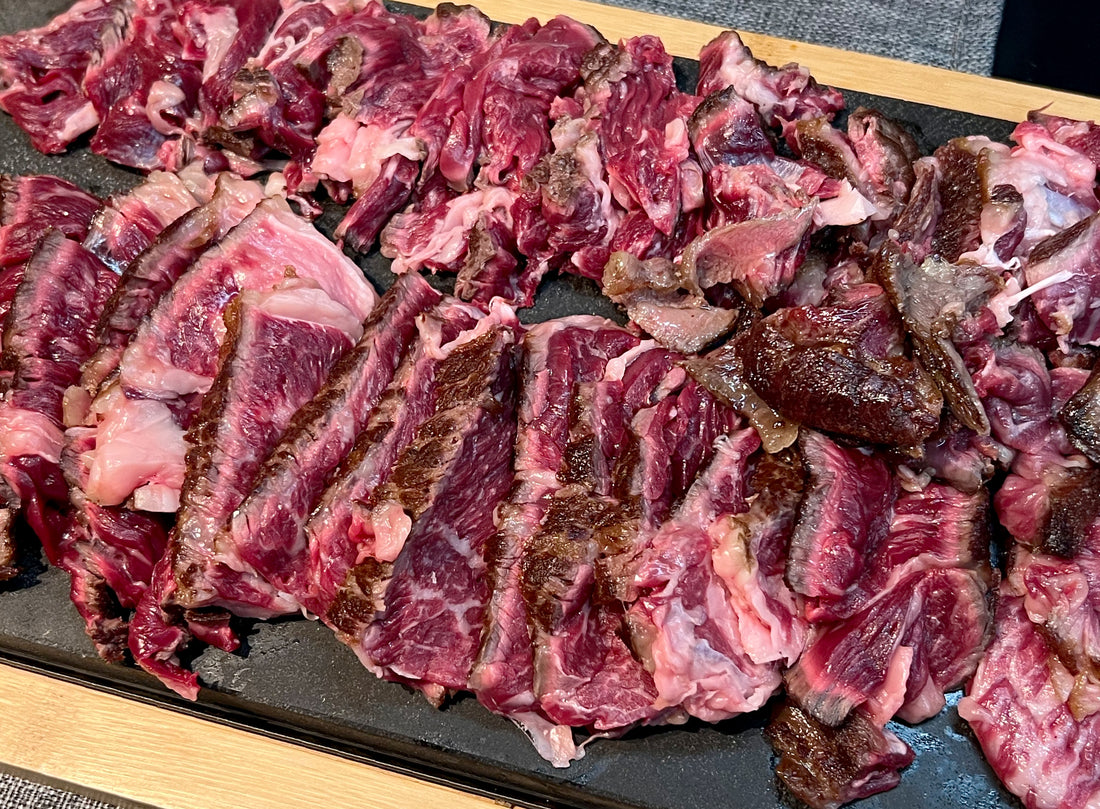 Get cozy with this communal tableside cooking method. Everyone can cook their chueltón pieces as they wish, while digging into some crispy french fries and an easy green salad to lighten things up. If you don't have a hot stone, a cast iron griddle or even a small camping stove/griddle will do. 
Serves: 3
Ingredients
3 large potatoes 
1-Rib Campo Grande Chuletón 
1 bag mixed greens 
1  red onion, diced  
9 cherry tomatoes, sliced in half  
¼ cup dried cranberries 
1 Tablespoon chives, finely chopped  
Sherry vinegar  
Extra-virgin olive oil for frying and salad dressing  
Flaky salt
Preparation   
Cut potatoes into ½-inch matchsticks and place in a large bowl with cold water. Let sit for at least one hour, and ideally overnight. The longer they sit in water, the crispier they will be!
Strain, rinse with cold water twice, and dry completely. 
Meanwhile, preheat the oven to 145ºF. Place a hot cooking stone in the oven and heat for 30 minutes. 
In a separate large bowl, mix salad greens, red onions, tomatoes, cranberries, and dress with sherry vinegar and extra-virgin olive oil to taste. Top with chives and set aside. 
While the stone is heating up, heat a hefty amount of olive oil in a cast iron skillet on medium heat (ideally 300ºF) and fry the frites for 5-6 minutes, working in batches so they stay crispy. Remove with a slotted spoon or skimmer and place on a plate covered with paper towels to drain any remaining oil. 
Turn up the heat until the oil reaches 400ºF and fry potatoes for a second time, until soft on the inside and golden and crispy on the outside, about 5 minutes more. Sprinkle with salt while hot. 
Heat a large skillet over high heat and cook chuletón for 2-3 minutes on each side, or about 1 minute for every 2 centimeters of thickness. Cut into ½-1cm slices. 
At this point you will want to bring the hot stone to the table, using a towel or trivet to keep it from burning any surfaces. 
Cook individual pieces of chuletón on the hot stone until they reach your desired doneness, sprinkling with flaky salt and eating as you cook. Serve with frites and salad. ¡Buen provecho!