Iberico Pita Wraps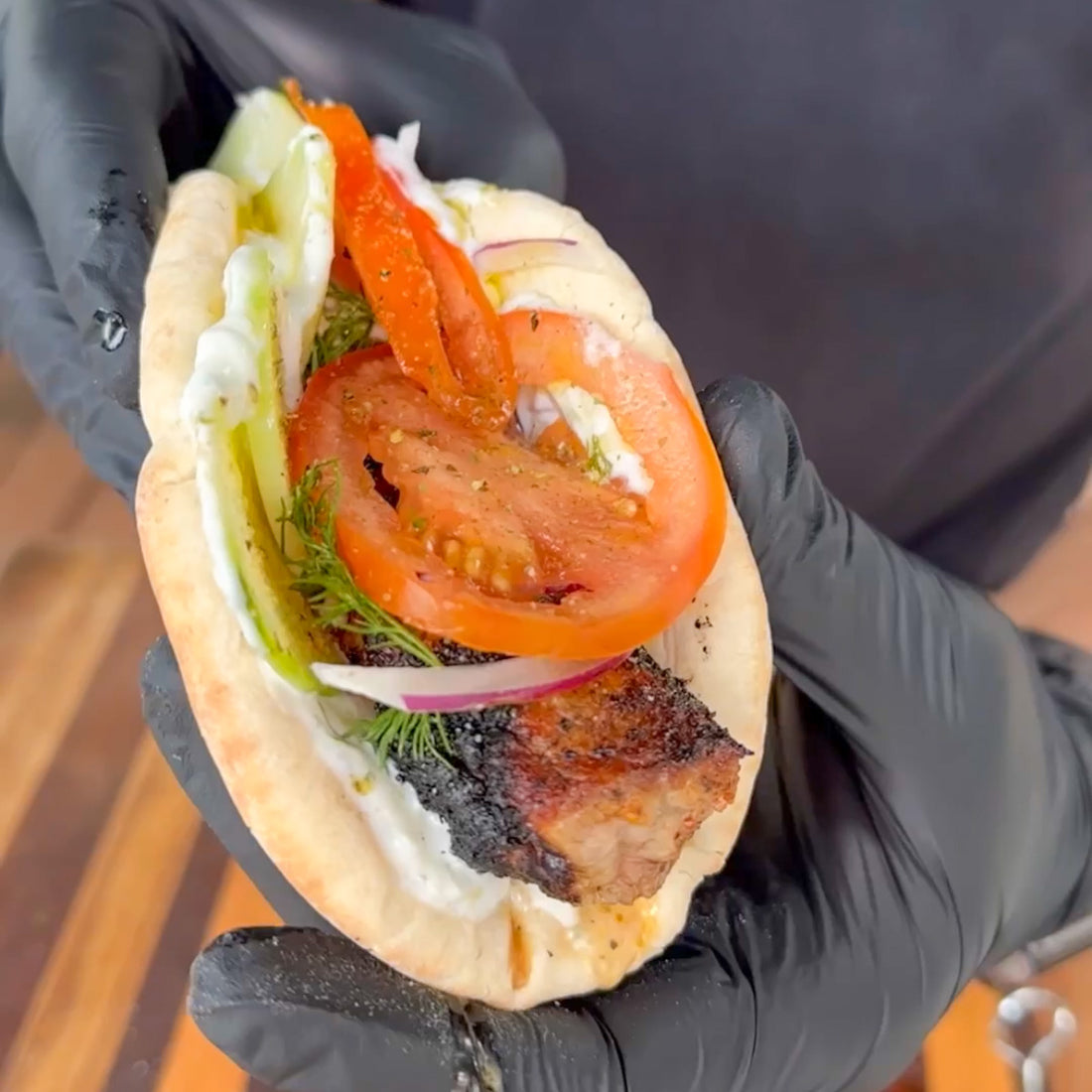 Iberico Pita Wraps
Savoring every bite of these mouthwatering Campo Grande Presa Steak Pita Wraps, made by Maciej Zurawski. Grilled to perfection, topped with vibrant flavors, and served with a refreshing twist of homemade Tzatziki Sauce. A taste of pure delight in every fold! 
Maciej Zurawski is a backyard grill guy who loves cooking for his family and friends. He shares his recipes on Instagram & TikTok to millions of followers. Originally from Poland, Maciek had his first taste of American BBQ at age 10. He was immediately hooked!
What started as a fun hobby has grown into a full blown passion. His latest recipes using Campo Grande meats are out of this world, and are a perfect match with his Dad's All Purpose Rub.
Ingredients
1 Campo Grande Presa Steak

2 tbsp Dad's All Purpose Rub

1 roma tomato

1 red onion

Fresh dill
Marinade
4 cups water

1 lemon

1 tbsp

peppercorns

1 whole garlic head

1 tbsp salt

2 tsp oregano

1 tsp garlic powder

1 tsp onion powder

1 tsp thyme
Tzatziki Sauce
1 cup plain Greek yogurt
1/2 cucumber - shredded
2 tbsp dill - chopped
Juice from 1 lemon
1 tbsp salt
2 tsp oregano
1 tsp garlic powder
1 tsp onion powder
1 tsp thyme
Preparation
In a large bowl, add water, peppercorns, sliced garlic head, lemon juice, lemons, spice mix and mix.  

Cube up the presa steak into bite size cubes.  Add to the water marinade and let it soak up the flavors for at least 1 hour.

Skewer the marinated pork cubes onto metal skewers, drizzle with olive oil and season with Dad's All Purpose Rub.

Preheat the grill to 375 degrees and set for direct heat.

Place the pork skewers on the grates and grill 3 minutes per side.  Continue to flip to ensure even cook throughout.

To make the

Tzatziki

sauce, in a mixing bowl add plain Greek yogurt, shred in cucumber, freshly squeeze lemon juice, dill and seasoning mix.  Mix ingredients together.

Toast a pita bread, spread the homemade tzatziki sauce, grilled Iberico pork,sliced tomatoes, cucumber, sliced red onions and fresh dill.