Iberico Pork and Chimichurri Sandwich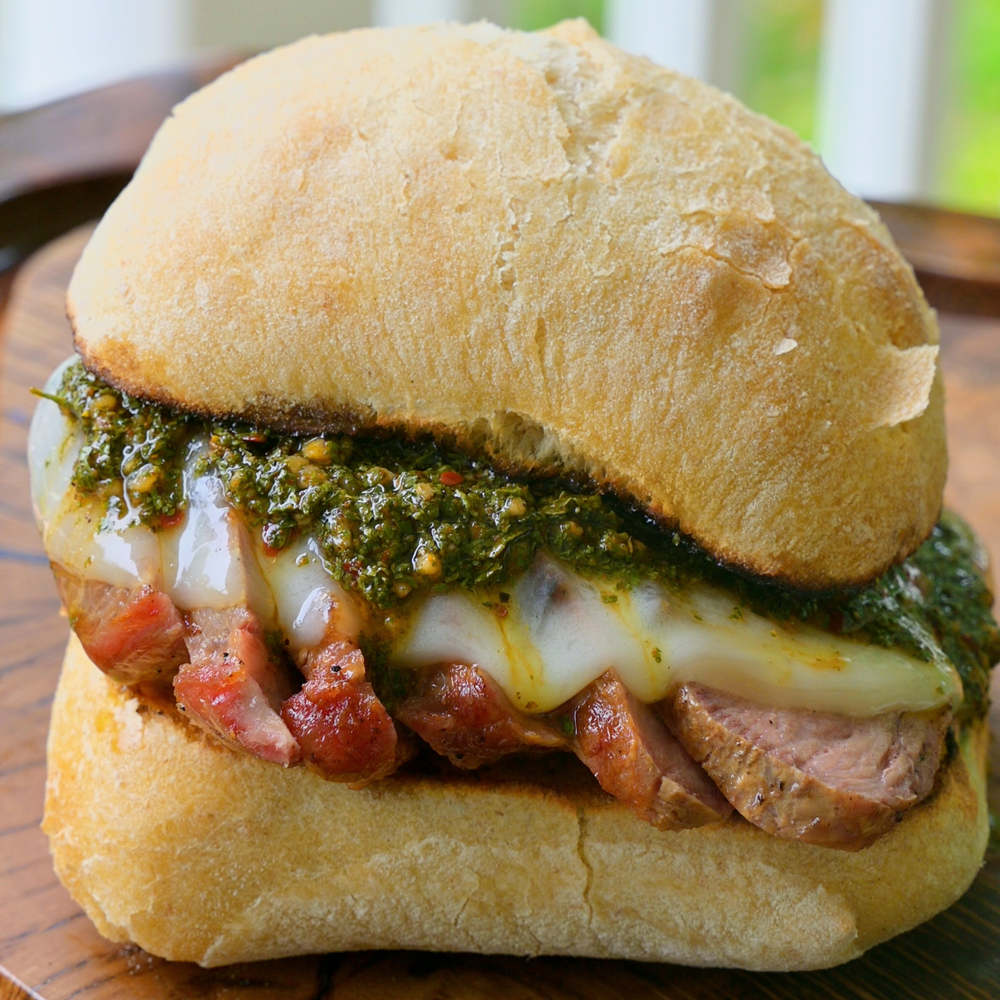 Iberico Pork and Chimichurri Sandwich
Picture this: succulent slices of Campo Grande Iberico Presa Steak, grilled to perfection, nestled between the soft embrace of a ciabatta roll. The steak, marbled with rich, flavorful fat, promises a taste that transcends the ordinary. Enter the Provolone cheese, melting ever so slightly over the warm steak, creating a harmonious blend of creamy and savory. And then, the pièce de résistance - Al Frugoni's Chimichurri sauce. This vibrant concoction of herbs and tangy red wine vinegar awakens your palate, transforming each bite into a symphony of flavors.
Joe DiApice, avid backyard barbeque enthusiast and foodie, comes from Long Island New York residing in Monroe, North Carolina. He is your above average Italian Joe who has now embraced the Carolina country life with his wife Kaiti and daughter Natalie. Joe has become engrossed in the art of cooking from simple kitchen recipes to more detailed and niche smoker cuisine, putting love into every recipe he makes. 
Not only is Joe passionate about cooking in general, he also is passionate about sharing his love of food with everyone from his family and friends to his neighbors. His belief in regard to cooking is that no matter what type of cuisine you're putting out, it is guaranteed the potential to bring folks together if it's made with love. 
Ingredients
1.5 lb Campo Grande Iberico Presa Steak
2 Provolone Cheese
3 tbsp Al Frugoni Chimichurri
2 tbsp Extra Virgin Olive Oil
2 tbsp Red Wine Vinegar
Preparation
Get your grill HOT!
Fire up your charcoal grill using Jealous Devil XL Lump Charcoal and get it hot! We want to grill this pork hot and fast to get a nice crust.
Grill
Get your Iberico Presa steak and do NOTHING! Lets let the meat speak for itself here! Get this on the grill over direct heat flipping every 90 seconds to build up that crust. We are looking for an internal temperature of 130F. This pork is of the highest quality and is known as the Wagyu of pork, you can cook this to medium rare without concerns. Trust me you want to!
Make your Chimichurri
Al Frugoni makes an amazing chimichurri blend that all you need to do is add oil and vinegar. Follow the directions on the bottle for a quick and easy chimichurri
Assemble Your Sandwich!
On a toasted ciabatta roll, add your sliced presa steak, top with provolone cheese (melt with a torch for that extra wow factor), scoop on some of that chimichurri and dive right in