Ibérico Spaghetti & Meatballs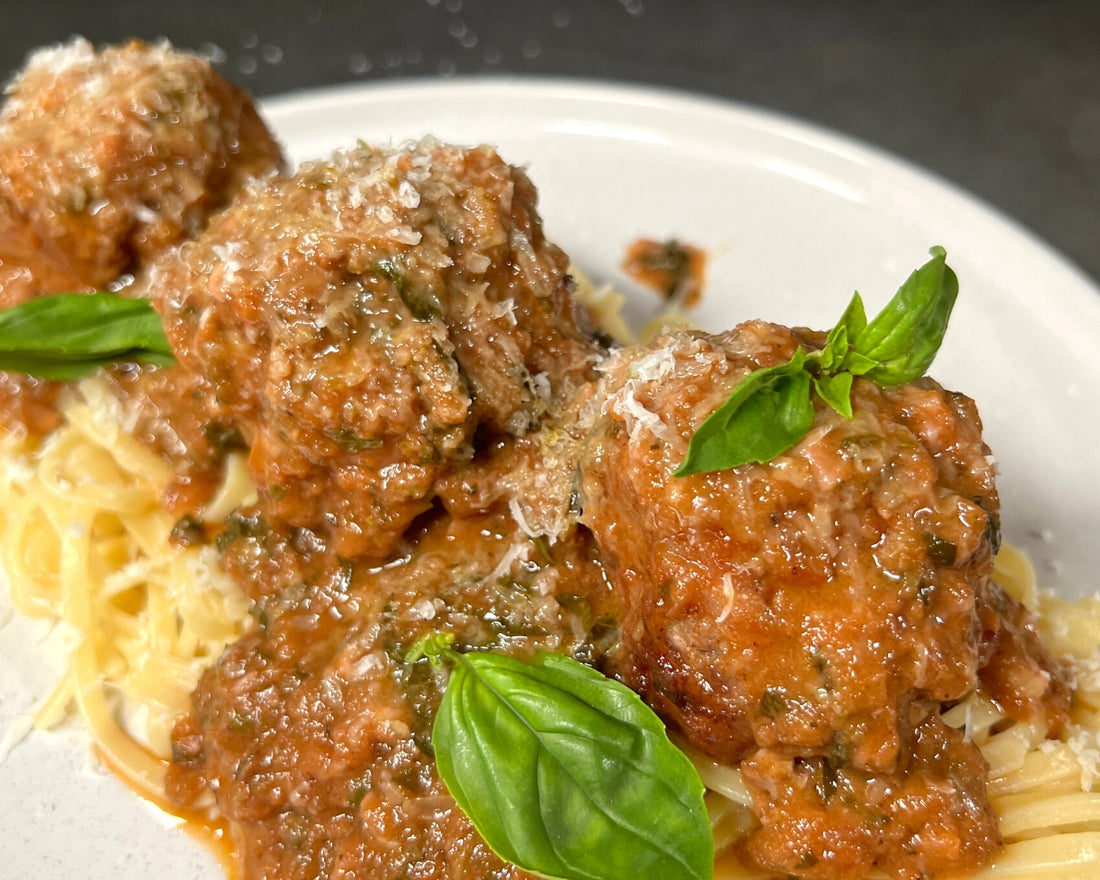 Take full control over basic spaghetti with Coppa and Loin Roast, and mix them up into the juiciest of meatballs. Feel free to make the sauce a day ahead and simply reheat it on the stove in a big pot to finish cooking up the meatballs. 
Serves: 4
Time: 1.5 hrs 
Ingredients:
For the meatballs 
½ Campo Grande Loin Roast, ground or very finely chopped

½ Campo Grande Coppa, ground or very finely chopped

4 oz. bread crumbs 

2 Tablespoons whole milk 

1 egg

3 Tablespoons fresh parsley, chopped

1 Tablespoon dried oregano 

Salt

Black pepper

1 cup flour

2 Tablespoons extra-virgin olive oil 
For the sauce
¼ cup extra-virgin olive oil 

3 cloves garlic, chopped 

1 cup grated tomato 

1 Tablespoon sugar

1 cup red wine

1 Tablespoon dried oregano 

2 cloves garlic 

1 handful fresh basil 

Salt

Black pepper 

1 lb. dried spaghetti de espaguetis.

4 Tablespoons parmesan cheese, grated
Preparation:
The Meatballs
Place breadcrumbs and milk in a large bowl and let sit a few minutes to soak. 

Add the meat, egg, parsley, oregano, salt, and pepper into the bowl and mix well. 

Using your hands, form the meatballs into about the size of an egg, packing them tightly. To keep your hands from sticking to the meat, try coating them in oil or four. 

Place flour on a large plate and roll each meatball in the flour and set aside.

Heat olive oil in a large skillet and sear the meatballs on all sides until dark golden brown. Set aside. 
The Sauce
Heat olive oil in a large pot and cook the garlic until it begins to brown slightly. Add all the sauce ingredients except for the basil and cook for 15-20 minutes until the sauce begins to thicken. Stir in the basil to finish. 
The Final Dish
Add the meatballs to the sauce and cook while you boil the spaghetti to al dente, leaving it a little hard in the middle, as it will continue to cook again in the sauce. 

Strain the pasta and add to the meatballs. Cook for a few minutes longer to combine all the flavors and until the spaghetti is cooked. 

Sprinkle parmesan over the top and serve.

¡Buen provecho!