Loin Roast Parmigiana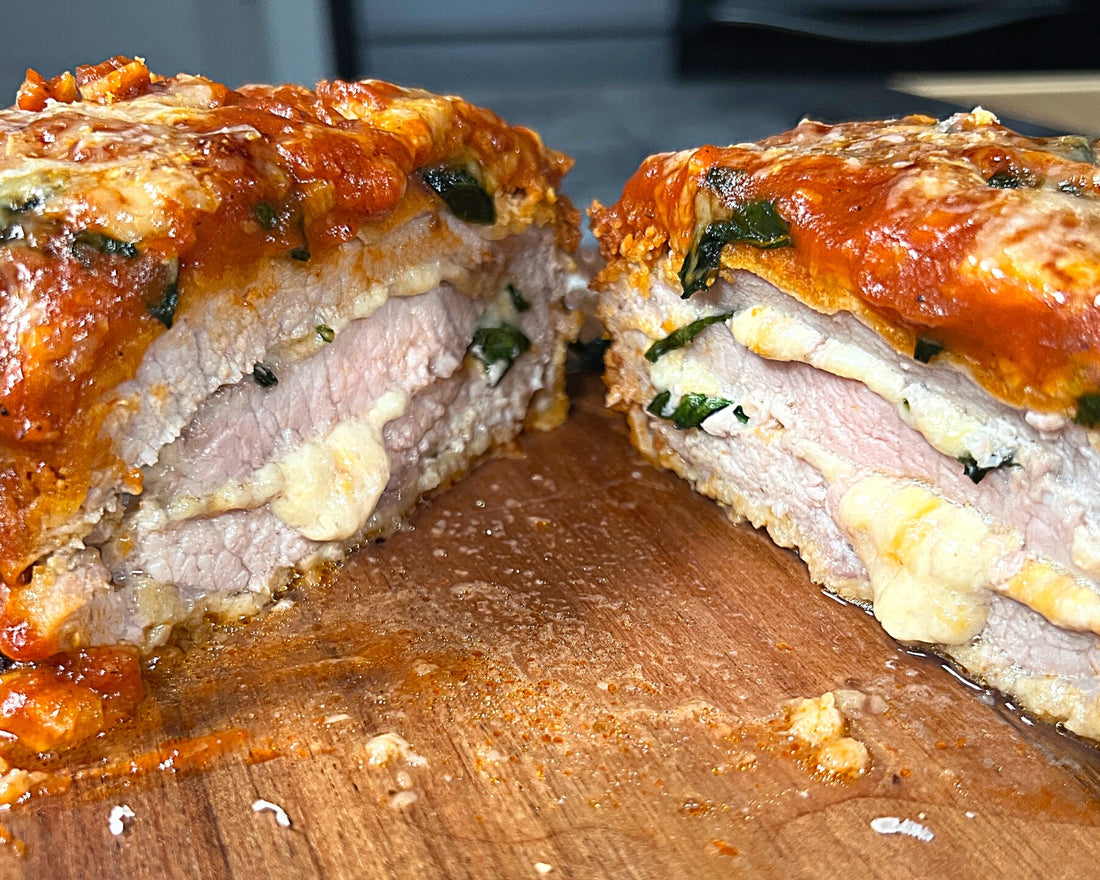 Ibérico Loin Roast makes for an even more tender and flavorful version of chicken parmigiana, with crunchy panko and bright tomato sauce. Here, we open up the Loin Roast in a sort of butterfly-like trifold, which makes the meat thin and easier to pound into tender bliss. If you're not sure how to cut the Loin Roast, check out the video below for step-by-step visuals. 
Servings: 3

Difficulty: Easy

Course: Main

Time: 1h
Ingredients for Loin Roast Parmigiana
1 17-24 oz. Campo Grande Loin Roast

60g (2 oz.) mozzarella or cheddar cheese, grated  

1 handful basil, divided  

1 cup tomato puree 

3 cloves garlic, minced 

50g (2 oz.) parmesan cheese 

1 cup flour 

2 eggs, beaten  

1 cup bread crumbs (ex: panko) 

Extra-virgin olive oil 
Preparation for Loin Roast Parmigiana
Preheat the oven to 400ºF.

Open up the Loin Roast into a trifold, by making a cut along the long side and cutting about ¾ of the way through. Open the flap, turn the meat, and cut from the thick inside area out towards the end, cutting about ¾ of the way through again. The meat should now be thin and open up into 3 even parts. Then use a meat tenderizer or mallet to pound the meat and create a flat, even surface. 

With the Loin Roast open, scatter cheese and half the basil all over the surface. Close the Loin Roast and set aside. 

Place flour, eggs, and bread crumbs in 3 different shallow bowls. First, coat the Loin Roast in flour, then in egg. Repeat, coating in flour and then in egg, and finally place it in the plate of breadcrumbs to coat evenly. 

Place on a baking sheet and bake in the oven for 30 minutes, or until your meat thermometer reads 145ºF (about 1 hour for every 2.25 lbs). 

While the meat is cooking, heat a drizzle of olive oil in a pan and add the garlic. Cook until they start to brown, being careful not to burn. Add the tomato puree, more basil leaves, and let cook for a few minutes over low heat. 

Once the meat is cooked, pour the sauce on top and sprinkle with parmesan. Return to the oven for a few minutes just enough to melt the cheese. 

Serve with mashed potatoes, french fries, or rice.

¡Buen provecho!