Grilled Loin Roast Sandwich with Pesto and Red Pepper Mayo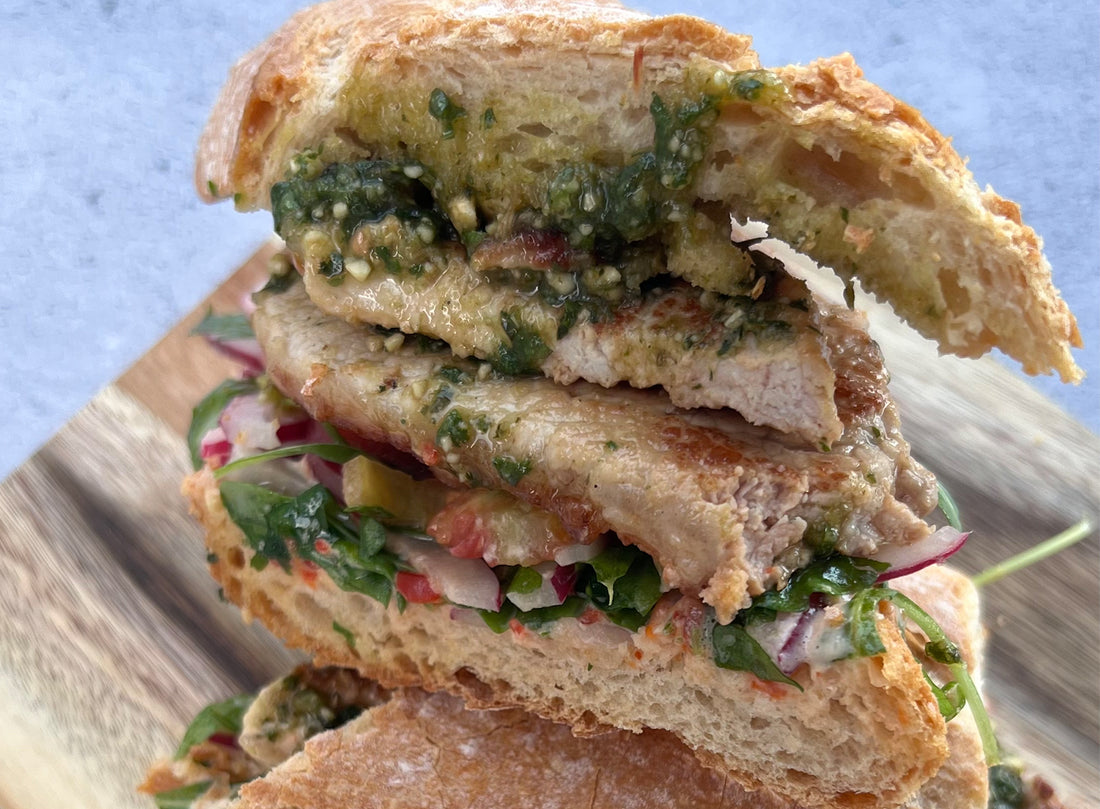 No grill, no problem. You can easily sear your Loin Roast filets in a skillet over high heat and still get that tender inside and crispy outer crust. For the charred red pepper and garlic, roast them in the oven with a little olive oil for similar results. 
Along with the red pepper mayo, we're blending up buttery cashews into a traditional basil pesto for extra creaminess. A peppery arugula salad adds a nice playful punch and crunch to this juicy, smoky, mayo-laden sammie you're bound to make over and over again. 
Serves: 4 
Time: 30min
Grilled Loin Roast Sandwich with Pesto and Red Pepper Mayo
Ingredients
1 15-22 oz. Campo Grande Loin Roast 
4 sandwich rolls  
6 Tablespoons mayonnaise  
1 red bell pepper
2 cloves garlic 
2 oz. cashews 
¼ extra-virgin olive oil 
4 oz. basil 
2 oz. parmesan cheese, finely grated 
1 red onion, julienned  
4 oz. arugula 
1 Tablespoon white wine vinegar  
Salt
Freshly ground pepper 
Preparation  
For the red pepper mayonnaise, drizzle garlic and red pepper with oil, season with salt and pepper, and wrap in aluminum foil. Heat grill to medium and cook for 40 minutes. Once peppers and garlic are cooked, let cool and blend with mayonnaise until smooth. 
For the pesto, use a food processor or mortar and pestle to blend basil, parmesan, salt, and olive oil until smooth. 
In a separate medium-sized bowl, mix arugula, onions, and vinegar. 
Prepare the loin by slicing into 12 filets. Season with salt and pepper. 
Using the grill, bring the heat up to high and cook the filets for 2 minutes on each side. Remove from heat and let rest for 3 minutes. 
To build the sandwiches, spread the mayonnaise on the bread, top with the salad, 3 filets of loin roast, and finish with pesto. ¡Buen provecho!