Loin Roast With Garlic Butter Sauce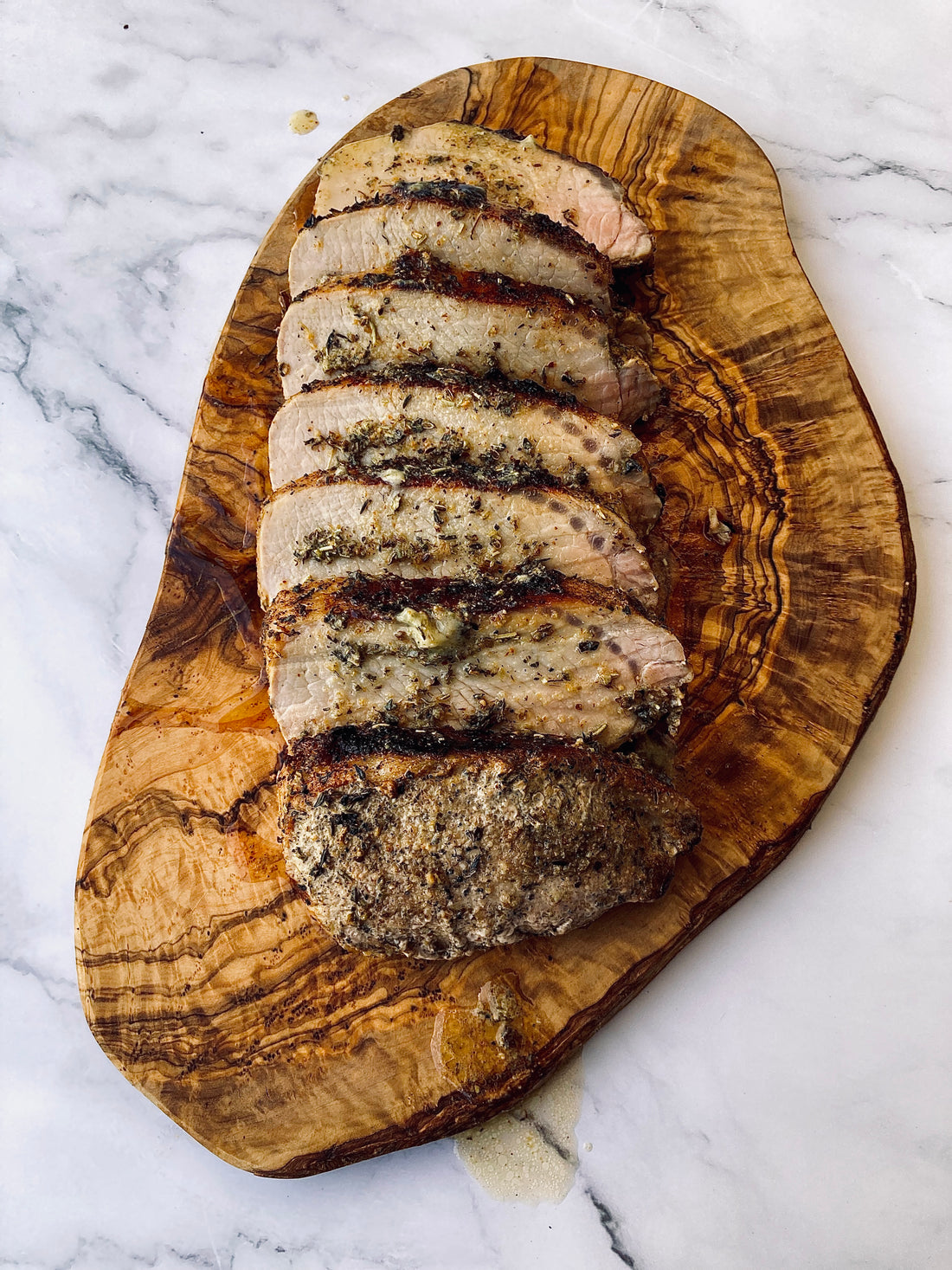 Make a roll of savory herb butter and let it slowly melt over the top of your freshly seared Ibérico loin roast. Store the butter roll in the fridge and use it to finish other ibérico cuts or even on your Vaca Vieja Chuletón. 
Serves: 2
Ingredients
15-22 oz Loin Roast Campo Grande.
4 oz. plus 1 Tablespoon butter, room temperature 
1 Tablespoon dried herb blend (we love Noble Made citrus herbs)
1 17-24 oz. Campo Grande Ibérico Loin Roast
3 Tablespoons mustard 
2 cloves garlic 
1 sprig fresh thyme 
Salt
Black pepper 
Preparation   
Mix 4 oz. of butter and dried herbs together. Place herb butter on a large piece of plastic wrap and roll into a tight cylinder, closing both ends. Place in the fridge. 
Spread the mustard all over the loin roast and season with salt and pepper. 
Heat the grill to medium, about 250ºF and cook the meat until the internal temperature reaches 130ºF, slightly less than medium rare. 
Heat a cast iron skillet over medium heat and add remaining 1 tablespoon of butter, along with the garlic and thyme. Add the loin roast to the pan and sear for 2 minutes on each side, spooning the butter over the meat as it cooks. 
Remove the loin roast from the pan and let rest for a few minutes on a cutting board. Slice the loin and place it  on your serving dish. Top with a slice of the herb butter, letting it melt over the top of the meat. ¡Buen provecho!