Melon Gazpacho with Jamon Iberico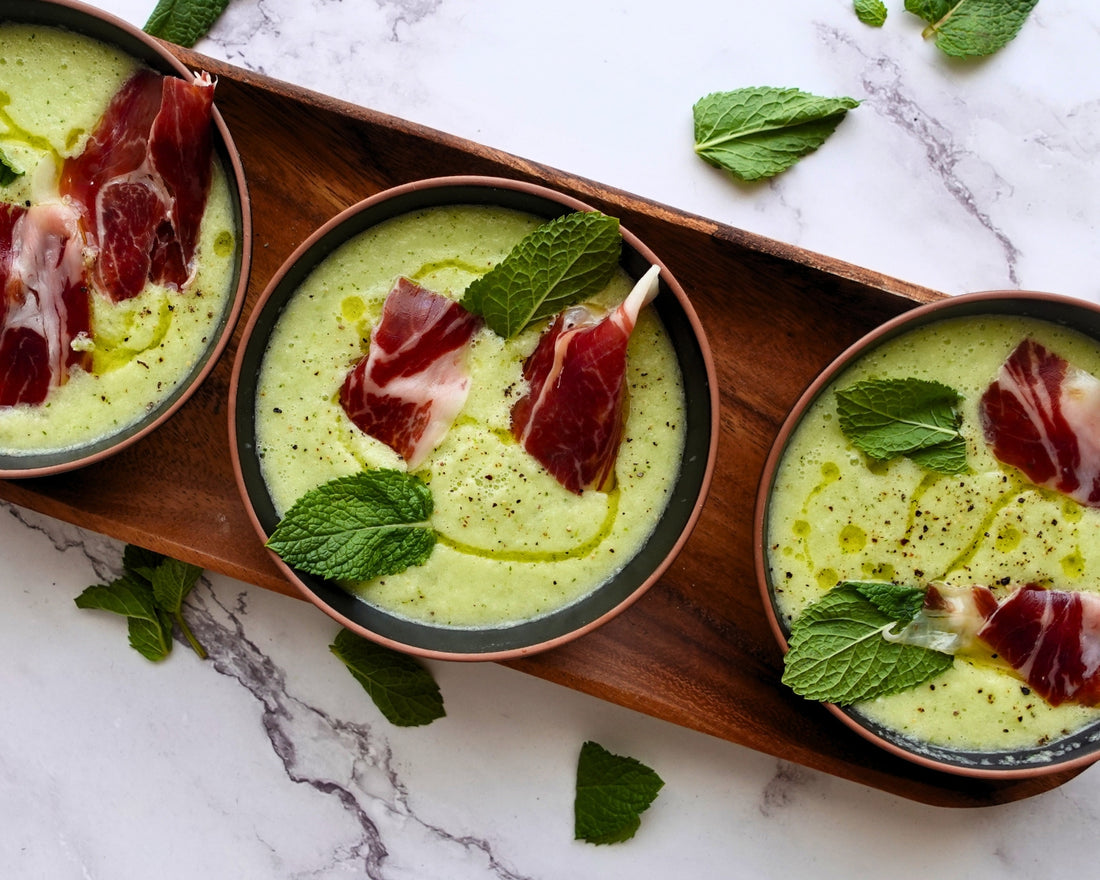 Traditionally hailed as a refreshing Spanish summer soup, gazpacho's chilled, vibrant nature makes it a perfect canvas for culinary creativity. In this culinary journey, we're about to embark on a delightful exploration that combines the natural sweetness of melons with the sophistication of Iberian ham. Brace yourself for a symphony of tastes that dance between the coolness of melon and the robust charm of finely sliced Jamón Ibérico.
Melon Gazpacho with Jamon Iberico  
Serves: 4 
Difficulty: Easy
Course: Appetizer
Time: 10min
Ingredients for Melon Gazpacho with Jamon Iberico
5 ounces (100 grams) Iberian ham, thinly sliced
1 small onion, chopped
1 pound melon (any sweet variety), peeled, seeded, and cubed
1 clove of garlic, peeled
1 friarielli pepper (or substitute with a mild chili pepper), seeds removed and chopped
1 cucumber, peeled, seeded, and chopped
1 tablespoon of apple cider vinegar
1 tablespoon of olive oil
Salt and pepper, to taste
10 mint leaves, plus extra for garnish
Preparation for Melon Gazpacho with Jamon Iberico
Prepare the Ingredients: Start by washing and dicing the melon, pepper and cucumber into small cubes, removing the seeds.
Blend the Base: In a blender or food processor, combine the cubed melon, chopped cucumber, minced garlic, chopped friarielli pepper, chopped onion, and mint leaves.
Add the tablespoon of apple cider vinegar and olive oil to the blender. Blend until smooth. If you prefer a smoother base, slowly add water until you reach your desired level of consistency.
Season with salt and pepper according to your taste preferences. Remember that the ham will also add some saltiness.
Chill the Gazpacho: Transfer the blended mixture to a bowl or large pitcher. Cover and refrigerate for at least 1-2 hours to allow the flavors to meld and the gazpacho to chill.
Prior to serving, finely slice or tear the Iberian ham into smaller pieces.
Serve: Ladle the chilled melon gazpacho into serving bowls or glasses. Garnish each portion with slices of Iberian ham, a drop of olive oil and fresh ground pepper. Serve the Melon Gazpacho with Jamón Ibérico as a refreshing appetizer or light meal.