Messi smashburger CG style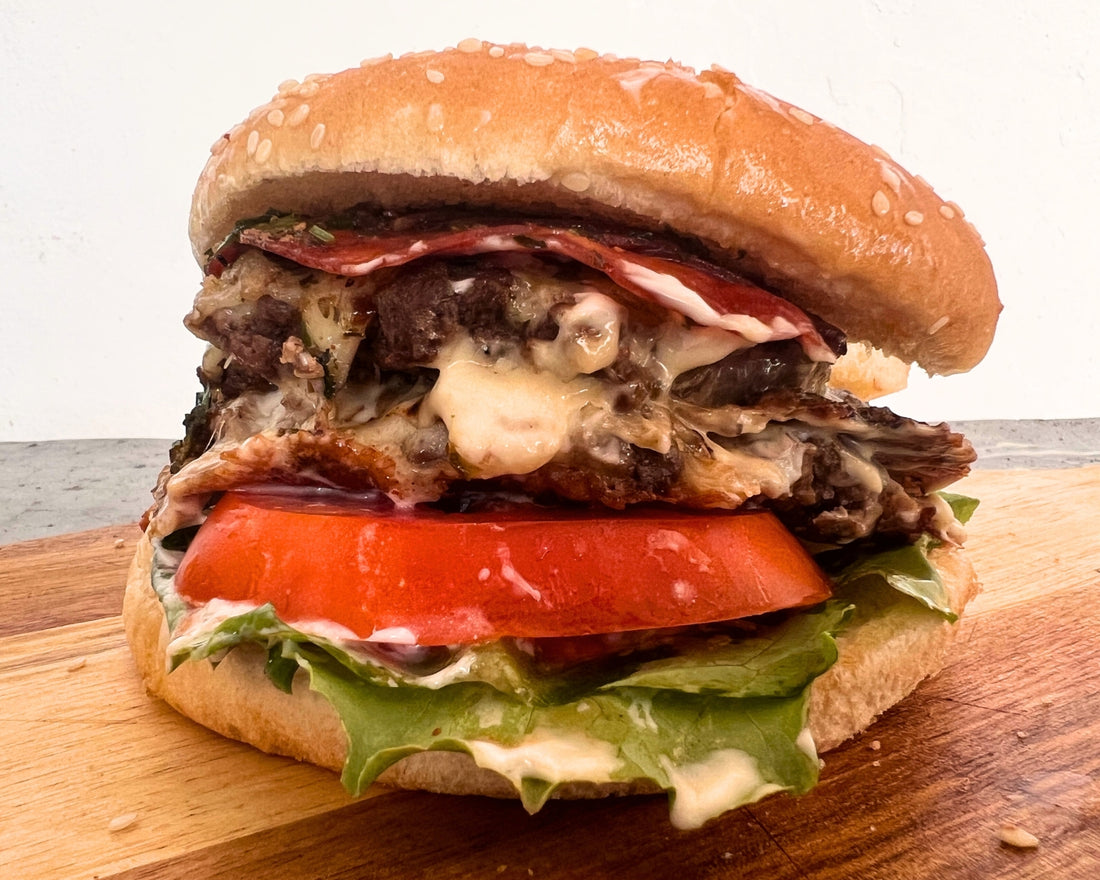 Messi smashburger CG style 
This mouthwatering creation will entice your taste buds and redefine your burger experience: the Campo Grande Iberico x Wagyu Smashburger with a tantalizing Chimichurri twist. At the heart of this delectable masterpiece lies the perfect marriage of two premium beef varieties, CG Iberico and Wagyu, meticulously crafted to deliver an unparalleled melt-in-your-mouth tenderness and depth of taste. Each bite is a symphony of savory notes, a culmination of carefully selected ingredients coming together in perfect harmony.
But what truly sets this Smashburger apart is the addition of the zesty Chimichurri seasoning, a homage to the bold and vibrant flavors of South America. This traditional Argentine sauce, with its blend of fresh herbs and tangy accents, imbues the burger with a delightful kick that dances on your palate with every juicy mouthful.
 Serves: 2
Difficulty: Easy 
Course: Main
Time: 25min
Ingredients
1 pound CG Iberico x Wagyu ground meat
1 teaspoon chimichurri seasoning
Salt and fresh pepper, to taste
2 tablespoons mayonnaise
4 slices provolone cheese
2 burger buns
1 fresh tomato, sliced
Fresh romaine or butter lettuce
CG sliced chorizo
2 tablespoons chimichurri sauce
1 teaspoon oregano
Preparation
Preheat your stovetop griddle over medium-high heat, about 350-400°F.
In a large mixing bowl, gently combine the CG Iberico x Wagyu ground meat, chimichurri seasoning, and a pinch of salt and pepper. Avoid overmixing, as this can make the patties tough.
Divide the meat mixture into four equal portions and form them into balls, the size of a golf ball.
Place the meatballs on the hot grill or griddle. Using a spatula or a burger press, firmly smash each patty down to create a thin, crispy edge. This helps develop the signature crust of a smashburger.
Cook the patties for about 2-3 minutes on each side, or until they reach your desired level of doneness. During the last minute of cooking, add a slice of provolone cheese, as well as oregano, on top of each patty to melt. You may cover this with a pot lid to speed up the cheese melting.
Once the patties are cooked, transfer them to a plate and let them rest for a moment.
Place the burger buns, cut side down, on the grill or griddle to lightly toast them until they become golden brown.
Assemble the burgers: On the bottom half of the toasted buns, spread the mayo over it, then place 2 burger patties with melted provolone cheese.
Top each patty with fresh tomato slices, a few leaves of romaine or butter lettuce, and some CG sliced chorizo. Drizzle chimichurri sauce over the chorizo. Close the burgers with the top half of the toasted buns.

Serve your delicious CG Iberico x Wagyu Smashburgers with chimichurri and enjoy!