Mini Tenderloin burger with blue cheese and caramelized onion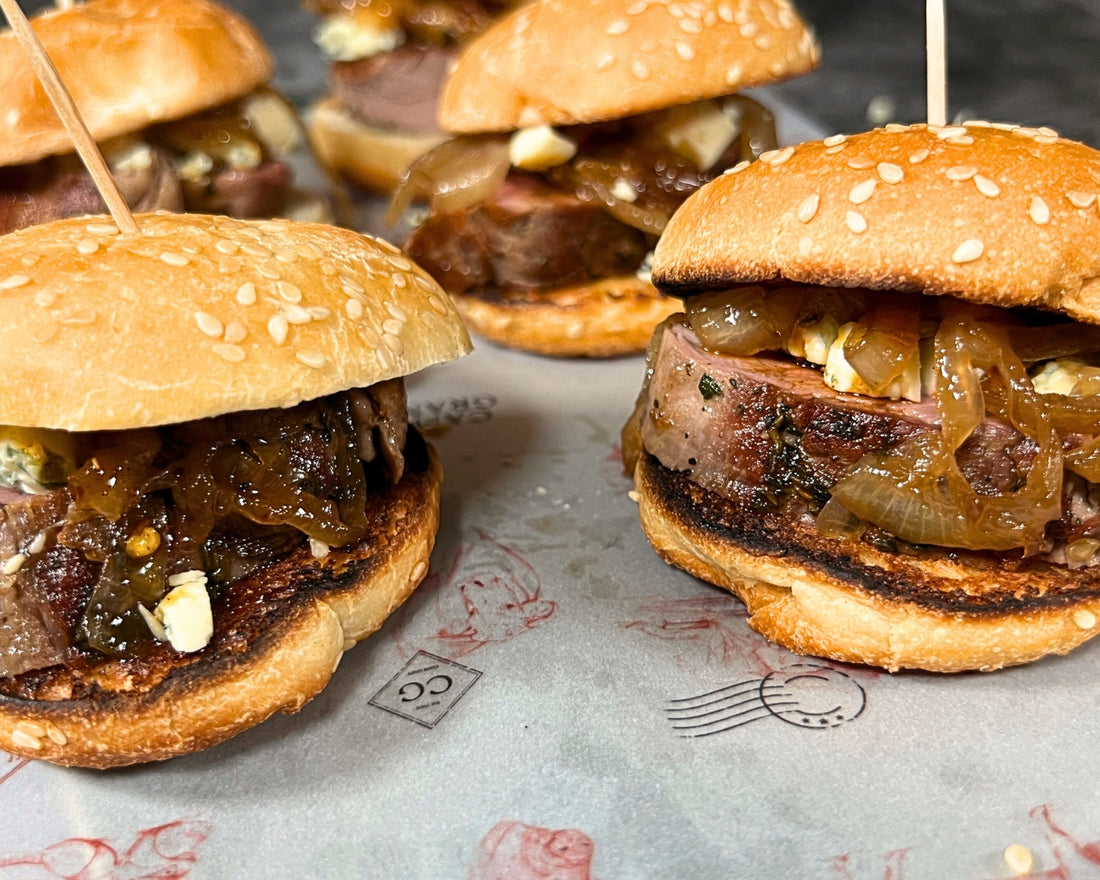 Looking for a delightful appetizer that's both easy to prepare and bursting with flavor? Look no further than our Mini Tenderloin Burgers with Blue Cheese and Caramelized Onions recipe. Whether you're hosting a gathering or simply craving a gourmet treat, these miniature burgers are sure to impress your taste buds and your guests.
In just 25 minutes, you can whip up this mouthwatering appetizer that combines the tenderness of Campo Grande tenderloin, the richness of blue cheese, and the sweetness of caramelized onions. The result is a symphony of flavors that's as visually appealing as it is delicious.
Recipe for Mini Tenderloin burger with blue cheese and caramelized onion
Serves: 5
Difficulty: Easy
Course: Appetizer
Time: 25 minutes
Ingredients
1 pack of Campo Grande tenderloin
5 ounces blue cheese
5 onions
2 tablespoons of sugar
2 tablespoons of balsamic vinegar
10 mini hamburger buns
Salt to taste
Freshly ground black pepper to taste
Chopped fresh rosemary and thyme
Chilli crispy oil (optional)
Instructions
Trim the tenderloin, removing any excess fat, and season it with salt, pepper, and the chopped fresh herbs. Set it aside.
Slice the onions into thin strips (julienne) and sauté them until they become slightly translucent. Then, add the sugar and balsamic vinegar. Allow the mixture to reduce until the onions are caramelized. Set aside.
Preheat a cast-iron skillet for a few minutes. Instead of using oil or butter, you can use the natural fat from the tenderloin to grease the skillet. Alternatively, you can use olive oil. Cook the tenderloin for approximately 4 minutes on each side. A helpful rule of thumb is to cook it for 1.5 minutes per side for each centimeter of meat thickness. Cook the meat to an internal temperature of 145°F (63°C) and let it rest for about 5 minutes to allow the juices to redistribute.
While the meat is resting, toast the inside of the mini hamburger buns on the same skillet until they are well toasted. Adjust the toasting to your preference.
Crumble the blue cheese (creamy blue cheese can also be used).
Slice the tenderloin into medallions approximately 1-2 fingers thick.
To assemble the mini burgers, place a medallion on the bun, add blue cheese, caramelized onions, and if desired, a drizzle of chili crispy oil. Top with another bun half. Enjoy!