Keto Pork Pizza with Jamón Ibérico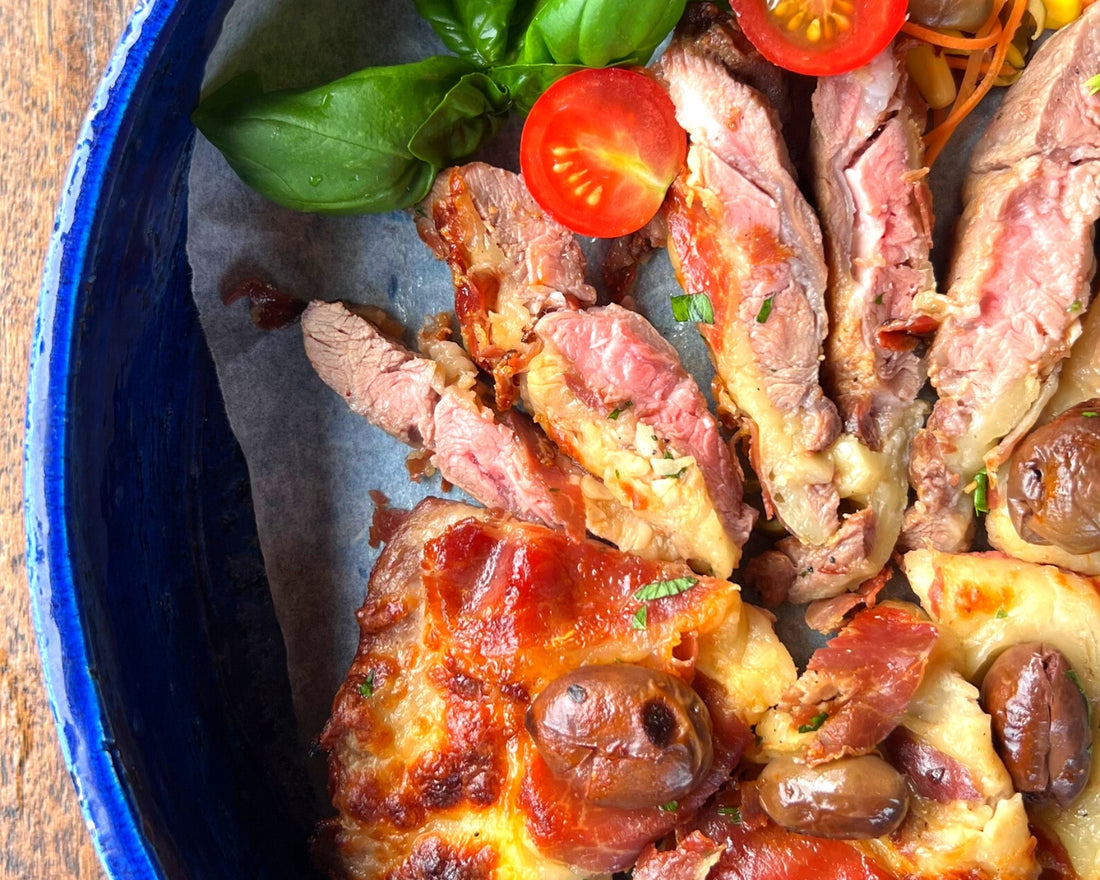 Who says you need to crust to make a great pizza? This pork-based pie is a quick (no dough kneading here), protein-packed main or appetizer that showcases all the best of Ibérico, from juicy Pluma steaks to cured, melt-in-your-mouth slices of Jamón. And with Ibérico as your base instead of a wheat dough, it's the ultimate gluten-free pizza and perfect for keto diets.
We like to cook this in an Ooni pizza oven, which reaches high temps and cooks things evenly and quickly. If you don't have an Ooni oven, set your oven to the highest temperature and cook the pizza on a hot pizza stone, pre-heated in the oven. 
Recipe for Pork Pizza with Jamón Ibérico 
Serves: 2
Course: Main
Ingredients for Keto Pork Pizza with Jamón Ibérico 
1 18-25 oz. Campo Grande Ibérico Pluma 
Salt
Freshly ground pepper
4 oz. mozzarella cheese, grated 
2 oz. sliced Jamón Ibérico 
⅓ cup green olives, pitted  
Extra-virgin olive oil 
1 teaspoon dried oregano 
Preparation for Keto Pork Pizza with Jamón Ibérico 
Heat up the Ooni Oven to maximum heat. While it is heating, season the Pluma with salt and pepper on both sides. 
Bring the oven temperature down to medium and cook the Pluma for 3 minutes on each side. 
Once the pluma is cooked, butterfly the steak by using a sharp knife to cut through the middle and open the meat without slicing all the way through–this will leave you with a larger, thinner piece. 
Once the meat is butterflied, sprinkle on cheese and top with jamón, olives, a drizzle of olive oil, and oregano. 
Return pluma to the oven and cook for 1.5 minutes, watching carefully to make sure the cheese doesn't burn. 
Remove Pluma pork pizza from the oven. ¡Buen provecho!