Oven Baked Iberico-Wagyu Meatball Sandwich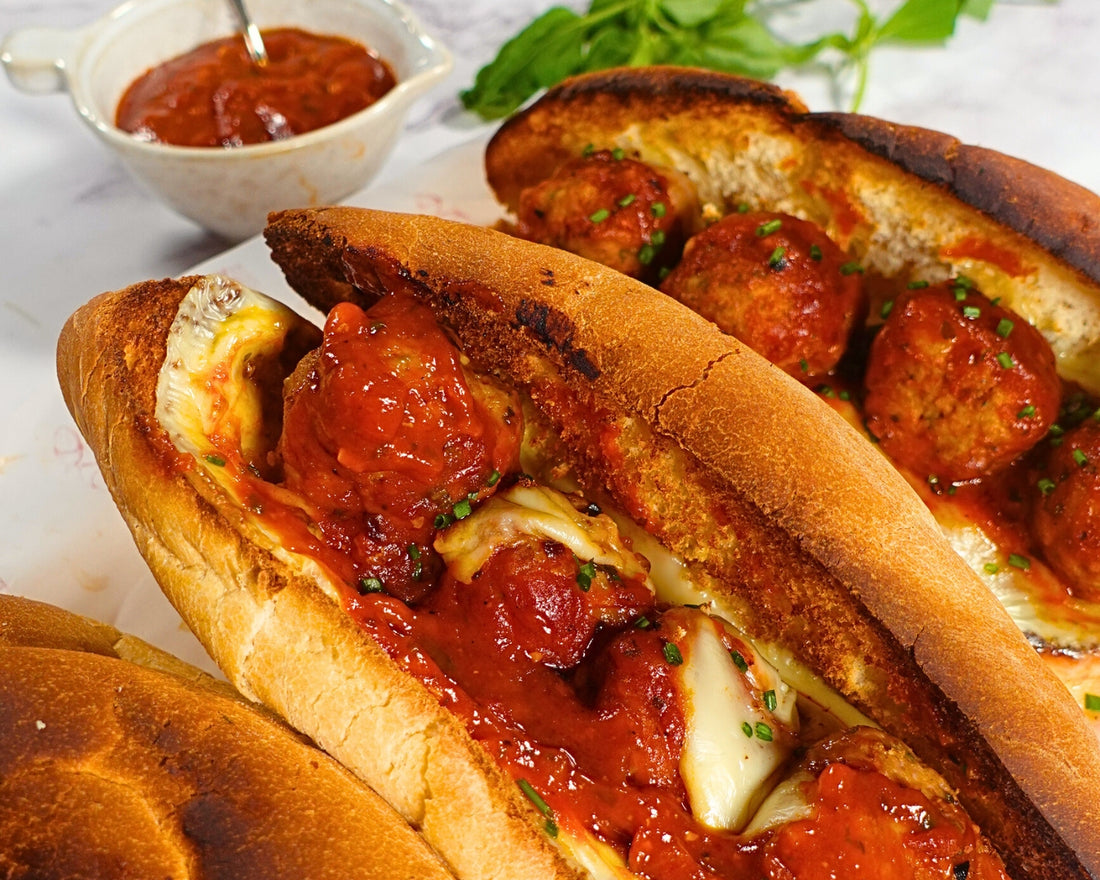 Our Oven-Baked Iberico x Wagyu Meatball Sandwich is a masterpiece in a bun, showcasing the exquisite blend of Iberico and Wagyu ground meat, tantalizing spices, and a rich homemade tomato sauce. This isn't your ordinary meatball sandwich; it's a gourmet twist that will transport your taste buds to a whole new level of satisfaction.
Recipe for Oven Baked Iberico-Wagyu Meatball Sandwich
Serves: 3
Difficulty: Medium
Course: Main course
Time: 45min
Ingredients:
1 pack of Campo Grande Iberico x Wagyu ground meat
1 egg yolk
1 tablespoon of oregano
1 tablespoon of thyme
3 tablespoons of panko breadcrumbs
2 cups of tomato sauce
2 shallots
5 leaves of basil
3 garlic cloves
Freshly ground black pepper and salt to taste
12 slices of mozzarella cheese
3 sandwich or sub rolls
Instructions:
In a mixing bowl, combine the Iberico x Wagyu ground meat, egg yolk, panko breadcrumbs, oregano, and thyme. Mix everything well.
Create meatballs approximately the size of an egg; you should get around 8-9 meatballs. Place them on a baking tray lined with parchment paper. Drizzle some oil over them.
Bake for 10 minutes at 350°F (175°C).
While the meatballs are baking, prepare the tomato sauce. In a pan, sauté finely chopped garlic and shallots until they start to brown, about 3-4 minutes. Add the tomato sauce and 3 tablespoons of olive oil. Let it cook for a few minutes, then add the chopped basil, salt, and freshly ground black pepper.
When you take the meatballs out of the oven, add them to the tomato sauce, allowing all the flavors to combine.
Toast the inside of the sandwich or sub rolls. Add 4 slices of mozzarella cheese, 3 meatballs, and a generous drizzle of the tomato sauce. Bake in the oven again until the cheese melts, about 3-5 minutes.