Pasta with Hake and Bacon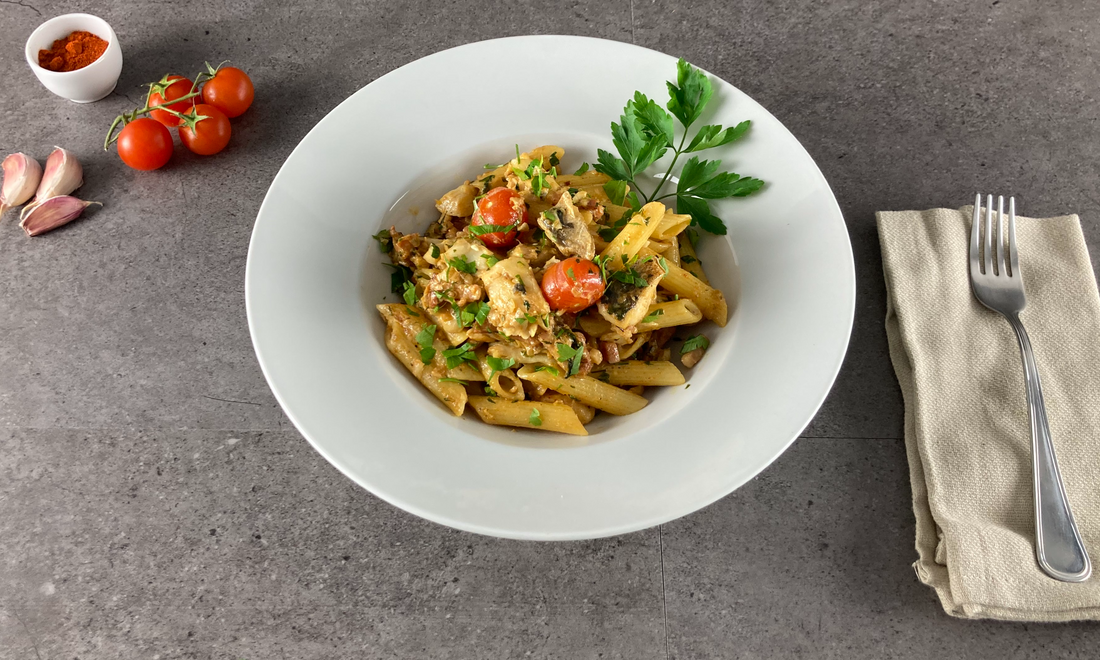 This recipe brings together marine and terrestrial flavors. It is a very unique recipe since these types of ingredients are not usually mixed. The good thing about pasta is that it allows you to mix different ingredients, always having an excellent result that adapts to all kinds of palates. This is a fairly quick and simple recipe. It is ideal to combine with a cold starter such as a bit of Jamon Serrano or any other type of cured meat with bread and oil.
Ingredients   
Hake
200 gr Bacon sliced ​​or in cubes
2 shallots
2 garlic cloves
8 cherry tomatoes
10 gr paprika powder
Oil, salt, pepper
Penne or any short pasta
Crème Fraîche or cooking cream
Fresh parsley
Instructions
Boil water in a pot.
Chop the bacon, parsley, shallots and garlic cloves.
In a pan with olive oil, fry the garlic until it begins to brown. Once they start to brown add the chopped shallots. Poach for a few minutes, add the bacon and half of the parsley. Poach for 10 min.
Cut the hake into strips (make sure they are not too small), add to the pan with the rest of the ingredients and season with paprika, salt and pepper. Cook for 8 more minutes.
In the meantime, cook the pasta "al dente".
Once the pasta is cooked, add to the pan along with the crème fraiche or cooking cream and the cherry tomatoes. Season to taste. Cook for 5 minutes to make sure all ingredients are mixed.
Before serving, sprinkle the rest of the parsley on top.
Enjoy!