Pork Belly BBQ Bites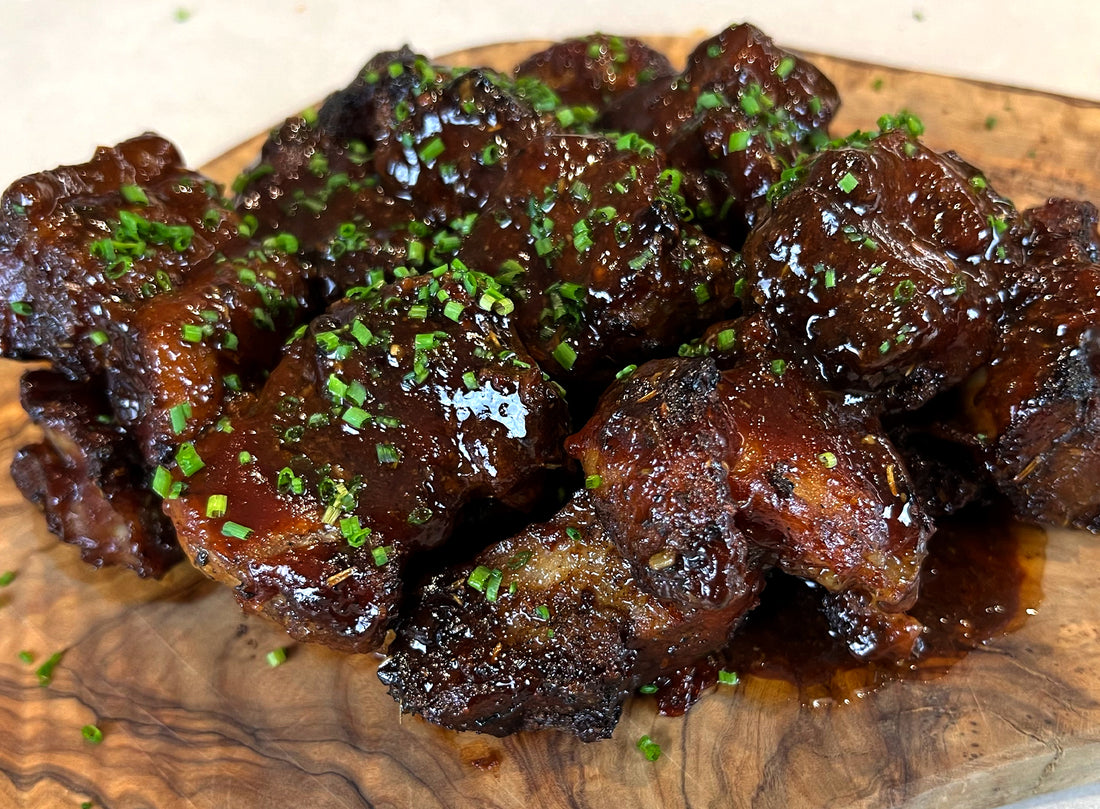 These sweet and spicy Ibérico Pork Belly bites (bathed in your favorite barbecue sauce) turn into caramelized morsels of serious porky perfection. It takes them a few hours in the oven to get there, but we promise it's worth the wait. After all, Rome wasn't built in a day.
Serve these addicting bites as an appetizer with toothpicks for all to share, or as a main meal over fluffy rice, steamed potatoes, or stuffed into corn tortillas. 
Recipe for Pork Belly BBQ Bites 
Serves: 4
Course: Appetizer 
Ingredients for Pork Belly BBQ Bites
1 56-65 oz. Campo Grande Ibérico Pork Belly

3 Tablespoons mustard 

3 Tablespoon red style meat rub 

1 Tablespoon black pepper 

2 cups barbecue sauce 

2 Tablespoons spicy hot honey 

1 handful chives, minced 

Salt 
Preparation for Pork Belly BBQ Bites
Preheat oven to 350ºF. 

Cut Pork Belly into bite-sized, 1.5-inch square pieces and place in a mixing bowl. 

Add mustard and mix thoroughly into the Pork Belly to incorporate. The mustard will help the seasoning adhere to each bite. 

Add red rub, black pepper, and salt (keep in mind your rub may already have some salt in there) and mix until incorporated. 

Spread Pork Belly pieces evenly on a sheet tray, leaving space between each so they can cook uniformly. Place in the oven and cook for 1 ½ hours. Flip each piece and cook for 1 hour longer.  

Once cooked, remove the pan from the oven and discard half of the grease (save it for future cooking projects!), leaving the meat in the pan.

Lower the oven temperature to 250ºF. 

Drizzle barbecue sauce and hot honey on top of the Pork Belly and cover with foil. Cook for 1 hour at 250ºF. 

Remove from oven and let rest a few minutes. 

Serve Pork Belly bites on a wooden board with a sprinkling of chives.

¡Buen provecho!