Pork Tenderloin Medallions with Blue Cheese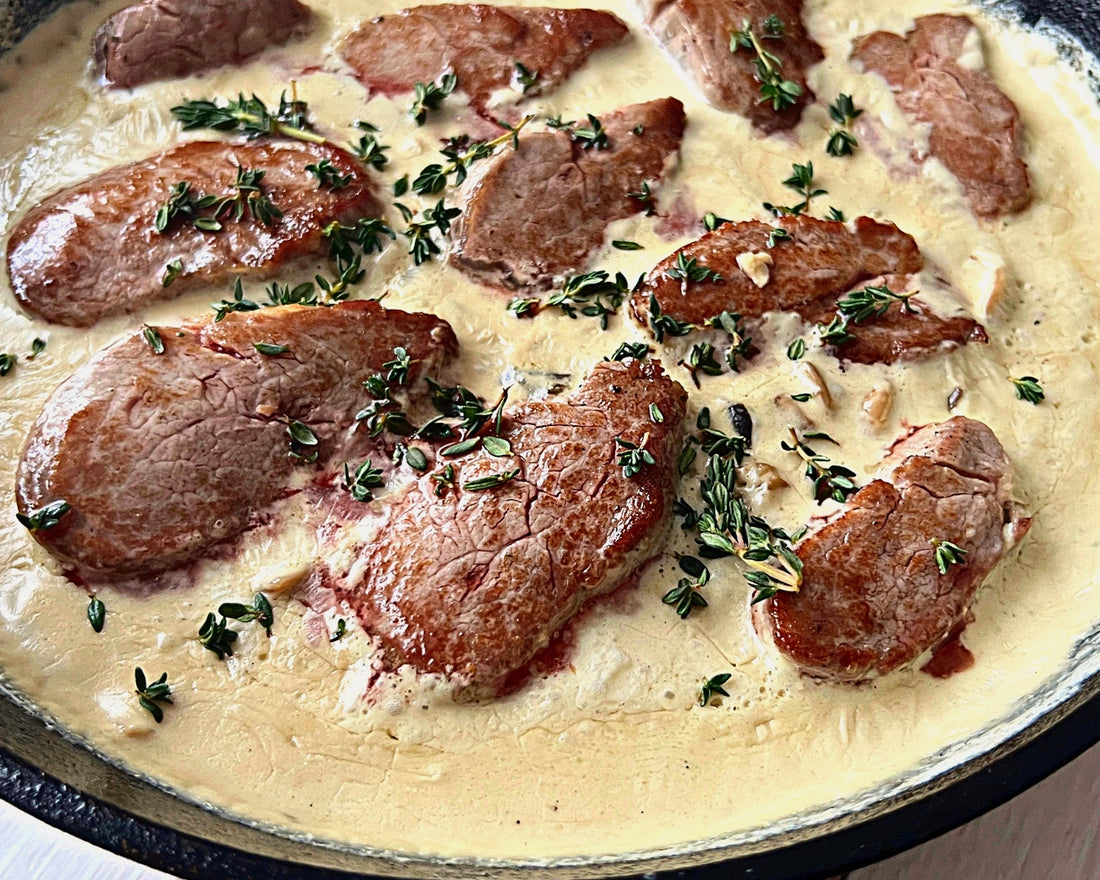 We like sopping up this shroomy blue cheese sauce with fluffy rice or crispy homemade french fries, but a big hunk of good crusty sourdough is another great way to add crunch and texture. Do your best to not overcook the tenderloin the first time around. You're really just getting a nice brown sear on the exterior (hello, flavor), which gives you more margin to cook it to your liking (medium-rare is best for Ibérico) at the end with all the saucy goodness. 
Serves: 4 
Time: 30 min 
Ingredients for Pork Tenderloin Medallions with Blue Cheese 
1 24-30 oz. Campo Grande Tenderloin, cut into ½-1 inch medallions  

2 cloves garlic, chopped  

6 oz. mushrooms, cleaned and sliced thin  

2 oz. blue cheese, crumbled  

¾ heavy cream 

Black pepper

Salt

Extra-virgin olive oil 

Fresh thyme leaves
Preparation for Pork Tenderloin Medallions with Blue Cheese 
Heat a large skillet  over high heat and sear each tenderloin medallion for about 30 seconds on each side. You're just searing the outside at this point, no need to cook it all the way through. When in doubt, cook it less the first time around (don't want it to dry out!) and you can make sure it's fully cooked during the final steps. 

Heat a drizzle of olive oil in a large pan and sauté the garlic until golden brown. Add the mushrooms and satué until they've shrunk by about half. Remove the mushrooms from the pan and set aside. 

Using the same pan you used to prepare the mushrooms, add the blue cheese and cook over medium heat for a few minutes until the cheese begins to melt. Add in the cream and black pepper and stir to combine. 

Once combined, add the mushrooms and tenderloin back into the pan and cook each medallion an additional 1 minute on each side, until the sauce has thickened. 

Sprinkle with thyme and serve immediately with white rice, homemade french fries, or fresh bread.

¡Buen provecho!