Pork Belly Breakfast Toasts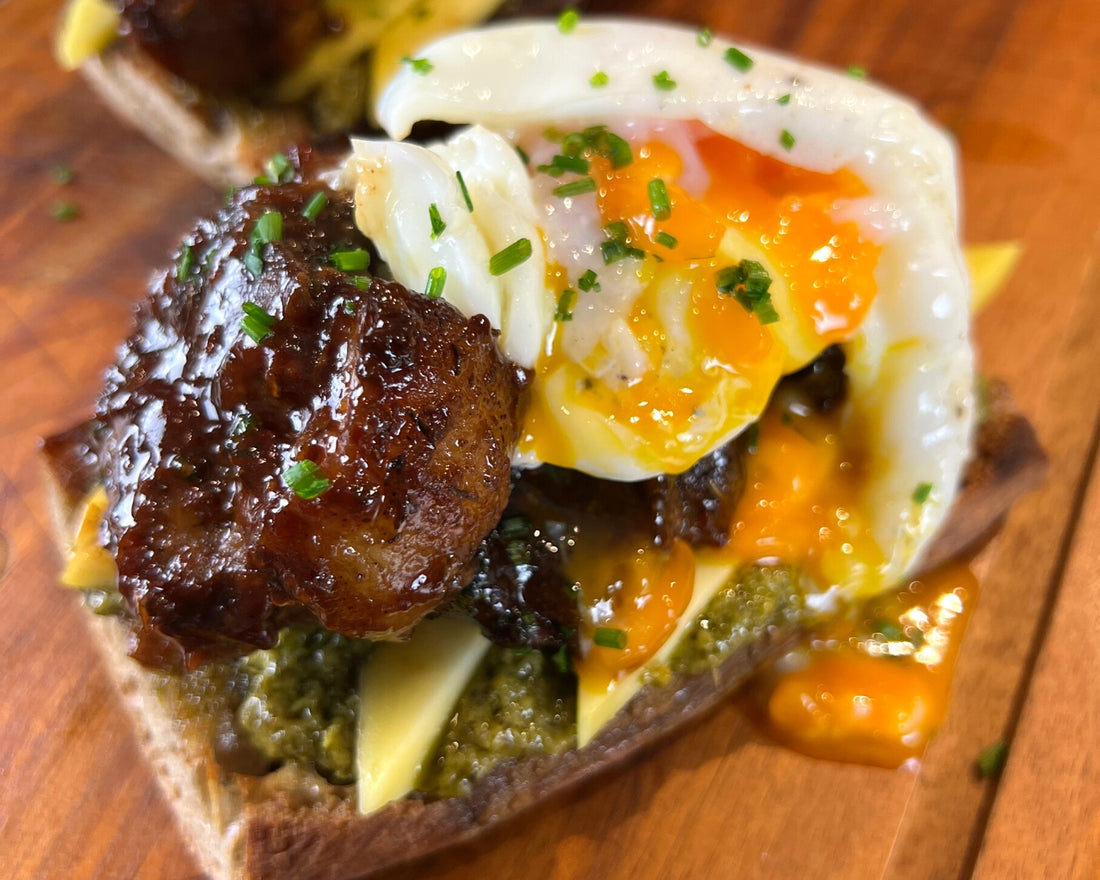 Ibérico is the only way to do breakfast. Slow-cooked Pork Belly gets the sticky-sweet treatment with hot honey and barbecue sauce, along with refreshing mango strips, and a savory slather of vibrant pesto. And of course, it wouldn't be the most important meal of the day without a jammy poached egg on top.  
Make these toasts open-faced like a Spanish tostada, or top them with an extra slice of bread for a very serious breakfast sandwich. 
Recipe: Pork Belly Breakfast Toasts 
Serves: 6
Pork Belly Breakfast Toast Ingredients
1 56-65 oz. Campo Grande Ibérico Thick Pork Belly

3 Tablespoons red style meat rub 

3 Tablespoons mustard 

1 Tablespoon black pepper 

2 cups barbecue sauce 

2 Tablespoon spicy hot honey 

Salt

12 eggs

2 mangoes, peeled, cored, and cut into strips  

2-3 baguettes, sliced in half lengthwise  

12 Tablespoons basil pesto 

1 bunch chives, minced 

4 oz. parmesan cheese, grated 
Pork Belly Breakfast Toast Preparation 
Preheat oven to 350ºF. 

Cut Pork Belly into bite-sized, 1.5-inch square pieces and place in a mixing bowl. 

Add mustard and mix thoroughly into the Pork Belly to incorporate. The mustard will help the seasonings stick better to each piece. 

Add red rub, black pepper, and salt and mix until incorporated. 

Spread Pork Belly pieces evenly on a sheet tray, leaving space between each so they can cook uniformly. Place in the oven and cook for 1 ½ hours. Flip each piece and cook for another hour. 

Once cooked, remove from the oven and discard half of the grease in the pan. Lower the oven temperature to 250ºF. 

Drizzle barbecue sauce and hot honey on top and cover with foil. Bake for an additional 1 hour. 

Poach eggs by cutting squares of plastic wrap and placing a drop of oil and a cracked egg in each, tying them up in little individual bags with a clothespin. Then, place the eggs in a pot of boiling water and cook for 5 minutes and remove from water. 

Cut baguettes into individual servings. 

Rub the pesto over the cut side of the baguettes and top with mango strips. Add pork belly bites, place a poached egg on top, and sprinkle with chives and parmesan cheese.

¡Buen provecho!