Presa Ibérica with Cauliflower Puree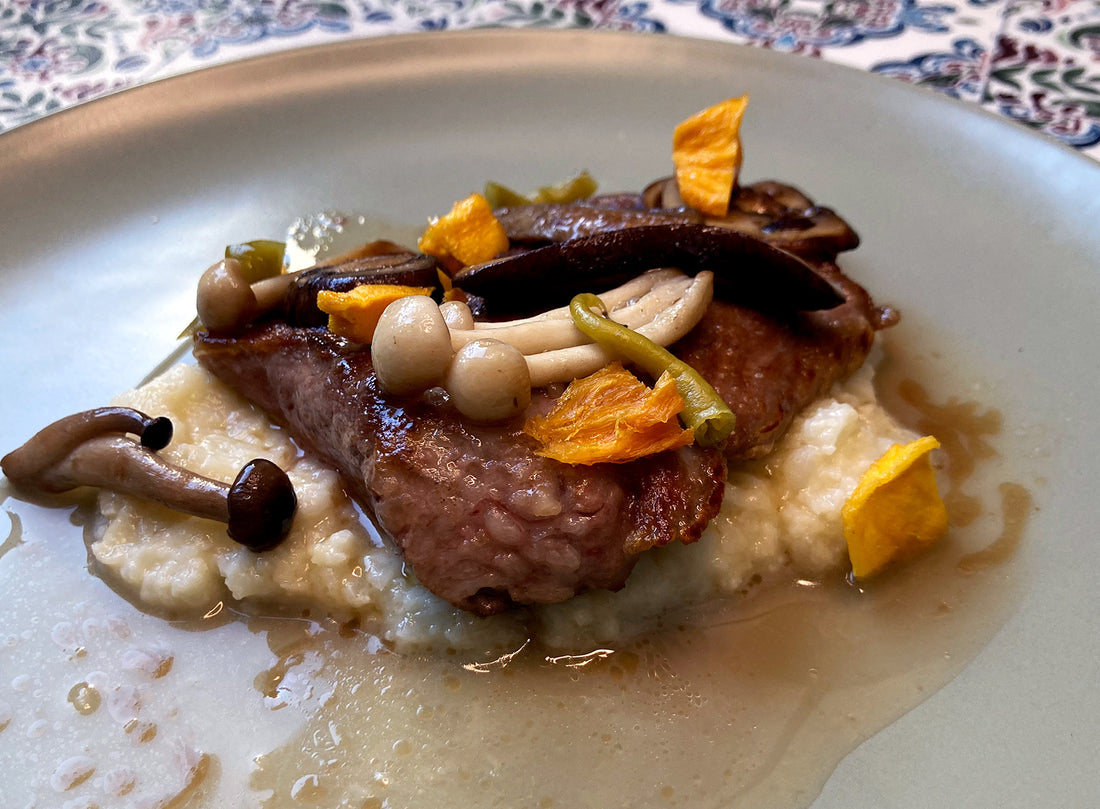 This is an amazing dish to impress anyone with its presentation and amazing flavor. The Presa Ibérica, along with the cauliflower puree, the mushrooms, the ham bone broth reduction and the mango confit will create a spectacular festival of flavors!
Serves 4 people
Ingredients
200gr Presa Ibérica
2 carrots
Assorted mushrooms
Ham bones
Onion
Leek
Cauliflower
Butter
Cooking cream
Mango confit
Instructions
To make the bone broth, add the ham bones, onion, carrots and leek in a pot and boil for 1 hour.
Clean the cauliflower and cut the branches, getting rid of the largest trunks. Boil until it is soft enough to puree. If you want a milder flavor in the cauliflower, boil it for 10 minutes with 2 tablespoons of white wine vinegar.
In the same pot that the cauliflower was boiled, add the butter, cream and salt to taste, to make the puree and set aside.
In a small pot, add a few tablespoons of the ham bone broth, and let it reduce until it becomes like a cream. The more you reduce it, the thicker and more flavorful it will be, so the time will depend on how you want it. If necessary, add a thickener such as cornstarch. Do not add salt, because ham already has a lot of salt.
In a pan, cook the Presa Ibérica on each side with a little oil and sauté the mushrooms.
To serve, add the cauliflower puree first in the center of the plate and place the Presa Ibérica on top of it. Then add a few mushrooms, onion, carrots and leek on top of the filet. Garnish with mango confit and pour some of the bone broth reduction on it. You are now ready to enjoy!