Presa with Mojo Picón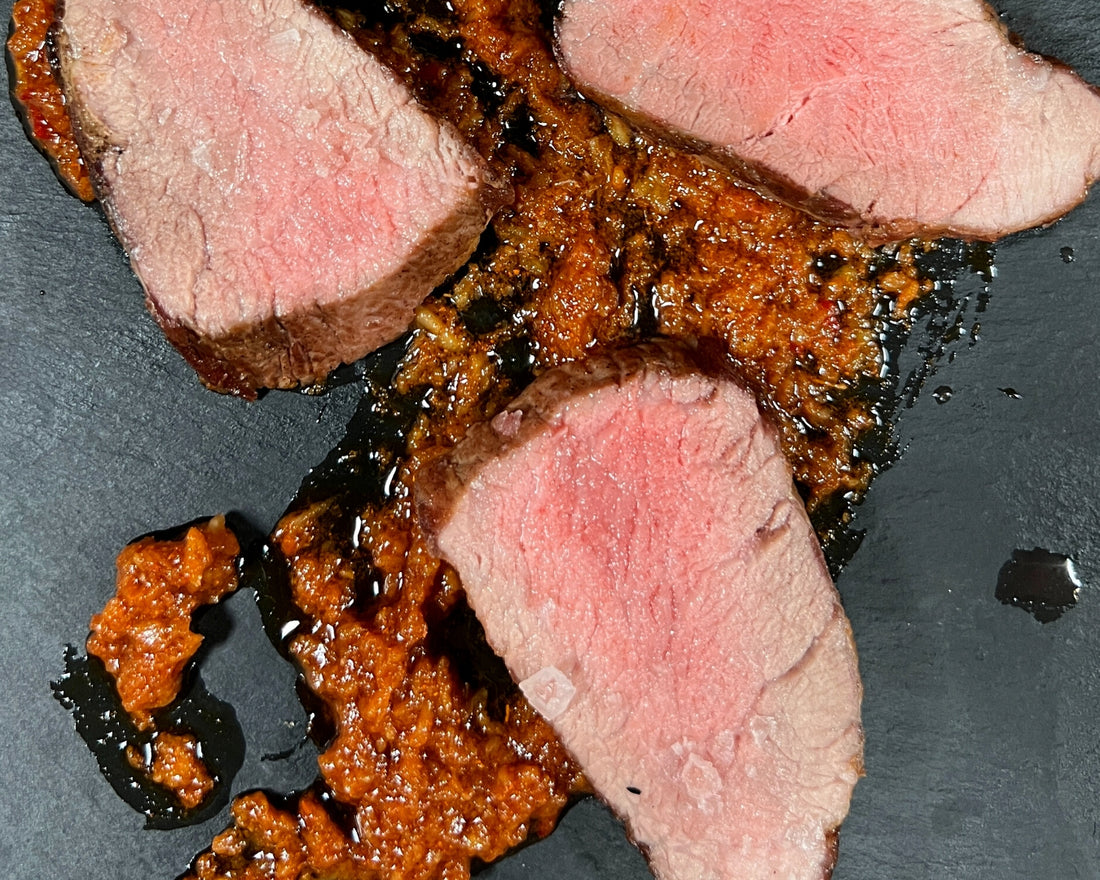 Mojo picón is one of the many delicious Spanish sauces that makes Ibérico sing. Most commonly served in the Canary Islands with tiny salt-baked potatoes, mojo picón's smoky flavors (or mojo rojo) are also the perfect accompaniment to pork. 
Serves: 3
Time: 25 min.  
Ingredients:
1 21-28 oz. Campo Grande Presa

1 teaspoon cumin seeds

8 garlic cloves, chopped

2 red chilis, deseeded and chopped 

1 teaspoon smoked paprika

4 Tablespoons sherry vinegar 

¾ cup extra-virgin olive oil, plus more for cooking

Salt

Flaky finishing salt 
Preparation:
Toast cumin seeds in a small dry skillet over medium heat until fragrant, about 30 seconds, swirling to keep them from burning. 

Using a mortar and pestle, grind the cumin seeds into a powder. Add garlic, chili, and a pinch of salt and mash until you have a fine paste. Mash in the paprika and mix in the vinegar until well combined. 

Slowly drizzle in the olive oil while you continue to stir, mixing until you have a paste about the consistency of pesto. You can always add a few teaspoons of water if the sauce is too thick. Set the mojo picón aside

Trim the Presa and season with salt. 

Heat a drizzle of olive oil in a medium pan and cook Presa for 5 minutes on each side. Once cooked, remove from the skillet and let rest for a few minutes before slicing. 

To serve, spoon a good dollop of mojo picón onto a plate and place the Presa on top. Garnish with a sprinkle of flaky finishing salt.

¡Buen provecho!