Roasted Coppa with Nut & Raisin Sauce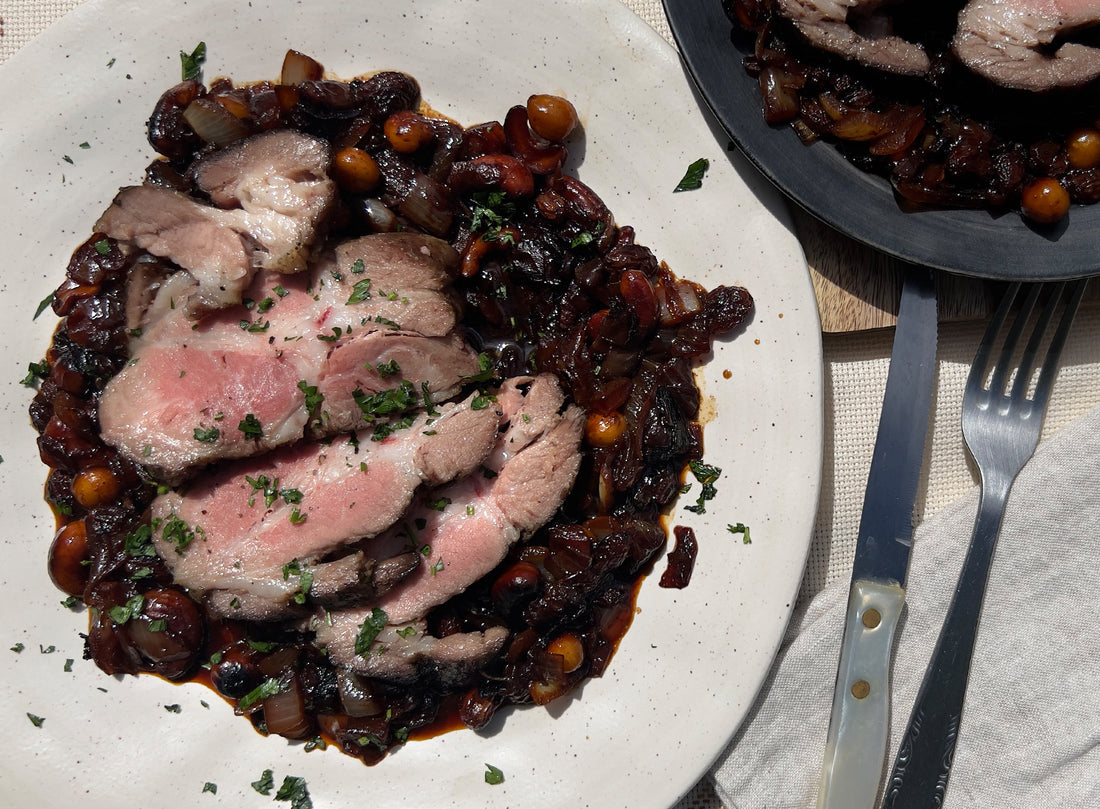 It's like trail mix but with Ibérico coppa! A simple sauce with basic pantry items adds crunchy textures to the melt-in-your-mouth roast coppa. 
Serves: 4 
Ingredients
1 31-42 oz. Campo Grande Coppa 

Freshly ground pepper 

Flaky salt 

½ cup brandy

1 lemon

1½ cups water, divided 

1 Tablespoon extra-virgin olive oil 

2 onions, julienned 

1 Tablespoon cashews

1 Tablespoon almonds

1 Tablespoon raisins

1 Tablespoon peanuts 
Preparation  
Remove any excess fat from the coppa and season with salt and pepper. 

Whether you're using a grill or the oven, first sear the coppa on all sides until golden brown over direct or high heat. 

Place over indirect heat on a covered grill or in the oven at 300ºF and cook until the meat reaches 145ºF, around 1 hour for every 20 oz. of meat. 

Mix brandy, lemon, ½ cup water, and salt in a small bowl. As the coppa cooks, rotate the meat every now and then and use a pastry brush to baste with the brandy mixture. 

Meanwhile, heat olive oil in a medium sauté pan on medium heat and add the nuts and raisins. Once the nuts begin to brown, add the onion and turn the heat down to low. 

Once the onion is almost completely cooked through, add the remaining 1 cup of water and let the mixture come together to create a sauce. Set aside.

Once the meat is cooked through, remove from the oven or grill and let rest 10-15 minutes to absorb the juices. 
Slice the meat into 1-inch thick slices and serve with nut and raisin sauce.
¡Buen provecho!