Secreto Ibérico with Mustard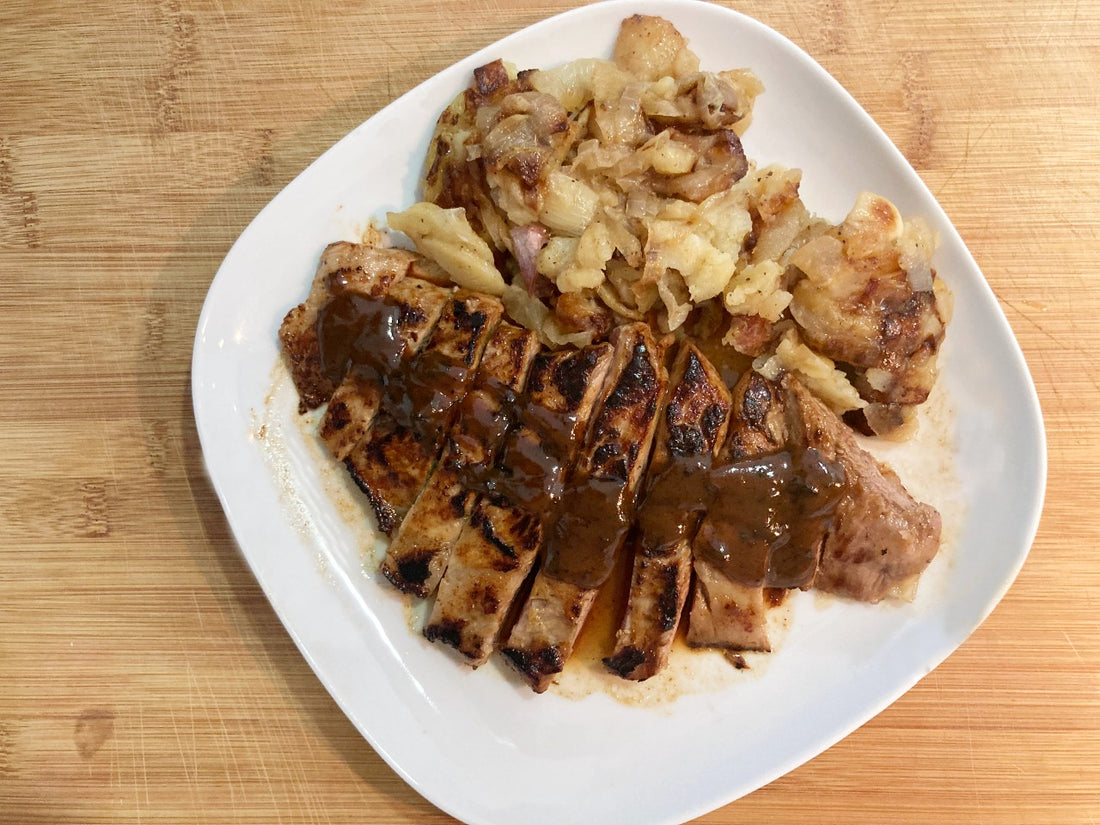 Secreto ibérico is one of the best known cuts of the Iberian pig, located between the shoulder and the loin. It is one of the pieces with highest fat infiltration which gives it a characteristic white marbling that makes its flavor very unique. If you are looking to impress your guests, this quick recipe will do the trick!
Serves 4
Preparation time: 20 min
Cooking time: 25 min
Ingredients
4 Secreto Iberico filets 
2 tablespoons of brown sugar
2 tablespoons of mustard
2 tablespoons of vinegar
1 glass of white wine
4 potatoes
4 onions
4 garlic gloves
Extra virgin olive oil
Pepper and salt
Instructions
In a large bowl mix the brown sugar, vinegar, wine, mustard, a pinch of salt and ground pepper.
Dip the filets in the bowl, cover them with plastic wrap and let them macerate in the fridge for a minimum of 20 minutes and a maximum of 4 hours.
In the meantime, prepare the garnish. Peel, wash and cut the potatoes into slices and put them in a frying pan with a good splash of olive oil. Add the julienned onion and the crushed garlic. Season with salt and pepper, stir well and cover. Let it simmer, stirring from time to time.
When the potatoes are tender, uncover them and turn up the heat until they brown well.
Take the filets out from the fridge and drain well
Put the filets on the hot grill. Constantly turn them until they are well browned and remove
Put the rest of the mixture on the grill to marinate and deglaze.
Serve the garnish next to the Iberico Secreto filet covered by the reduced sauce.