Secreto Steak with Chimichurri and Crispy Potatoes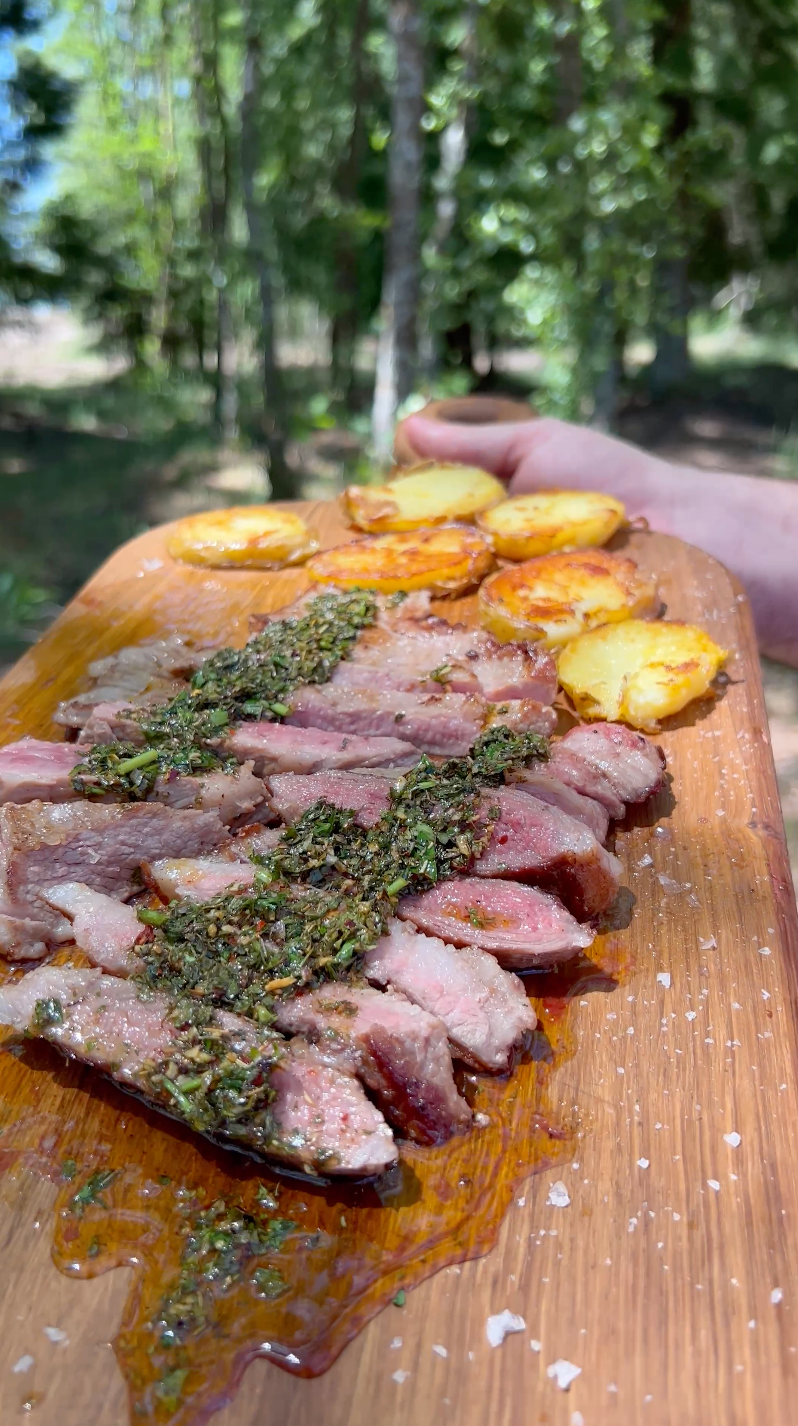 The classic South American sauce comes in all styles, but we love the way the spice from the pepper and the bitterness from the oregano counters the richness of Secreto. For best results, make the chimichurri a day or two ahead—the flavors actually intensify and the garlic softens up a bit.
Serves: 2-3
Ingredients for Secreto Steak with Chimichurri & Crispy Potatoes 
1 14-21 oz. Campo Grande Ibérico Secreto Steak

2 large potatoes 

½ cup extra-virgin olive oil, plus more for cooking  
2 Tablespoon red wine vinegar 
1 Tablespoon fresh-squeezed lemon juice
½ cup parsley, finely chopped
2 Tablespoons oregano, finely chopped
4 garlic cloves
½ cup green onion, chopped
1 small serrano pepper, seeds removed and finely chopped
Salt and pepper 
Preparation for Secreto Steak with Chimichurri & Crispy Potatoes 
Boil whole potatoes in a large pot of water until soft but not falling apart. 

While potatoes are cooking, mince 2 of the garlic clove and mix with parsley, oregano, green onions, salt, and pepper in a small bowl. Add lemon juice and vinegar, mix, and cover with olive oil. Mixture can be made 1-2 days ahead—the flavors actually intensify! 

Heat a tablespoon of olive oil in a large heavy-duty skillet over medium-high heat. Add 2 whole garlic cloves to the pan, along with the Secreto and cook 2-3 minutes on each side, or until the meat reaches medium rare and is golden brown on the outside. 

Let Secreto rest for 3 minutes. 

Slice boiled potatoes about ½-inch thick and fry in the remaining oil until golden brown and crunchy. 

Slice Secreto, serve with potatoes and chimichurri sauce on top.

¡Buen provecho!