Sous Vide Abanico with Cowboy Butter Sauce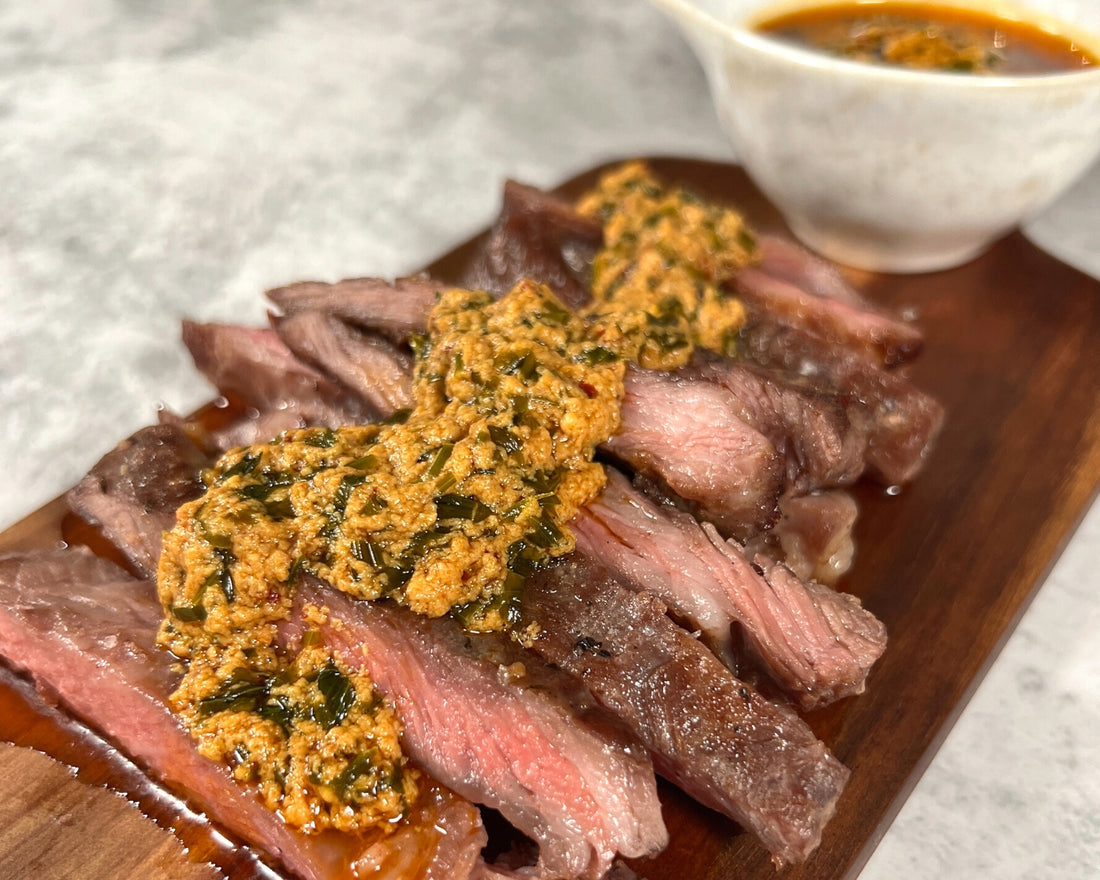 This recipe uses two unique techniques that are ideal for cooking Ibérico Abanico. The sous vide is a practically foolproof method for getting a perfectly pink middle, and a final sear in rendered pork fat amps up that nutty Ibérico flavor and creates a crispy golden crust. Serve it all with a spicy herb butter sauce and a big salad loaded with seasonal veggies. 
Serves: 2
Time: 2 hr 15 min 
Sous Vide Abanico with Cowboy Butter Sauce Recipe  
Sous Vide Abanico Ingredients
1 18-25 oz. Campo Grande Abanico

4 sprigs fresh rosemary

6 Tablespoons butter

4 cloves garlic, minced

Juice from ½ lemon 

1 Tablespoon dijon mustard

½ teaspoon cayenne

1 teaspoon paprika

2 Tablespoon fresh parsley, minced 

1 Tablespoon chives

1 teaspoon dried chili flakes

1 teaspoon fresh thyme

Salt 

Black pepper 
Sous Vide Abanico Preparation
Preheat the sous vide to 140ºF. 

Trim and remove any excess fat from the Abanico and reserve the remaining fat. 

Season the Abanico with salt and pepper and place it in the vacuum-sealed sous vide bag, along with the rosemary. Cook for 2 hours at 140ºF. 

To make the cowboy sauce, heat butter in a small saucepan and add the remaining ingredients. Let cook for a few minutes on medium-low heat to mix and meld the flavors. 

Once the meat has cooked, remove it from the plastic and set aside. 

Heat a cast iron pan and place the remaining raw fat in the pan, letting it render. Place the Abanico in the pan and sear until you get a nice exterior crust, about 1 minute on each side. 

Remove from heat and let rest for a few minutes. Slice the Abanico and spoon the cowboy butter over the top.

¡Buen provecho!