Spicy Presa Surf n' Turf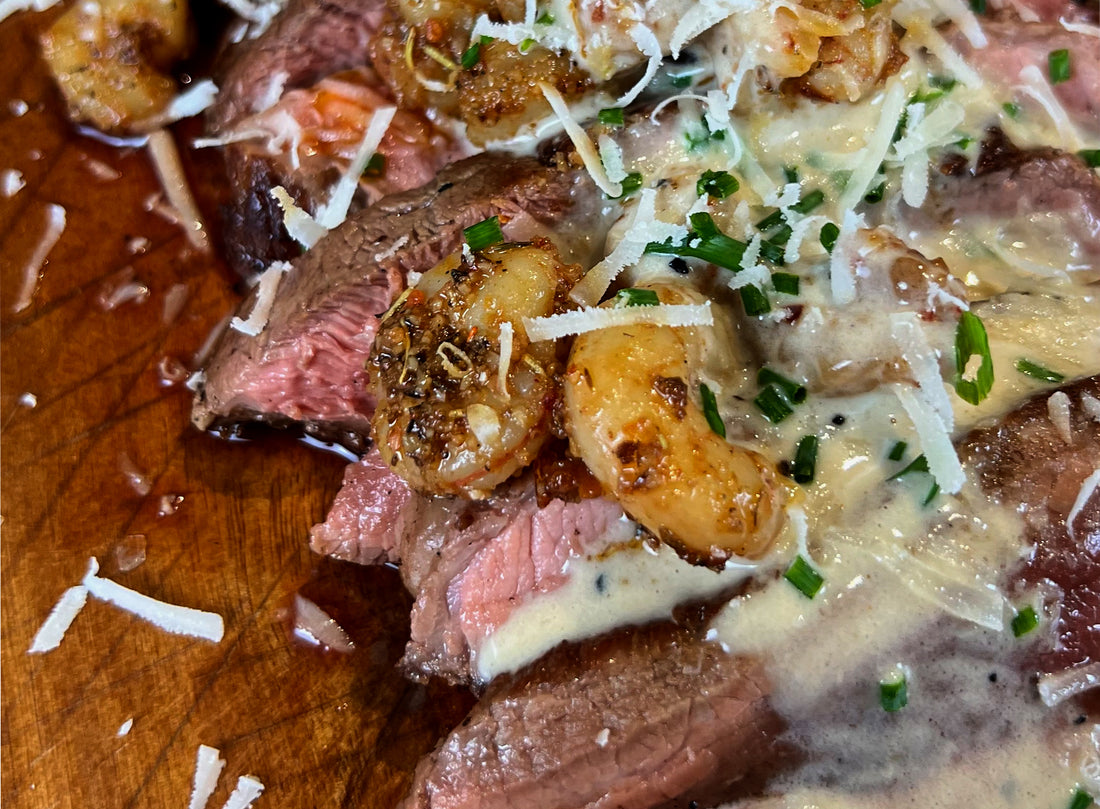 Any fiery hot dried chili–be it cayenne, árbol, or bird's eye–will light up this shrimp-loaded cream sauce you'll happily smother all over pan-seared presa filets. 
Serves: 3 
Ingredients
1 21-28 oz. Campo Grande Presa, butterflied  

2 handfuls shrimp, peeled 

3 dried cayenne chili peppers     

1 Tablespoon garlic powder

1 Tablespoon Red Rub (see page X) 

½  cup heavy cream 

2 Tablespoons butter 

20g parmesan, finely grated   

Salt

Flaky sea salt

Freshly ground pepper 

2 pinches dried thyme 
Preparation  
In a medium bowl, mix shrimp, Red Rub, garlic powder, salt, and pepper. Set aside.

Season butterflied presa with salt and pepper. Heat a cast iron skillet over high heat and cook for 5-6 minutes on each side until it develops a browned crust but is still tender in the middle–or to an internal temperature of 145ºF. Remove meat from the pan and set aside. 

Reduce heat to medium and add shrimp and cayenne chili peppers to the same skillet and cook for a few minutes until shrimp develop a golden hue, being careful not to overcook. 

Add butter, cream, salt, and pepper, and cook until those tasty remaining presa bits mingle with the shrimp and develop a tasty surf n' turf sauce. 

Slice presa into thin pieces and season with flaky sea salt. 

To serve, spoon shrimp over the presa and pour the cream sauce over the shrimp. Top with grated parmesan and dried thyme.

¡Buen provecho!