Sriracha Cucumber Boats w/ Grilled St. Louis Ribs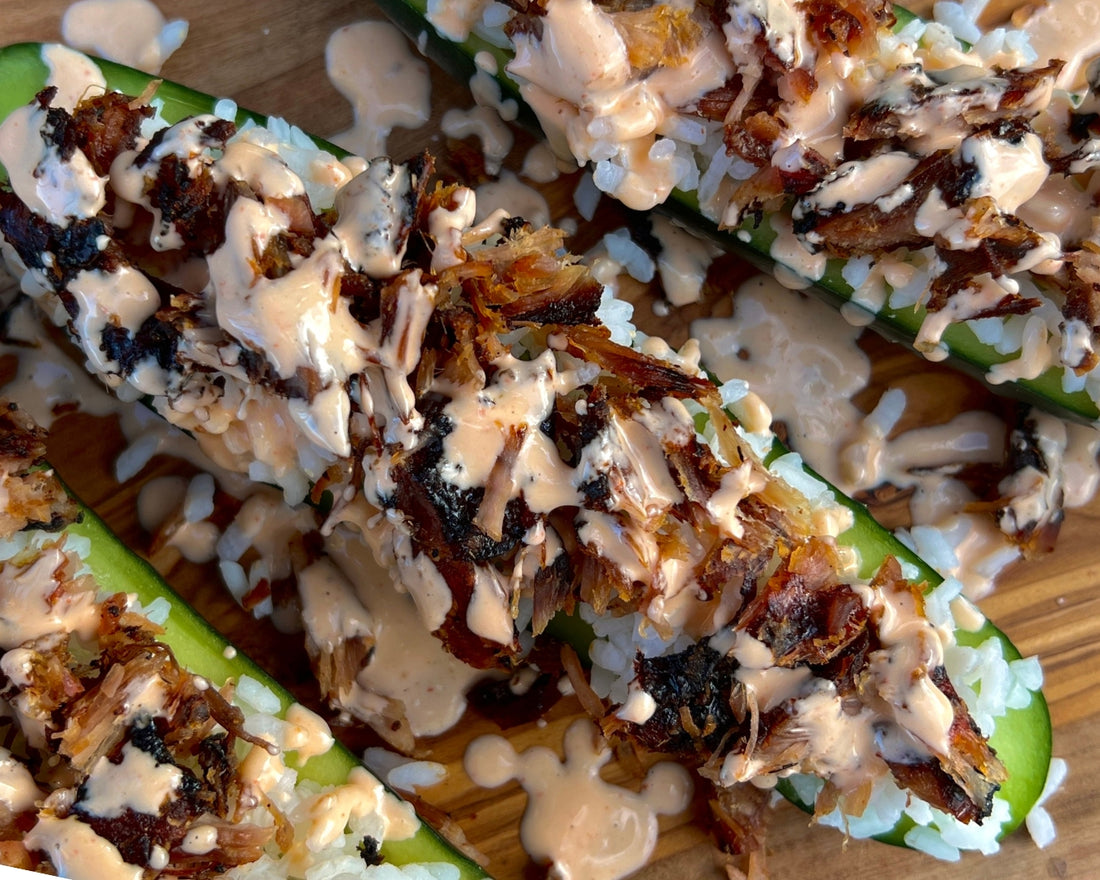 Slow-cooked ribs and rice-filled cucumber boats are a showstopper of an appetizer. Lacquered in an orange teriyaki sauce and drizzled with sriracha mayo, they're sweet, spicy, and surprisingly refreshing. 
Serves: 6 (as an appetizer)  
Time: 3.5 hours 
Ingredients:
1 28-35 oz. Campo Grande St. Louis Rib rack 

1 Tablespoon onion powder

1 Tablespoon garlic powder 

1 Tablespoon sweet paprika 

1 Tablespoon oregano 

Juice from 3 oranges 

5 Tablespoons teriyaki sauce 

5 Tablespoons honey 

4 Tablespoons mayonnaise

2 Tablespoons sriracha 

3 cucumbers 

200g (7 oz.) rice 
Preparation:  
To help the ribs separate from the bones when cooked, remove the outer thin membrane from the rack. 

Season ribs with onion powder, garlic powder, paprika, and oregano, rubbing the dry spices all over to evenly coat. 

Fire up the grill and heat to 250ºF. Set the ribs over indirect heat and cook for 1.5 hours. 

While the meat is cooking in this first step, heat orange juice, teriyaki, and honey in a small saucepan. Let cook for about 15-20 minutes until the mixture reduces and thickens.  

Remove ribs from the grill, brush with half the salsa, and carefully wrap in aluminum foil. Return to the grill over indirect heat and cook for 1 hour more. 

During this cooking phase, mix up the mayonnaise and the sriracha in a small bowl and set aside. 

Prepare the cucumbers by cutting them in half lengthwise, and use a spoon to scoop out the seeds. 

Remove ribs from the grill and remove the foil. Place ribs back on the grill, but this time over direct heat. Brush both sides with the orange sauce while they cook to create a caramelized exterior, cooking for about 30 minutes more. 

While the ribs are in this last stage of cooking, cook the rice according to the package instructions. 

Remove the ribs from the grill. Once they are cool enough to handle, separate the ribs from the meat and shred.

To build the cucumber boats, fill each cucumber with rice, top with shredded ribs, and drizzle with the sriracha mayo.

¡Buen provecho!