Teriyaki Abanico & Loin Roast Burger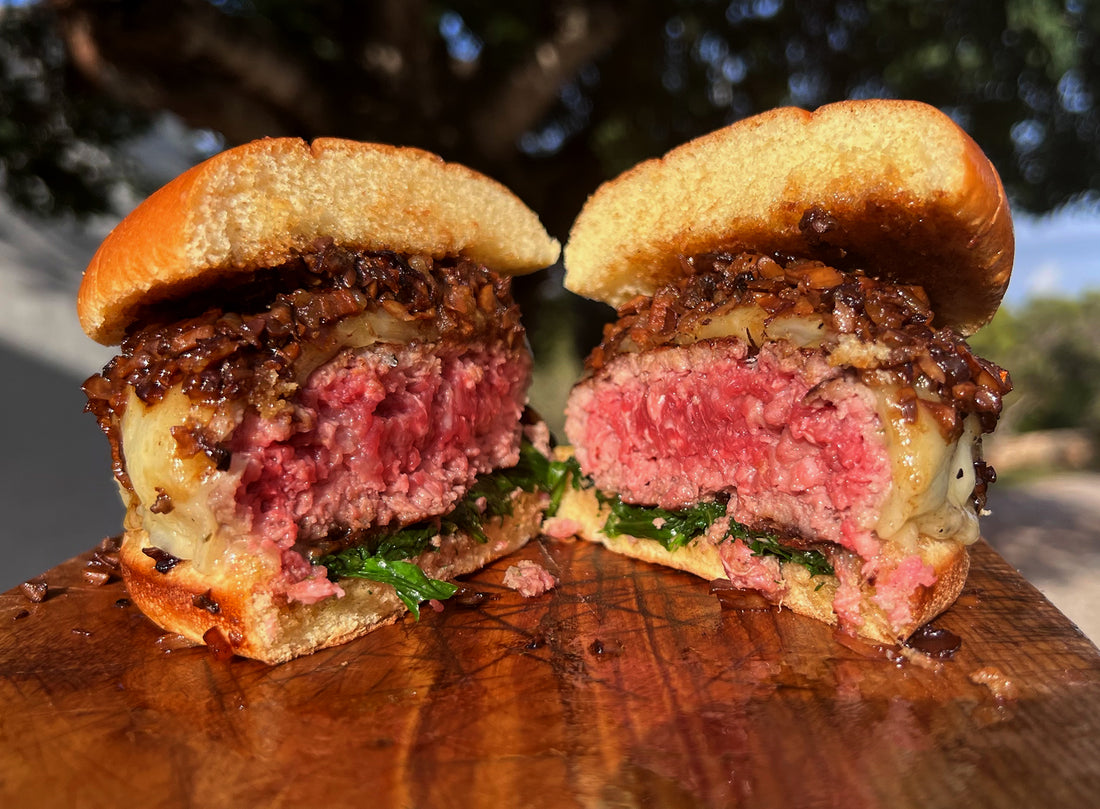 Make your own Ibérico burger patties with a combo of juicy abanico and loin roast meat. Topped with teriyaki bacon mushrooms, spinach, and your favorite melty cheese, these burgers are next-level umami bombs  
Makes 5-7 burgers 
Teriyaki Abanico & Loin Roast Burger
Ingredients
1 18-25 oz. Campo Grande Abanico, chopped 

1 17-24 oz. Campo Grande Loin Roast, chopped 

5-7 handfuls spinach 

25-35 mushrooms, chopped  

4-5 oz. bacon, chopped 

⅔ - ¾ cup Tablespoons teriyaki sauce 

10-14 slices mozzarella 

2 Tablespoons butter 

5-7 hamburger buns, toasted  

Salt

Black pepper 
Preparation   
Place abanico and loin roast in a food processor and pulse until the mixture  resembles a burger patty texture. 

Form patties weighing about 7-8 oz and let rest while you prepare the rest of the ingredients. 

Heat butter in a large skillet and sauté mushrooms until nice and browned. Add teriyaki sauce and let reduce. Once reduced, add the bacon and satué until cooked, a few minutes longer. Remove mushrooms from the pan, leaving any remaining sauce in the skillet, and set aside.

In the same skillet, heat spinach until soft and wilted. Set aside. 

Heat a large cast iron skillet over high heat and cook burgers 2 minutes on each side. If you prefer your burger medium-well, cook for 1 minute longer on each side. 

Once cooked, season with salt and pepper and place a slice of cheese over each patty. Cover the skillet with a lid and cook until the cheese is melted. 

To build the burger, place wilted spinach on top of the toasted buns, add the Ibérico patty, and top with mushrooms.

¡Buen provecho!