Texas Flank Steak Tacos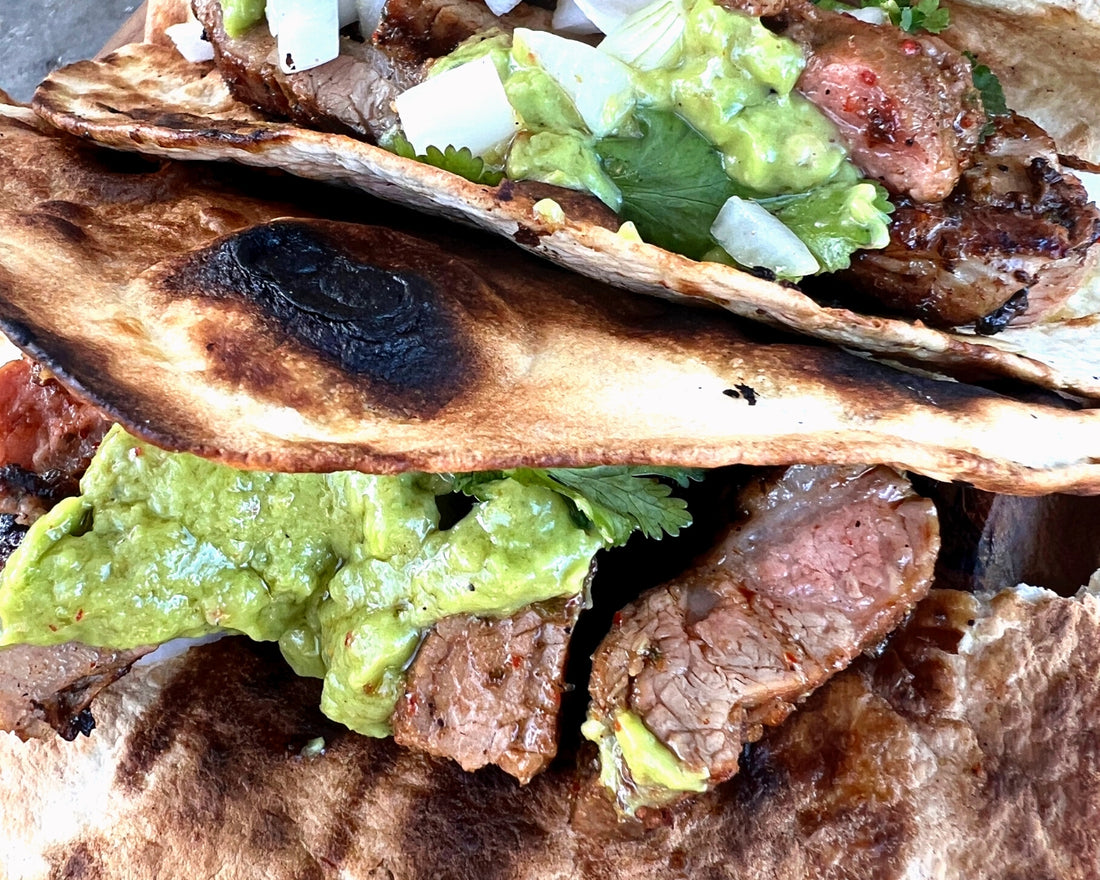 Ibérico goes Tex-Mex with grilled pork flank steak tacos with a spicy guacamole jalapeño sauce. Marinating the flank steak in a bright lime and cilantro slurry helps soften up the fibers and gives the meat an absurdly tender chew. And that chargrilled magic is a quick route (just a couple minutes on each side) to even more flavor. Grilling is definitely the best way to serve flank steak, but if you don't have a grill, a quick sear in a screamin' hot cast iron pan will do the trick. You just may have to cut the flank steak in half so it fits in the pan. 
Serves: 2 
Time: 2.5 hrs. 
Texas Flank Steak Taco 
Ingredients 
1 14-24 oz. Campo Grande Flank Steak

4 flour tortillas 

1 Tablespoon cilantro, chopped 

1 Tablespoon white onion
Marinade Ingredients 
½ lime, juiced 

4 cloves garlic, minced

1 bunch cilantro  

2 green onions 

1 teaspoon cumin 

1 teaspoon cayenne pepper

1 Tablespoon worcestershire sauce 

1 teaspoon black pepper 

Salt
Guacamole Salsa Ingredients 
1 ripe avocado 

1 jalapeño

1 head garlic, roasted 

1 lime, juiced 

Salt

Pepper 

Water 
Texas Flank Steak Taco 
Preparation
Trip the flank steak and remove any excess fat. 

Blend all the marinade ingredients in a blender until you have a smooth sauce. Place the meat and sauce in a large container or glass dish and pour the marinade over. Mix the marinade in with the meat and place in the fridge to marinate for 2 hours.

While the meat is marinating, fire up the grill and prepare the salsa. Blend all the salsa ingredients together in a blender, or use a mortar and pestle to smash into a creamy sauce. If it seems too thick, add a splash of water to thin it out. Taste for salt and set aside. 

After the flank steak has sat for two hours, remove it from the marinade and place it on the grill over direct heat. Cook for 2 ½ - 3 minutes on each side, depending on how thick your cut is. Use a meat thermometer to cook to an internal temperature of 145ºF, or medium-rare. Once cooked, remove from heat and let the meat rest. 

While the meat is resting, warm the tortillas on the grill. 

Slice or chop the meat into bite size pieces. 

To build the tacos, divide the flank steak pieces into the 4 tortillas, top with guacamole salsa, and garnish with a sprinkling of cilantro and onion. ¡Buen provecho!