Why You Can Feel Good About Ibérico: Part 2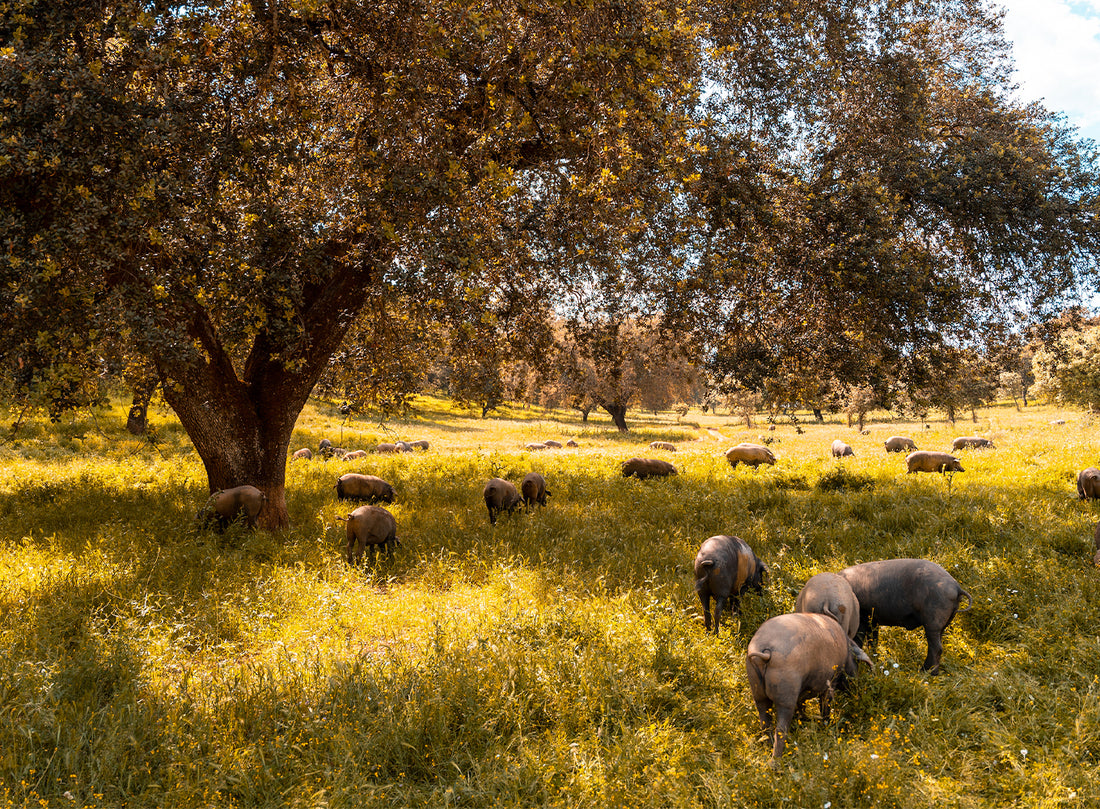 Part of our mission, along with bringing you the most exquisite, supremely marbled Ibérico pork, is to keep Spain's unique and fragile ecosystem intact and improve it for future generations. That's why in November, we launched a pilot project with the Savory Institute's hub in Spain, aleJAB, to measure the biodiversity where our precious Iberian pigs roam. 
To refresh your memory, aleJAB is a nonprofit working in the Iberian peninsula and North Africa that helps farmers move to a more holistic model, so that every link in the chain is thriving, from the microorganisms in the soil, to the livestock— all the way up to the ranchers and their families. 
In May, we paid a visit to a farm in the Sierra de Hornachuelos in southern Spain and explored pig rancher Mariano's 1,000 hectares (about 2,470 acres) of lush grasslands and oak groves. According to aleJAB hub lead, Gustavo Alés, there's often very little biodiversity on farms dedicated to raising animals. However, there is this fascinating symbiosis that happens here in Mariano's fields (or the dehesa), as the animals work together with the land as a part of a natural cycle: the pigs eat the acorns, the foliage and acorns fall to create a foundation for new trees to grow, and Mariano and his family cultivate this dense tree growth to preserve the whole ecosystem. 
The farm's conditions were well beyond what we expected. Despite the warmth of the late spring dehesa, the soil below was cold and humid— there was clearly so much biodiversity there. "Below the oak there's another world," says Mariano. "There are so many animal species that exist underneath and they're responsible for the quality of the soil." 
There's no question why Mariano's farm is so nutrient-dense and rich in biodiversity, and why his pigs produce some of the most exquisite pork on the planet. Mariano and his son Mariano Jr. care for every aspect of the land with a particular affection and detail, focusing especially on the oak and cork oak trees (yes, the same cork used for bottling wine) that offer shade and preserve the soil's nutrients. Mariano actually sees his ranch as more of a tree farm than anything: "We have to take care of the ground, but the trees above all," he says. "The trees give us food just as much as the ground does." 
To measure this symbiosis at Mariano's, we went to the farm to take soil samples from various areas. The randomized and stratified sampling is taken from various areas based on soil, vegetation, and slope. The points have to be identifiable and logged so we know without a doubt where they they have been taken, so that every year we can take samples from these exact same sites. 
This initial sampling marks what aleJAB and the Savory Institute refer to as 'Year 0.' This is the starting point for measuring the farm's ecological health. 
We sent the soil off to the lab to test for carbon and soil bulk density, plant biodiversity transects, as well as water infiltration and retention. We also tested for a list of 15 environmental health and sustainability indicators that analyze the functionality of the ecosystem: 
Productivity

Microfauna activity

Perennial grasses

Leguminous plants

Contextually undesirable species 

Contextually desirable species  

Litter abundance 

Litter decomposition 

Dunge incorporation 

Regenerated trees

Tree health

Bare soil 

Soil capping 

Water erosion 

Wind erosion 
The folks at aleJAB recently shared the soil sample results with us, measuring impurities, density, organic carbon, and the organic matter in the samples. Next year, we'll be back to take the same measurements and see how Mariano has improved his practices. Ultimately, the data and improvements benefit his farm immensely.  "We'll be able to use these measurements to show the farmers how their practices can improve from both an economic and sustainability perspective," says Gustavo. 
At Campo Grande, we're not only proud to offer the delicious and nutrient-dense benefits of Mariano's biodiverse land (hello, perfectly marbled Ibérico steak), but we're also proud to help him preserve this natural ecosystem that is the Spanish dehesa. More importantly, this partnership helps propel his and the Savory Institute's mission forward, and encourages other farmers around the globe to do the same. 
This is what it looks like to celebrate proper land stewardship and animal husbandry practices— to put names and faces to the farmers who are responsibly raising these one-of-a-kind Ibérico pigs and giving life to this marbled, umami-packed meat that we all get to enjoy. 
Stay tuned for more from us and the folks at aleJAB. We'll be posting the results soon from their detailed lab studies, which will give us additional quantifiable data on the environmental activity on Mariano's farm.