Aragonese Chireta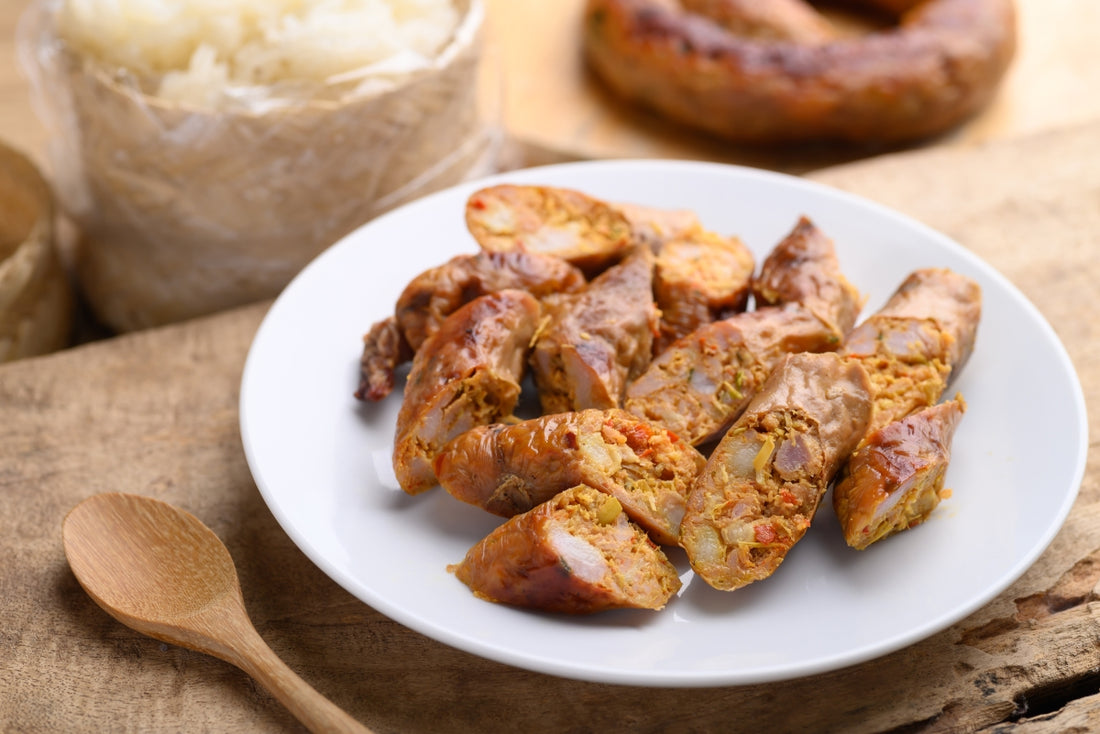 Have you ever heard of chiretas aragonesas? If you have never tried them, you miss out on one of the most traditional and delicious dishes. Chiretas is a homemade sausage made with lamb tripe stuffed with rice and pieces of offal, such as heart, lung, and bacon. These pieces are seasoned with garlic, parsley, cinnamon, salt, and pepper and cooked in an aromatic broth with vegetables and ham. The result is a delicacy that can be eaten alone or with other typical Aragonese dishes, such as migas, ternasco, or tortetas.
Chiretas originated in the cuisine of aprovechamiento, that is, the one that did not waste any of the animals after slaughter. It is an ancient dish that dates back to the Middle Ages and is passed down from generation to generation in the regions of Huesca, especially in Ribagorza, Sobrarbe, and Somontano. They are also prepared in some parts of Catalonia, known as girella or gireta.
If you want to learn how to make chiretas de Aragón at home, here is a simple and delicious recipe that will surprise you. All you need are essential ingredients and a little patience to clean and stuff the entrails. We assure you that the effort is worth it because homemade chiretas have an incomparable flavor. Go ahead, try them, and enjoy this delicacy of Aragonese cuisine!
Ingredients
The ingredients in proportion for 4 persons are as follows:
For the sausage:
1 kg lamb tripe

200 g rice

100 g lamb heart

100 g lamb lung

100 g fresh bacon

2 cloves of garlic

A handful of chopped parsley

A pinch of cinnamon powder

Salt and pepper for seasoning

White thread for sewing

Water for cooking
For the broth:
2 liters of water

1 carrot

1 leek

A piece of ham

Salt to taste
Elaboration
The preparation process must comply with the following steps:
The first thing to do is to clean the lamb innards thoroughly. To do this, we wash it with cold water and remove any fat that may have adhered to it. Then, we rub it with pure lime or coarse salt to whiten and deodorize. Rinse again with cold water until it is clean and there are no traces of lime or salt. Drain and cut into rectangular pieces about 15 cm long and 10 cm wide rectangular pieces. Cut the stuffing, heart, lungs and bacon into small pieces. Put them in a bowl and mix them with the uncooked rice, chopped garlic, parsley, cinnamon, salt, and pepper. Mix well to combine all the ingredients.
Use a spoon to spoon the above mixture into each piece without pressing too hard, as the rice will swell during cooking. We close the ends of the viscera with white thread, forming small lumps called chiretas. Set aside.
To make the broth, put the water in a large pot and bring it to a boil. Add the peeled and chopped carrots, the washed and chopped leeks, the ham, and salt. Boil over medium heat for about 20 minutes.
When the broth is ready, add the chiretas, being careful not to break them. Lower the heat and cook for an hour and a half until the rice is tender and the meat is soft.
Serve the chiretas hot, with homemade tomato sauce or the same broth. We can also coat them in flour and eggs and fry them in hot oil if we want them to be crispier.
Aragonese chiretas are very caloric, as they contain a lot of fat. It is estimated that each 100 grams provides about 343 kilocalories. For that reason, it is recommended to consume them with moderation and to accompany them with a salad or a gazpacho to lighten the digestion. Also, you can use white rice or crusty and tender bread, such as ciabatta, baguette, or loaf, as a spread.
Advantages
This preparation is a very nutritious and energizing dish, ideal to combat the winter cold. Rice provides complex carbohydrates that provide satiety and help regulate intestinal transit. The intestine is a source of proteins of high biological value, iron, zinc, and B vitamins. The intestine contains collagen, which is beneficial for our joints and skin. In addition, the broth in which the chiretas are cooked is rich in minerals and has cleansing and diuretic properties.
Aragonese chiretas have an intense flavor and a peculiar texture that leaves no one indifferent. Enjoy this recipe, and do not hesitate to share it with your friends and family. We assure you that your preparation will be noticed at the table.