Bacalao Portuguese Cod Recipe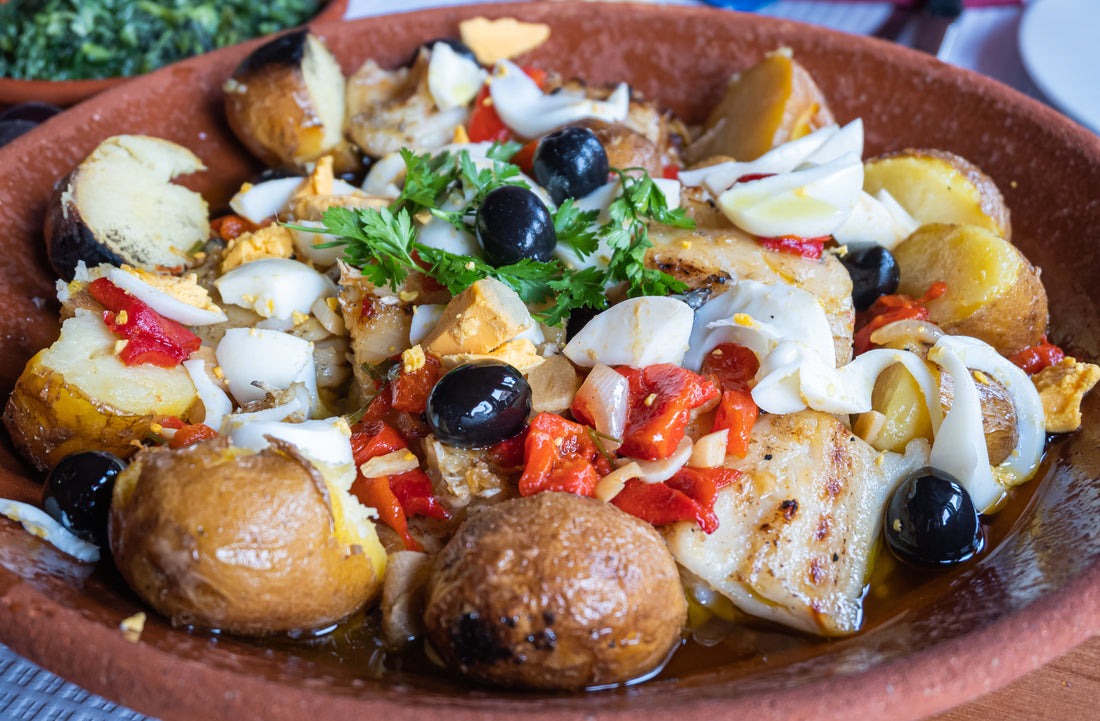 "Bacalao" is the Portuguese word for cod. Specifically, dried and salted cod. If you're after fresh cod, that would be "bacalhau fresco". It's a very common dish in Portugal, and other countries such as Cape Verde, Angola, Macau, Brazil and Goa.
Portugal is a fish loving country, and boasts over 1000 recipes for cod alone. It's typically cooked on special occasions, such as the traditional Christmas Eve dinner.
It's heavily salted during the drying process, which greatly intensifies and concentrates the flavor of the cod. This method of preservation was once the only way you could keep meat and seafood for long periods of time, but advancements in refrigeration have made salting somewhat obsolete - thus making salted cod hard to come by.
Most bacalao recipes use potatoes and onions as a base, but some call for fresh tomatoes and eggs, even olives can be found in many recipes. 
How to Prepare Bacalao
It's absolutely critical that you take the time to prepare bacalao. It's heavily salted during the preparation, and you need to remove that salt. 
Cut your fish into large chunks

Soak the chunks of cod in a glass or ceramic bowl

Cover the bowl with plastic

Store in fridge

Replace the water every 8-10 hours
Once it's done with a 24 hour soak, take a small piece and boil it for a minute or two. Taste test it, and if it's too salty you'll need to give it another 24 hour soak. Cook it immediately after soaking.
If you've done a generous 42 hour soak, you'll likely need to add a bit more salt back into your dish. Just be sure to taste test it before you do, you don't want to come away with a perfectly cooked bacalao that's still way too salty. 
Adding plenty of olive oil can definitely help. If it tastes a little dry once you're done, add a bit more oil. This helps all those flavors bind together.
Portuguese Salt Cod Stew
This is a layered stew that's baked in the oven. It's made with salted cod, hard boiled eggs, onions, olives, and generous portions of olive oil. This is a rich and satisfying recipe for those cozy rainy nights in. 
You will need:
1 pound of salt cod, skinless and boneless preferably

¾-1 cup of extra virgin olive oil - splurge and get some really high quality oil here

2 yellow or vidalia onions

2 pounds of waxy potatoes - yukon gold does well in this recipe 

4 large eggs, hard boiled

Somewhere around 40 pitted black olives

Salt and pepper
The Recipe
You'll need to soak the cod in water for at least 24 hours before you use it.
Preheat oven to 350F

Add the cod in a saucepan with milk and/or water. Add just enough to cover the fish.

Simmer for 2-3 minutes. Remove the fish and set it aside 

Peel your potatoes

Parboil them for 20 minutes - you can use the water you just used for the fish 

Slice the potatoes into rounds

Generously coat the bottom of a large casserole dish with olive oil

Place a layer of sliced onions on the bottom of the pan

Place a layer of potatoes over the onions

Break up the cod with your fingers and lay pieces over the potatoes 

Pour a generous amount of olive oil over the dish

Grate with black pepper

Repeat another layer - onion, potatoes, fish, olive oil, pepper

Repeat another layer - onion, potatoes, fish, olive oil, pepper

On the final layer, add the sliced hard boiled eggs and olives

Place in the oven and cook for 30-40 minutes, or until thoroughly cooked

Serve with a side of rice or salad
Portuguese Salt Cod Fritters
If you're more used to the traditional sort of cod dishes, these fritters may come as a surprise to you. But they're a simple traditional Portuguese treat made with potato, onion and parsley.
You will need
10 ounces of salted cod

14 ounces of unpeeled russet potatoes

1 small onion, very finely chopped

2 tablespoons of finely chopped parsley

3 large eggs

Oil for frying
The Recipe
Boil the potatoes in their skins. Once boiled, peel and mash them. Set them aside.

In the meantime, simmer your previously-soaked cod in water - just enough to cover the fish. Cook until tender, 20 minutes.

Mix the cod with the mashed potatoes. Add the egg, then onion, then parsley. Allow the mixture to completely cool.

Shape into several fishcakes and fry in hot oil - 375F - turning them 3 or 4 times. Remove them and set them on a paper towel to drain.
Final Thoughts
Bacalao may seem a bit intimidating to prepare at first, but it's far from the truth. There are quite possibly over 1,000 different Portuguese recipes for this deep sea fish, and most of them are simple and fast. Whether you're baking them in an oven following a traditional recipe, or going a bit wild with something new - there's a bacalao recipe out there for everyone.