Honey Baked Ham Recipe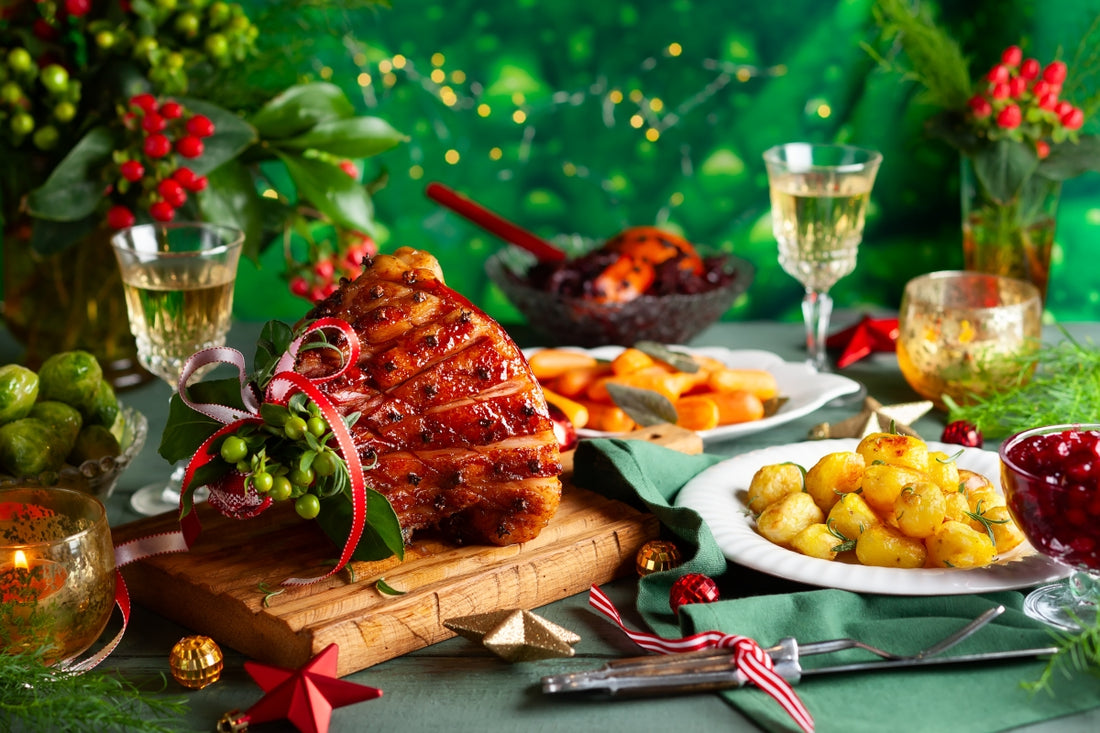 Honey baked ham is an American classic. Served during holidays like Christmas New Year's, and even Easter, it's a sweet and savory centerpiece that people of all ages adore. Turns out, you can easily make it at home. Check out these instructions and tips for full-proof homemade honey baked ham recipe. 
Honey Baked Ham Recipe
While eating honey baked ham warm is definitely a treat, the ham also makes killer leftovers. Serve it cold or at room temperature with a mustard sauce, or layer it into epic sweet ham sandwiches with crispy bacon.
Honey Baked Ham Ingredients
2.25 lbs. cooked ham

1/2 cup honey

1 cup sherry vinegar

1/2 cup brown sugar

1 teaspoon cinnamon 

1 lb. cherry tomatoes, quartered 

1 lb. baby potatoes, quartered 

Coarse salt

Freshly ground black pepper

Aromatic herbs of choice
Honey Baked Ham Preparation 
Remove the ham from the refrigerator a couple of hours before cooking in order to guarantee even cooking.

Preheat the oven to 350ºF. 

In medium saucepan, mix the honey with the brown sugar, cinnamon, and vinegar. Stir while cooking over low heat. The sauce should be thick. You can add a little water if you want a more liquid consistency. 

Place the ham in a large baking dish and drizzle with some of the honey sauce.

Using kitchen twine, tie up the ham to secure it. 

Drizzle with more sauce, reserving some for basting. 

Place the tomatoes and potatoes in the dish along side the ham. 

Season everything with salt and pepper. 

Cover the dish with aluminum foil and place in the oven. 

Bake the ham for approximately 1 hour, basting with the remaining sauce every so often. 

Once the ham is ready, remove it from the oven and let cool enough to touch. Remove the twine and sprinkle with aromatic herbs.

Carve into thin slices and serve with the potatoes and tomatoes. ¡Buen provecho!
Tips for Making the Perfect Honey Baked Ham
Make sure you purchase quality cooked ham at the deli or butcher shop. The type of ham you buy can make a big difference in the end result. 
Use a very sharp knife to cut the ham. This helps keep lock in the juices instead of squeezing them out with a dull knife. 
Turn the ham halfway through the cooking process. This is optional, but it does help the ham cook evenly, especially if your oven has funny hot spots. 
Add other spices to the glaze like chili peppers, allspice, or cloves. 
Bake the ham with other sides like carrots, onions, or apples. You can also serve with mashed potatoes, steamed veggies, or a bright green salad. 
Substitute the sherry vinegar for sherry wine, cognac, or even brandy for a boozy sweet flavor 
Use a local, fragrant honey to make the glaze. Local honey has helpful anti-allergenic properties that really only have any effect if the bees are pollinating local plants and flowers. Using a local honey also guarantees that there are no added sugars or coloring.