Baked Pork with Pumpkin Purée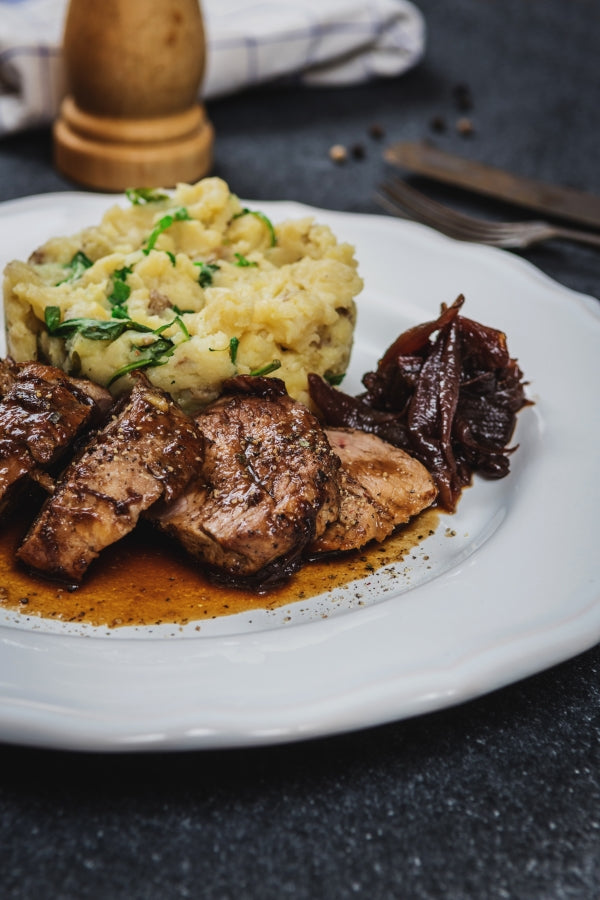 A whole baked pork tenderloin is one of those dishes with a seriously impressive presentation. It's the kind of meal you serve when you're really looking to wow your company or are celebrating something special. Luckily, it's also a cut that doesn't require too much work. Careful attention to the temperature and a few delicious sides, are all it needs to shine. Find out how to make this sweet and salty baked pork with pumpkin purée, pumpkin chips, and fried plantains. 
How to Prepare Baked Pork with Pumpkin Purée 
Pork tenderloin is one of the most prized cuts of pork, and if it's Ibérico pork from Ibérico pigs, then all the better. It's a versatile piece of meat characterized by its buttery texture and delicious flavor. In addition, it's a cut that can be prepared quickly and still get you amazing results.
Due to its perfect balance between fat and lean meat, Ibérico sirloin in particular is rich in protein and healthy fats (we're talking the same type of properties found in extra-virgin olive oil). Although traditionally, the Iberian sirloin and tenderloin is served with potatoes, we're preparing this dish with a creamy pumpkin purée and sweet banana chips for a healthy sweet and savory combination.  
Recipe: Baked Pork with Pumpkin Purée
Baked Pork with Pumpkin Purée Ingredients
1 lb. Ibérico Pork Tenderloin

11 oz. sweet pumpkin or butternut squash, peeled 

1 teaspoon cumin seeds 

1 vegetable stock cube

2 plantains 

Coarse salt

Freshly ground black pepper.

Extra-virgin olive oil

1 teaspoon butter
Baked Pork with Pumpkin Purée
Preparation 
Remove the tenderloin from the refrigerator and let it comes to room temperature. Trim and remove any excess fat or tendons from the tenderloin 
Preheat oven to 350ºF. 
Cut a the pumpkin into a small handful of thin slices to make the chips, then cut the rest in small even cubes. 
Place 2 cups of water in a saucepan and add the pumpkin, cumin seeds and vegetable cube (or use 2 cups of vegetable stock). 
Let the pumpkin cook in the water for about 10 minutes, or until it is very soft.
Remove from the heat and place the pumpkin in a blender or food processor. Add in a few splashes of the broth and blend until you have a thick purée. 
Season the pork tenderloin with salt, pepper, and olive oil, and place on a baking sheet or roasting pan. Place in the oven and cook for 20 minutes, turning halfway through to help it cook evenly. When a meat thermometer inserted into the middle reaches 145ºF (medium rare), your tenderloin is ready. 
While the tenderloin cooks, dry the reserved pumpkin slices with a paper towel if needed. Fill a skillet with a good amount of olive oil and and fry the pumpkin slices until they are golden brown. Remove from the oil and place on a paper plate lined with paper towels to absorb any excess oil. 
Season pumpkin chips with salt and pepper and set aside. 
Heat butter in a skillet and sauté plantains until cooked through. Season with salt and pepper. 
Slice the tenderloin and serve over the pumpkin purée. Garnish with pumpkin chips and serve with the plantains on the side.
Tips for Preparing Baked Tenderloin Steak with Pumpkin Purée
While we've listed what we think is the easiest way to order your cooking process, you can always change things up based on your preferences. For example, you can fry the chips before you make the purée or even cook the purée the day before and reheat it right before serving. The most important part is to keep the purée, plantains, and pork tenderloin hot. 
If you prefer your pork tenderloin a bit more cooked (medium, for example), you can turn off the oven and let the residual heat from the oven take the meat over to your desired temperature. You may need to cover with aluminum foil so the meat doesn't burn on the outside. We do, of course, always recommend end cooking tenderloin to medium-rare to avoid drying out. 
Try rolling up the tenderloin is strips of bacon or pancetta before placing in the oven. Just be sure to reduce the salt, as the bacon and pancetta are salty. 
You can also ask the butcher to cut your tenderloin into thin slices (or do it at home) for a quicker preparation. Just sear each slice for 2 minutes on each side in a hot pan and serve with the rest of the sides.