Beef Tenderloin with Coffee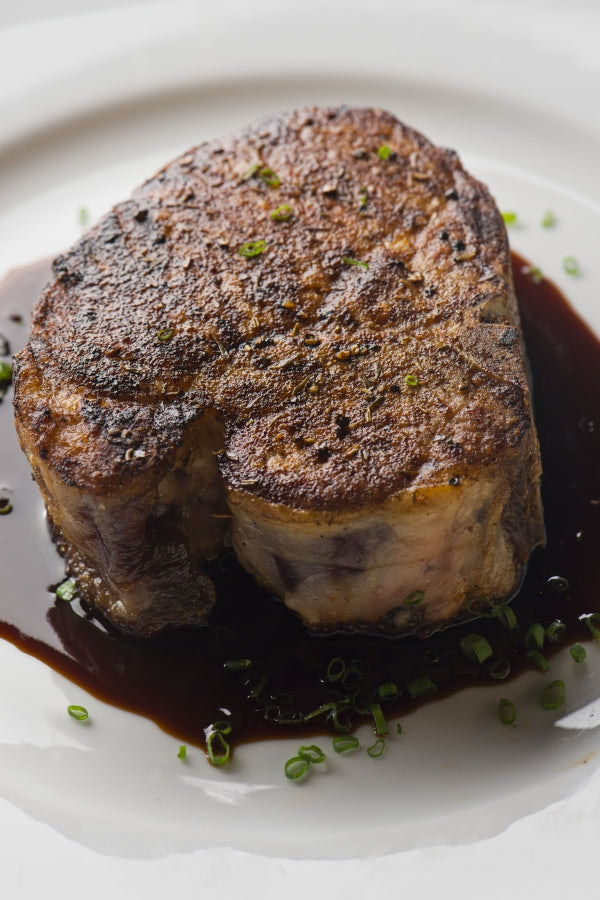 Do you want to surprise your guests with a delicious, unique and delicious dish? Then you can't miss this recipe for beef tenderloin with coffee, a way of preparing meat that will leave you speechless. Beef tenderloin is a very tender and juicy cut, ideal for special occasions, and coffee gives it an aromatic and bitter sensation, which contrasts perfectly with the sweetness of the piece.
At the same time, coffee has many health benefits, such as improving concentration, preventing cellular aging, and increasing metabolism. So, if you want to know how to make this beef tenderloin with the coffee recipe and which garnishes go best with it, read on and discover all the secrets of this exquisite dish.
Ingredients
The ingredients needed for 4 servings are as follows:
1 piece of veal sirloin, about 800 g

2 tablespoons olive oil

Salt and pepper to taste

1 onion

2 cloves garlic

250 ml of beef broth

100 ml of black coffee

2 tablespoons cornstarch

Chopped parsley for garnish
Preparation
To prepare this dish, you must complete the following steps:
Preheat the oven to 180°C and sprinkle salt and pepper on all sides of the tenderloin.

Heat a frying pan over high heat with the oil, sear the piece on all sides until golden brown, and then keep.

Peel and chop the onions and garlic and sauté them in a frying pan over medium heat until tender.

Add the beef broth and coffee and bring to a boil. Dissolve the cornstarch with a little cold water and add to the sauce. Mix well until it thickens.

Place the sirloin in a baking dish and drizzle the sauce over the top. Cover with foil and cook for about 20 minutes or until the meat is cooked to your liking.

Remove from the oven and let it rest for a few minutes before slicing. Finally, serve with sauce on top and sprinkle with chopped parsley.
Beef tenderloin with coffee is a complete dish that can be served alone or with garnishes to enhance its flavor. Some options are:
Sautéed or baked potatoes are a classic accompaniment to any meat dish, as they provide a crunchy texture and are full of flavor. They can be fried or baked in the oven with oil, salt, and herbs.

Green salad is a good way to balance a dish and provide vitamins, minerals, and fiber. It can be prepared with lettuce, tomato, cucumber, carrot, onion, and olives, among other ingredients.

White or brown rice is another versatile side dish that combines well with the sirloin sauce. It can be cooked in water or steamed with salt and bay leaves.

Sautéed or steamed vegetables are another ideal complement to the dish because they add color and texture to the meat. They can be sautéed or steamed with oil, salt, garlic, and parsley. Some vegetables that work well are carrots, peas, asparagus, and mushrooms.
Benefits
Beef tenderloin with coffee is a very nutritious and healthy dish which provides a series of benefits:
It is a source of high-quality protein, which contributes to maintaining and developing muscle mass and properly functioning the immune system.

It also contains iron and zinc, two minerals necessary for hemoglobin formation, oxygen transport, and prevention of anemia. In addition, zinc also promotes wound healing and helps maintain healthy skin, hair, and nails.

It is one of the few sources of vitamin B12, involved in DNA synthesis, energy metabolism, and nervous system health. Vitamin B12 is only found in foods of animal origin, so it is essential to supplement it if you follow a vegetarian or vegan diet.

Coffee is a food rich in antioxidants that protect cells from damage caused by free radicals, which cause aging and some diseases, and have stimulant, diuretic, and anti-inflammatory effects.
This dish is a typical Spanish culinary recipe, especially from the region of Castilla y León. It is a way to enjoy the noble cuts of beef raised in the vast plains of the region. Coffee is used as an ingredient to create a distinct and unique flavor to the sauce, which accompanies the tender and juicy meat, and is used in other traditional Spanish recipes, such as oxtail with coffee or coffee flan.